14 Jan 2014
Earplugs in Our Ears and Bass Pounding in Our Hearts
After years of planning to travel together, we (Mindy and Harriet) finally found a time when we were both available for a few months. After talking about our plans for months, we finally impulse-bought a plane ticket to Lima that was just so cheap but involved a 3 hour drive to the airport in NY (thanks Ruthie and Brian) and an 8 hour layover in the Atlanta airport.
We knew we could keep ourselves entertained but we had no idea just how much fun it could be with the help of Harriet's friend Molly.  We had a scavenger hunt set up and ready for us when we arrived in the ATL. It involved visiting bars and drinking and receiving secret clues leading us to the next clue.  It began at the Budweiser lounge in terminal A where it took us about 30 minutes to actually get our first clue since our waitress had to call the manager who was on duty when Molly set it up.
We finally got the manila envelope and our clue led us downstairs to the piano bar where Melissa wouldn't let us see it until we ordered a drink. Fair enough. There were rubix cubes all over the bar. Apparently the guy who opened it set the world record for solving a rubix cube when he was 14 years old! The piano man played us Leavin' on a jet plane (requested by Molly) and we were on our way to the next clue.
The third clue was located in one of two bars names Soujourner's in terminal E. We picked the right one first, and found Tameka who was working there when Molly left the clue. The clue led us to a really fancy sushi bar where Tiffany the bartender noticed the note sticking out of a little black book earlier in the day. She was just as curious as we were about out final clue tucked away in the ginger liquer recipe book and she even let us try a taste of it. It was yummy.
At that point we were a little tipsy but had killed most of the time before our flight, so we grabbed our last American meal, got some Peruvian soles, and went to our gate. We were ready to get on the plane but we can't say the same for Harriet's bag. Apparently the people in White Plains are notoriously bad at checking people's bags through to their international destinations, so when Harriet checked to make sure her bag was going to make it, they informed her that it was not going to make it on the plane in time. This development solidified Mindy's fear of checking bags, and Harriet was thankful for Mindy's paranoia when she had to borrow underwear for the next few days.
1/10/14
We arrived in Lima at midnight, and after dealing with the baggage fiasco (planning to pick it up the next day) we took a taxi to our hotel in Lima and a good night's sleep. We woke up and while eating breakfast met our awesome hotel mama, who started to helps us plan the next steps of our trip before we even asked for help.
We found a cheap plane ticket to Cuzco, cutting travel time from 24 hours to 1 hour for only a fraction more. Then she helped us find a nice cheap hotel in Miraflores, Lima's fancy pants neighborhood. We walked around the cosmopolitan metropolis of Lima, where teeny-tiny men sell cups of jello in the plaza de armas, and where Mindy got neighed at while galloping in front of a statue of a man on a horse.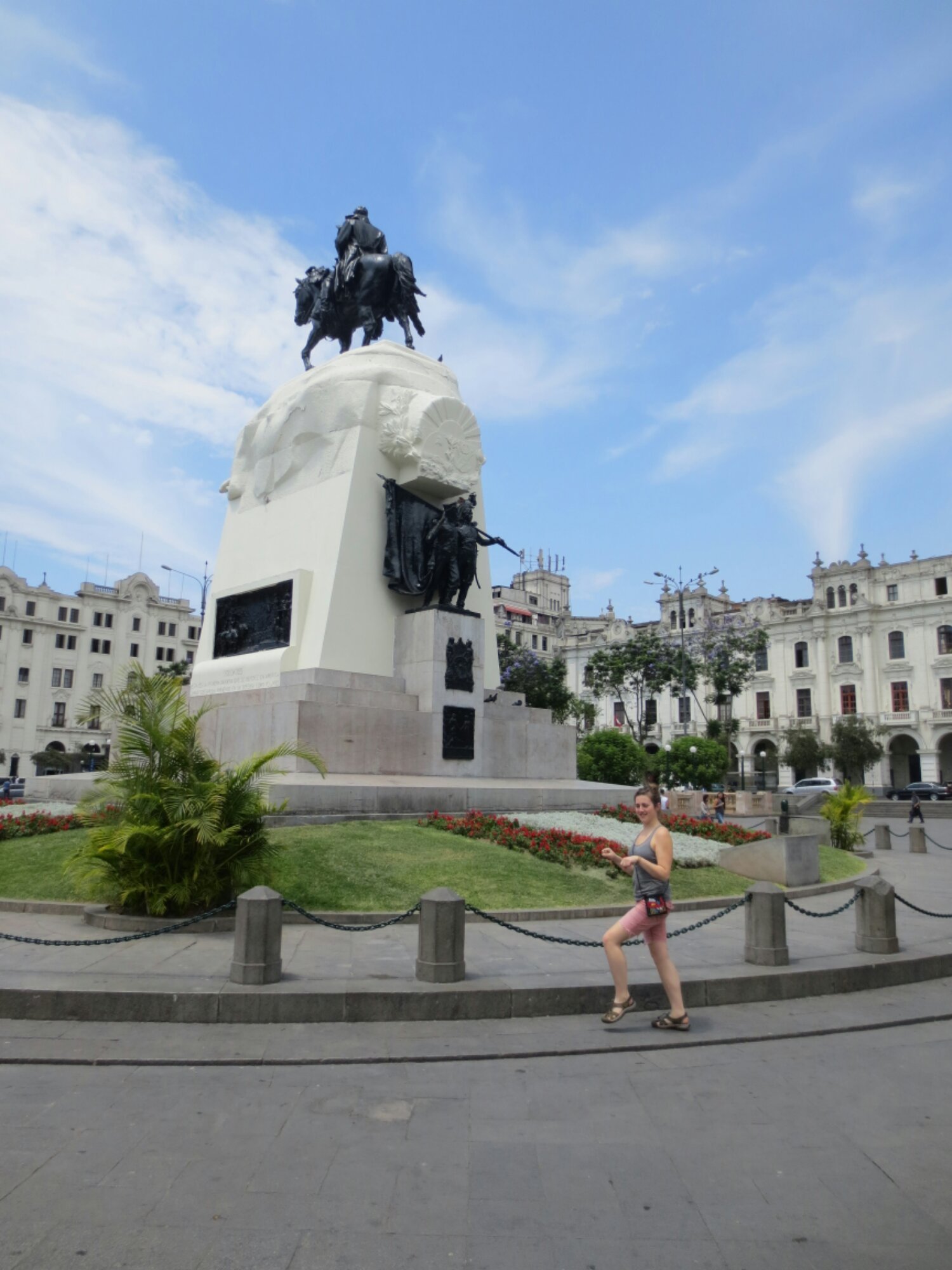 Hattie bought a new t-shirt so she wouldn't stink so much but couldn't buy deoderant because the power had gone out and they couldn't tell how much it cost. We went back to the hotel, took a taxi to Miraflores, rocked out to Grease with the taxi cab driver, and checked into our cute little hotel two blocks from the ocean. We then embarked on our mission to get vaccinated for yellow fever.
We made it to the clinic ten minutes after they closed. It was a good excuse anyways for a romantic walk along the beach, and to buy a mango at a cute little market. We ate it with our hands while people pointed and laughed. The park along the beach is gorgeous, with lots of people making out and walking their dogs. After a few kilometers we stopped at a little cafe to spy on surfers, and met a couple who have a cabin on the same chain of lakes as our family! Tiny world.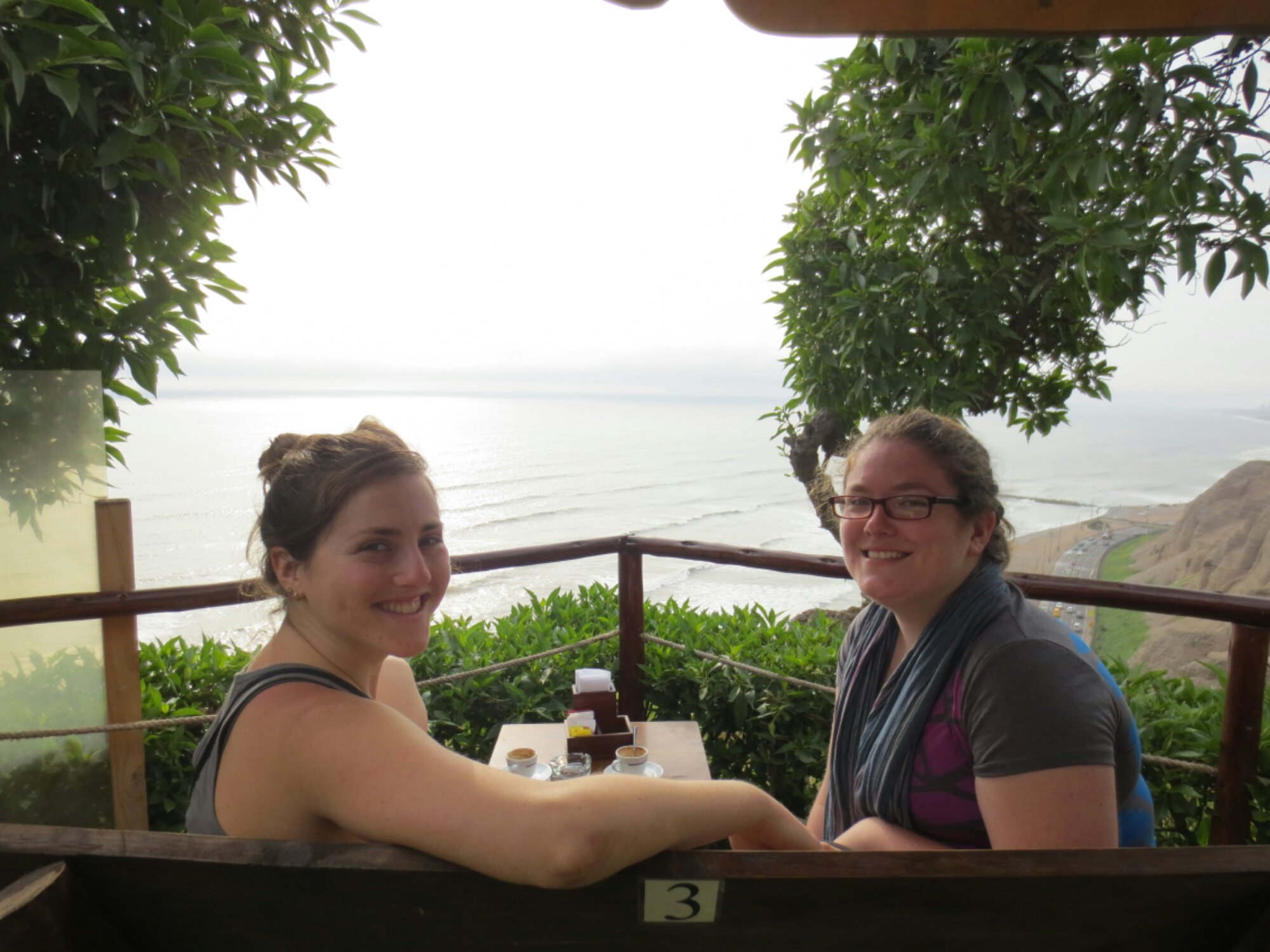 We went to the super fancy mall on the ocean for dinner and had ceviche and brochetas which had steak, chicken, fish, shrimp AND octopus (which was kinda slimy). After dinner we planned to call Ben (Hattie's friend from elementary school) but as we were walking to the phones we heard a shout, and there he was! We hadn't even planned on meeting there or anything.
We drank purple chicha and Mindy tried Inca Cola for the first time. We talked about Peruvian food, and friends and life, and took a beautiful walk along the ocean again. Then we wandered down one of the main roads and had a beer, watching drunk tourists come and go from the Flying Dog hostel. On our way back we saw some (legal) prostitutes and got locked out of our hotel. We rang the bell 4 times then finally climbed the fence. Harriet pulled the doors apart as far as posisble as Mindy squeezed her arm in to try to unlock it from the inside. Eventually the lady on duty who was deaf to the doorbell heard our clattering and sleepily trudged out to let us in. Buenas noches Lima!
1/11/14
We woke up super bright and early and made it to the clinic before the staff even did. After waiting a few minutes they led us outside to a canvas tent, where a woman took our passports and our money as we wondered how sketchy this was. Luckily, the tent was just the logistical place and they sent us inside to the actual clinic to get the shots. We waited with a bunch of snot-faced kids and wobbly old people. The shot was quick and painless (and cheap) and we made it out in no time, and went on our way to the D'onofrio cafe for coffee and juice.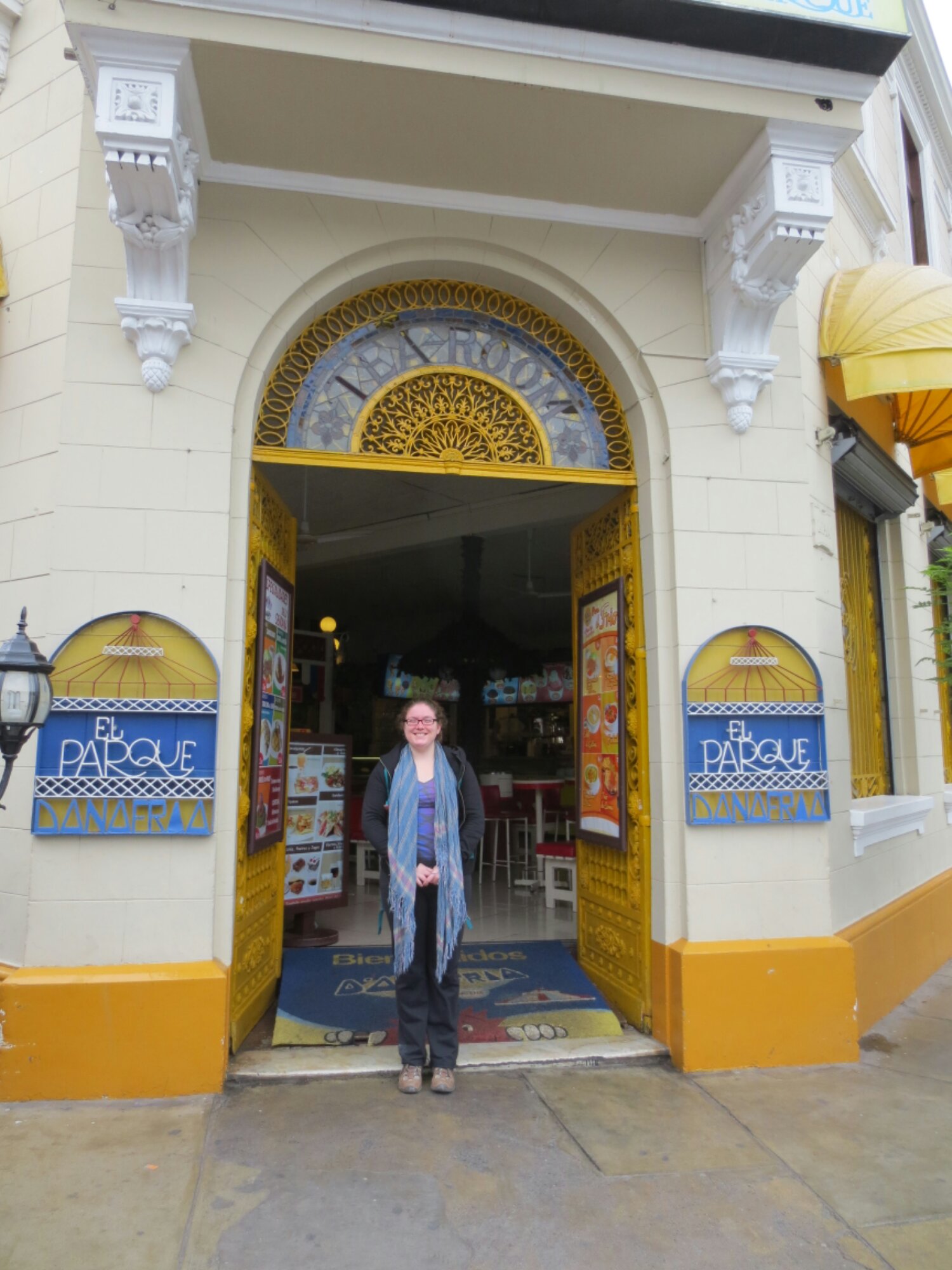 Our taxi to the airport was supposed to arrive at 10:30, and we got back at 10:31 expecting him not to be there yet, but he was. How punctual! At the airport we did 1 and 3/4 full circles having to enter and exit multiple times before finding the Delta office where Hattie's bag was supposed to be. It wasn't there

They promised to send it along to Cuzco the next day, but our experience did not inspire confidence.
Mindy practiced her Spanish at a cafe in the airport, where the waiter was amused (impressed?). After kicking an old french couple out of our seats, we enjoyed a short flight with beautiful views and a gross sandwich. We arrived in Cuzco feeling winded and light-headed but that didn't stop us from being economical and taking the combi (a bus/shared taxi thing) where a woman rushed us on, threw our bags up front, as we crammed in like sardines. It cost about 40 cents each for the 25 minutes ride into town, and everyone on the bus wanted to help us by telling us where to get off.
We met a nice little old german lady who was on her way to the jungle for an ayahuasca ceremony (a psychedellic drug used in spritual ceremonies). In return for helping her figure out the bus she invited us to join but we politely declined.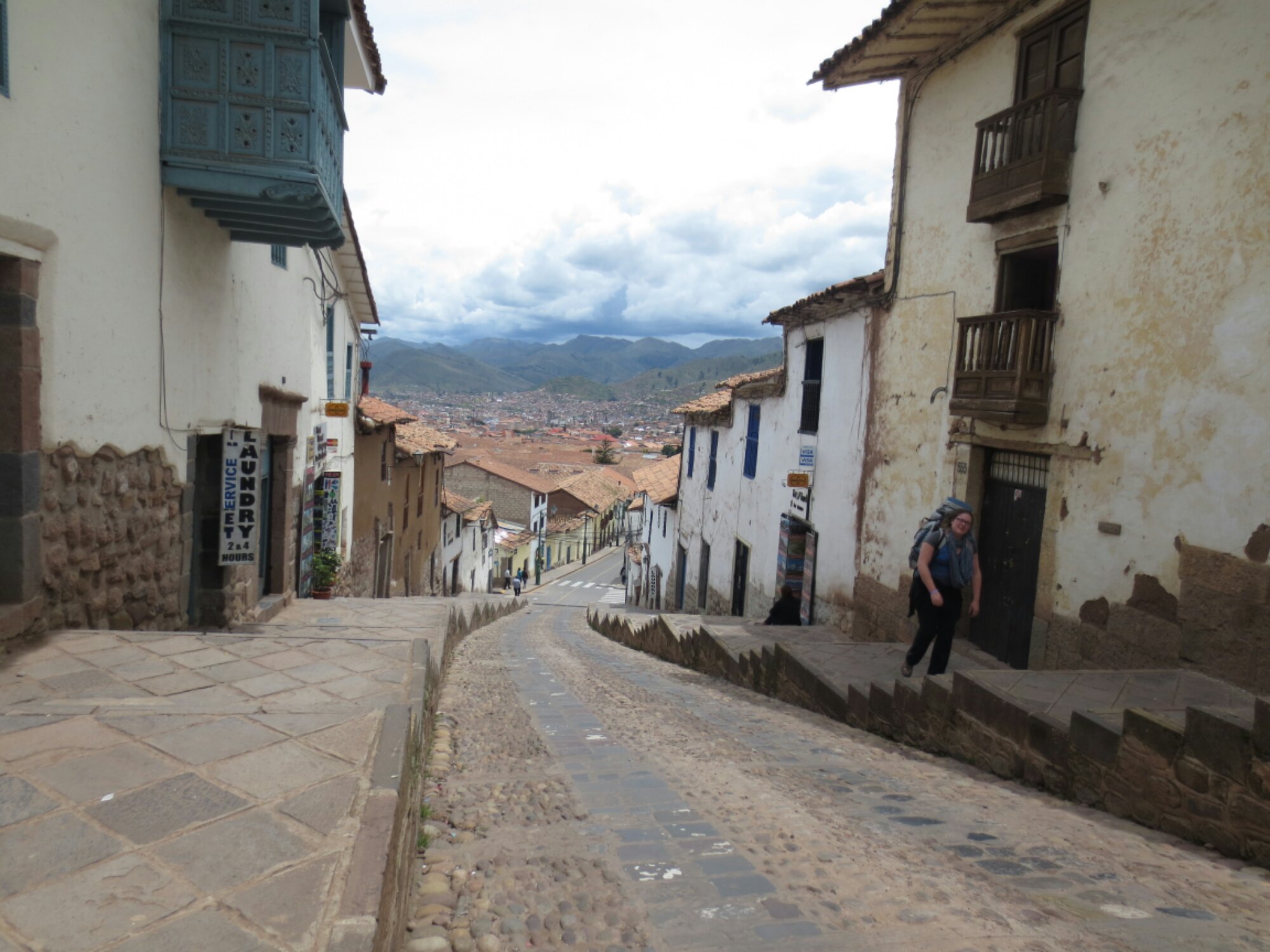 We walked around the plaza de armas and began our ascent to the Loki hostel, a short but steep 5 block walk. The Loki hostel is like a compound with an open courtyard/bar and dorm rooms around the outside. We settled in then headed back down to the main square for dinner, seriously contemplating taking a taxi back up after. We ate lots of meat and potatoes, and drank coca tea looking over the plaza de armas, and flirted with an adorable baby who waved every time you caught her eye.
When we finally made it back up the hill (walking slowly) where we encountered a pirate party/rave happening in the courtyard right outside our room. We met our Argentinian roommates who were hard to understand but kissed us on the cheeks like Europeans.
Harriet let Mindy practice her Spanish by ordering our beer, but made an ass of her by telling her to ask for two tazas instead of two vasos (taza is like a cup for measurement purposes), to which the bartender responded with a confused look. We won't be making that mistake again. We shared a beer and were wallflowers for a bit, then got even more antisocial by checking our email. We went to sleep early with earplugs in our ears and bass pounding in our hearts.

Comments