09 Feb 2014
In La Paz we checked into our familiar abode, Loki, with plans to go out for food until we got signed up for a beer pong tournament. "Las Primas" was our team name. We met some friendly bartenders who all supported us, and we made it to the 3rd round of 4, but lost in overtime to a pair of Israelis… pathetic. All we had to do was make it to the 4th round where we would have creamed the two other American girls in order to take home the prize of two Loki t-shirts. Despite our unfair loss (their elbows were all over the place) we had a great time, and made a great team.
The bar was a crazy scene of mostly South American and European travelers with the occasional Australian, and a surprising number of Israelis… it was also a young crowd. Apparently in Chile "seven years is nothing." We went to sleep feeling defeated and old, but were happy to have the bar staff on our side.
Exploring La Paz, Harriet was successful at finding information about the soccer team her brother Phil played on when he lived there in the 70's. "The Strongest" is still wildly popular in La Paz, and everyone was impressed that Harriet's brother had played on the team. We found another Moroccan restaurant where we had lunch. The tagine we ordered was delicious if not totally authentic.
Back at the hostel we had a lazy night and watched what we thought were two Brazilian boys (remember this for later) play pool, good entertainment while sitting on the couch drinking a beer, too lazy to socialize and fend off the advances of 18 and 19 year-olds. Despite our efforts we were encouraged by two young men to "try a taste of Brazil to know if we like it." We politely declined and retreated to our room.
It was a good thing we went to bed early because the night proved to be long and noisy. Our Chilean roommate Savina didn't return to her bed (nothing out of the ordinary in the dorms) BUT she had set her alarm for 5:30 to catch a bus home with her friends. They realized she was nowhere to be found at 2:30 in the morning, after coming into our room, shouting, turning on the lights, and lifting up the blankets. They came to look for her about once an hour, and she was still M.I.A. when her alarm went off at 5:30, at which point we could hear her friends knocking on every door of the 200 bed hostel in search of her. An hour and a half later she showed up disheveled, and in disbelief that it was actually 7am. Her friends were much nicer than we would have been, and laughed about the situation after missing their bus. We made a promise we'd never do that to each other (or to our roommates).
It was a good day to get out of La Paz and into the mountains for some fresh air. We took an early mini-bus to Coroico, a village in the Yungas, three and a half hours northeast of La Paz. The bus ride was terrifying. One of our fellow passengers decided it was a good idea to fill her gas container on the way out of La Paz (they don't have gas stations in Coroico???) and it tipped over in the back and oozed up to our feet.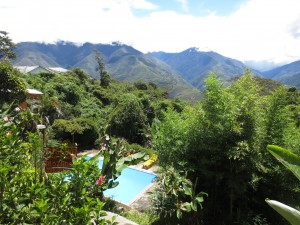 Coroico was a welcome change of pace after two nights at loco Loki. We walked up a hill, following directions from the pharmacist who helped Mindy out with [guess what], and made our way to a jungly mountain-side paradise with a swimming pool, a hammock hut, and glorious views of the Yungas. We made it there as it began to pour, but we didn't mind being trapped in paradise with card games, our books, and delicious French food, made by the French owners.
We enjoyed our relaxing afternoon, and woke up early the next day to more pouring rain. We sucked it up and decided to go on a hike to the 3 waterfalls a few kilometers farther along the ridge (stupidly choosing to leave our sunscreen behind). After failing to find the trail we inquired at the tourist office where they suggested taking a taxi there and walking back on the road, as the trail was washed out. After passing through tiny communities with tarps of coca drying in every sunny space, we got dropped off at the third waterfall and started to make our way back. The third cascade was cold and windy, the second had a dam that was under construction, and the first was a perfect place to stop for a snack.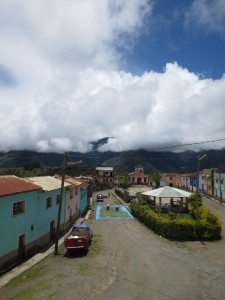 Detouring up a small creek into the jungle we took our shoes off so we could walk through the river. At this point the rain and clouds had completely cleared up and we were left to burn on the two hour walk back. Lesson learned.
Back in town, hot and sunburned, we caught the next mini-bus to La Paz, and got to sit together in the front this time with a driver who had really long arm hair that kept brushing against Mindy. Harriet fell asleep and bobbled about like a rag-doll while Mindy was left wondering how the driver could see without a defroster, in the mist, and having to click the wipers each time he wanted a clear view. Overall the ride back to La Paz was slower and much less scary.
In La Paz again we decided to finally go out in the city to eat. Harriet was grumpy from her sunburn, and there were too many options, but we finally settled on a funky old-fashioned place where she got a steak dinner and Mindy got vegetarian lasagna. We went to sleep anxiously awaiting the arrival of our friend Wilson, who was supposed to have arrived that night.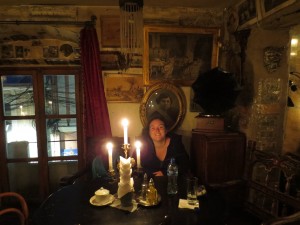 In the morning there was still no Wilson, and we worried that he might have had trouble at the Peru-Bolivia border because he had been robbed and his identification papers had been taken while he was in Cuzco. Tom, our British bartender friend assured us that he was just "on Bolivia time."
With almost no clean clothes left, we dropped our laundry off to have it washed in preparation for leaving the next day, thinking maybe Wilson wasn't going to make it to La Paz after all. As we were sitting figuring out our itinerary Wilson finally showed up, just in time for the Superbowl.
We secured our seats and toasties early, Harriet wearing green for the Seahawks, and Mindy and Wilson in orange for the Broncos. Hattie was probably the most knowledgeable spectator in the crowded bar, and explained the game to the foreigners around us. It was actually one of the rowdiest crowds we've ever been a part of for the Superbowl. Someone was holding a sign that said "Peyton Manning has a mangina" and another group had a sign that stated "I don't know what's happening." Despite not knowing what was going on the fans were fierce, chanting, cheering, and talking smack.
Before the game was over (it was obvious who was going to win), Wilson took us out to a giant street fair called "Alasitas," hosted by Ekeko, a little buddha-like figure who in the altiplano is considered the god of abundance and prosperity. The fair was full of stands selling mini-everything, which people buy for each other hoping it will bring them the real thing in the year to come. They have mini-cars, houses, furnitures, diplomas, stacks of money, and anything else you could wish for.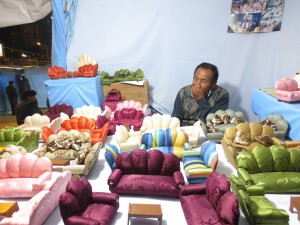 There were foosball tents, pool table tents, and even a ferris wheel! We went back to Loki where it just so happened that Wilson was bff's with the two "Brazilian" boys that had been playing pool two nights before. They were in fact Colombian and Bolivian, Jhonny and Mandi respectively. We played a few games of pool and almost won twice, danced to Grease, and finally went out to the Hard Rock Cafe when the Loki bar closed.
We thought we knew how to dance but we just got laughed at by Wilson and our new friend Mandi.
The next morning we woke up too late for the lax breakfast ending time of 1pm, so we ventured out with Wilson, met up with our new friends, and went to a tiny little lunch place we would've never been able to find on our own. We had a four course lunch for less than two dollars, and went back to the tattoo parlor where Mandi and Jhonny work to meet their other friend and coworker Alfredo.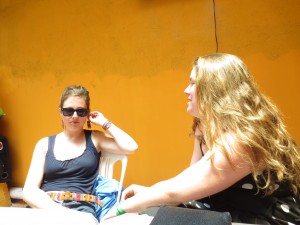 After a lazy day we finally went out on the town with our new gang to three different grocery stores in search of the ingredients to make "four cheeses." After finally finding all four cheeses we took the supplies to Alfredo's mother's house. We watched Amy Winehouse wasted in concert on TV while the boys made a delicious family dinner for the eight of us. Wilson had been raving about this "four chesses" recipe since we met him in Cuzco, and it didn't disappoint. After dinner (at 12:30am) we watched South Park in Spanish and lounged on the couch until our eyes grew so heavy that we had to go home.
The next day it was finally time to check out of Loki (again). After checking out we got Saltenas for the whole crew and headed to their studio. The saltenas were delicious but apparently there's a trick to eating them that we don't get. As we spilled Saltena juice all over ourselves they joked that "if you don't know how to eat a Saltena, you don't know how to kiss." We spent the day hanging out, sharing our favorite songs on youtube, and they drafted Harriet as their Arabic expert for the day. Apparently tattoos in Arabic are just as popular in Bolivia as they are in the US, and hopefully with Harriet's help their tattoos will actually be spelled and written correctly, more than can be said for most of the Arabic tattoos she's seen elsewhere.
We went out with the gang again for a super American dinner; "boogers" (that's how people pronounce it here, hehe), fries, and a shake. Wilson's 17 year-old sister Andrea joined us and was able to talk to Mindy and Harriet in fluent English. The plan was to get on a bus to Sucre or Oruro that night, but our friends convinced us to spend one more night in La Paz in a creaky room above theirs at the cheap hostel where they have been living for months.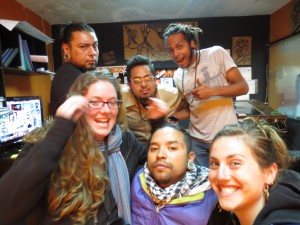 Mindy just wanted to go to sleep in our new room but everyone wanted her to come along to a reggae bar. She was being a super grumpopotomus but Harriet offered to do her bidding for the night in exchange for her company at the bar, and it was a good thing because there was an awesome Afro-Bolivian group from the Yungas playing live music. Saya was both the name of the music and the region it came from, and the group consisted of about seven percussionists/singers, one lady singer, and two lady dancers.
Exhausted after the exciting performance we went home happy to have had the experience. We slept well despite the creaky beds in our room overlooking the city.
After a gigantic and delicious breakfast we focused on figuring out Harriet's debit card which hadn't worked the day before. How much more bad luck with cards can we have? After visiting three banks we found out that her debit card had been demagnetized (how did that happen?) but were saved by the fact that cash can be withdrawn from an ATM with a credit card at some machines. So now we are left with only one form (eeek!) of getting money.
Our bellies still full from breakfast we accompanied the boys to yet another meal (they eat so much!). They ordered fried trout, and we were pressured into trying ispis, teeny tiny fish that you each whole and fried (even the eyeballs!). We walked down a street of only hardware stores so Wilson could find a new airbrush, asking at about fifteen stores before he found one. It reminded us of finding neon paint in Cuzco.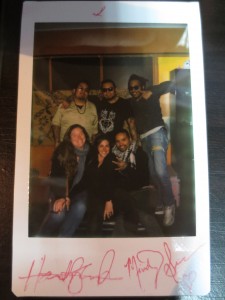 We finally said goodbye to our new friends and took a picture with our polaroid camera to leave with them as a reminder. They made us sign it and said it would be the first installment on their wall of fame. Then we geared up for our 16-hour bus ride to Sucre with pizza, oreos, crackers, and peanut butter. And toilet paper.
Comments