20 Feb 2014
What a productive bus ride we had heading south, 12 hours and extremely comfortable. We wrote our blog post about La Paz, watched two episodes of Veronica Mars, fell asleep and woke up in Sucre!
In the city we got ripped off by a cabbie, checked into a hostel, shared a sweet crepe and a savory quiche at a cute French bakery/cafe and delivered the tattoo machine that Mandi sent with us to his friends' tattoo shop in Sucre. The delivery was far less interesting than we expected. The guy didn't even say thank you… or anything else for that matter.
After wandering around Sucre a little, we found a sexy rotisserie chicken place where the busty (not to be confused with busted) lady owner did all her own advertising posing in a tight, revealing dress holding a giant skewer of roasted chickens. Bolivia loves chicken. We love chicken. And that was some goooood chicken.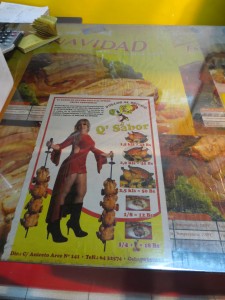 On the way home we walked right past our hostel, too busy trying not to get poured on and splashed by passing cars. Embarrassing.
The morning brought Harriet a joyful email from UC Berkeley congratulating her on her acceptance to the journalism master's program. Woooooooo!
Feeling celebratory we had a big breakfast and a truffle, feeling like we had to get chocolate in the city called Sucre (which means sweet in Spanish). We shared a glass of freshly squeezed OJ and little fried sweet dough covered in dulce de leche from the street. Yum.
In the main square we walked past a little fair with games and information about increasing government transparency, and were surprised to learn that it was for a national day of transparency implemented by President Evo Morales.
In the afternoon we boarded a clattery bus to Potosi. We profiled an American couple on the bus as being from Seattle or Portland, and our first guess turned out to be right! We knew because they had weird haircuts and were decked out in REI hiking gear.
We picked a somewhat cheap ($3.70 per person) hotel from our travel guide, getting there only to realize that it had become quite the destination. The price had quadrupled in seven years since our book was published. Mindy made Harriet explain that we thought it was going to be cheaper and ask if they could recommend a more economical hotel, but instead they lowered the price to $10 per person, which we accepted because we were still in celebratory mode and frankly too lazy to lug our backpacks across town in the rain (and it was a very beautiful place).
We thought we would save some money by using the kitchen to make ourselves dinner, but really it was around the same price because we got a late start and the supermarket was the only place still open, forcing us to buy 15 eggs and 4 tomatoes for our egg sandwich dinner.
Later it was brought to our attention that our bank accounts had fraudulent charges from an ATM we had attempted to use in Arequipa (right down the street from the ones that ate our cards). Another bank setback (with many more yet to come)!
The next day we explored the maze of clothes and food markets, and found ourselves in a charango store (the small typical guitar-like instruments with ten strings in sets of two) where Mindy tested all the instruments, learned some chords, and decided to buy a beautiful wooden charango.
After gently haggling with the drunk music store owner we continued on to our tour of the now-cooperative silver mines, which began in a hectic and confusing way. A surly woman, ironically named Soledad, or "Sunny," picked us up at our hotel and hurried us to the miners' market where we were told to purchase coca leaves, soda, and crackers as presents for the miners. We also had the option of buying giant cigarettes and supposedly potable 97% alcohol for "Tio," the devil-god who protects the miners in the deep, dark, and dusty silver mines.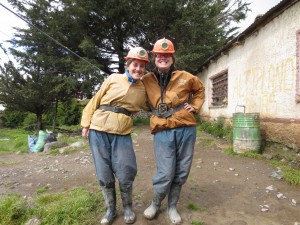 We got dressed in silly outfits to keep our clothes clean, and began the hunched (not-so hunched for vertically-advantaged Bolivians), stuffy, smelly walk into the depths of the 400 year-old mines. We passed by some pretty rocks, and stopped a few times to watch groups of miners working hard to extract the huge chunks of impure silver mixed with other minerals that they sell (for a pittance) to the companies who refine it.
It was a long three hours in the mine and apparently "Sunny" had told us to buy facemasks when really she hadn't. We hacked and coughed and possibly accumulated some silver in our lungs. Maybe we can sell them now that we're destitute? When the tour was over we convinced our new best friend du jour, Jossue to stay another day, and he acquiesced "so he could hear Mindy sing."
We wound up with Jossue, two Chileans Giannina and Carlos from our mine tour, and two Chileans not from the tour. We walked around Sucre looking for a bar to no avail. Finally we found a weird karaoke bar, full of old drunk people on awkward dates. Mindy got to practice her Spanish a lot and the Chileans got to practice their English, and they all sucked pretty equally so we mostly drank the whole bottle of rum we were forced to buy between the seven of us, and took pictures of ourselves, working up the courage to sing.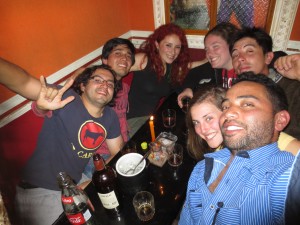 Everyone hardcore peer-pressured Mindy to sing a song, so she picked her go-to non-singing song "Love Shack" from a limited list of English language tracks. Mindy was a big hit, but maybe just for her sweet dance moves. Then the Chilenos sang a Chilean song, and we stayed a little while longer watching old people line dance and sing karaoke unenthusiastically.
On our one-month travel anniversary we caught a beautiful four-hour bus ride to Uyuni, passing purple rocky mountains, llamas, and vicunas. In Uyuni we practiced our newly-found negotiating skills (well, it was mostly Hattie but with Mindy's back-up and encouragement). We visited six tour agencies, and ended up negotiating with the 2nd cheapest one to make it as cheap as the cheapest.
For dinner we went to a hole-in-the-wall in a row of holes-in-the-wall(s?) with a grill-master posted outside barbecuing chicken, steak, ribs, and sausage. We picked the grill-master who was the friendliest when we walked by and it turned out to be the cutest family, even though the patriarch seemed to be scared to talk to Harriet (although we heard him speaking Spanish to his family).
An early wake-up call gave us plenty of time to prepare for our 3-day trip to the Uyuni salt flats and the southwest corner of Bolivia. Our jeep full of tour-mates included Harriet from the UK (WHAT?!?!?! the first Harriet of the same age that Harriet has ever met), Jean from France, and Damian and Boris from Israel, along with Alejandro, our smiley, coca-chewing tour guide.
Our first stop was the Uyuni slat flats, which was like a gigantic white shimmering mirror, the way it looks if its rained recently (we were lucky that it had). We drove out onto the flats through water that was definitely higher than the exhaust pipe at times. We made it to the middle of the salt flat where there is a salt hotel, which is maybe made out of salt but we're not so sure.
We ate lunch out of the back of our jeep, which we would rather not remember. It was rice, vegetables, and some unidentifiable meat. On the way back Mindy rode on top of the Jeep with Jean, looking our over the reflective expanse. We jammed to music, and took loads of pictures.
Next stop was the train graveyard, a place where all the old train cars were left after Bolivia lost their exit to the ocean (and presumably their train track to the sea). It was extra creepy and cool because we arrived just as a thunderstorm was starting, and we got to watch the lightning and listen to the thunder while exploring old rusted out train cars covered in graffiti.
Hopping back into the car as the rain started, we made our way to the first overnight destination. The conversation in the van turned political and Mindy's belly turned sour. We thought maybe it was from the politics. As we bumped along into the village we were staying in for the evening it became more evident that it wasn't just the politics that was making Mindy's tummy turn.
Just as we arrived at the hostel for the night Mindy became white as a sheet and felt like she needed to let everything inside of her out. With kind encouragement from Harriet she did just that, from both sides. Harriet thought Mindy looked much better after puking her guts out, and went to get tea. Getting tea turned into socializing a little and about half an hour later she came back to find that Mindy wasn't in our room, but folded over in the bathroom. After about an hour of intermittent violent puking and left with too little energy to even keep her eyes open Harriet went to try to find medicine, or a doctor, or something. Finally she found Alejandro who grabbed her by the hand and followed her to check on Mindy with great concern. After seeing her went to go find a doctor.
Harriet waited anxiously while Mindy went between exhausted stupor and wretching a few more times. Alejandro soon returned with a young lady "doctorita" who had some bottles and packages with her. Mindy didn"t understand much but heard the doctor say "donde las venas" while feeling around Mindy's dehydrated arms. She mustered up just enough energy to roll over when it was decided the shot had to be administered in her buttcheek. It was like magic, Mindy felt better immediately. Exhausted and finally able to sleep, she fell asleep and Harriet went to play cards with our more conscious trip-mates.
Alejandro woke us up with a bang-bang on the door and Mindy greeted him with a double thumbs-up for "I'm going to make it." We loaded up and set off for our first of many colorful lagoons, where flamingos walk around awkwardly and sleep on one foot.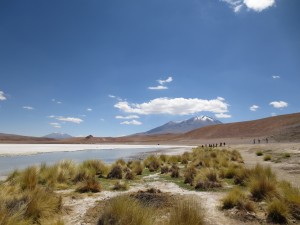 Mindy was still exhausted and sore so she would pass out every time we sat down in the car, even for just a few minutes. We saw a few lagoons, a rock shaped like a condor, a rock shaped like a tree, and lots of the Mars-like landscapes in between. We entered a national park, within which was the hostel we were staying at that night, right on the Laguna Colorado, a huge lagoon colored red from the micro-organisms that the flamingos gorge on.
We arrived and immediately hiked, the wind gently pushing us from behind, to a mirador to look over the stunning landscape. The wind wasn't so gentle on the way back, when we had to fight through the gusts and dust to take one small step at a time towards our warm tea and snack that was awaiting. We spent the last few hours of the night, before our 8:30pm bedtime getting to know our silly companions, listening to the wind howl and to Mindy playing the charango, and playing cards.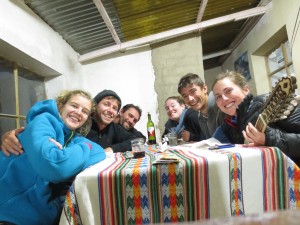 At 4am sharp Alejandro came a-knocking on our door. Without breakfast we headed straight to the geysers where we were the first ones to arrive. The sun rose as the geysers were at the most active and smelly they could be. Next stop was the hot springs and where we had breakfast and got to lounge in the warm clear waters for half an hour, which sure felt nice.
Our last stops were at the laguna blanca and Picasso's desert on the way to the border with Chile, where we were dropped off. We were sad to say goodbye to our new friends but as we boarded our bus to San Pedro de Atacama we were looking forward to the new adventures Chile would bring.
Click here to see the loads of beautiul photos we took on this leg of the trip.
Comments