06 Mar 2014
How To Get Robbed In Valparaiso
Immediately after crossing into Chile on the bus we started to descend, driving down for over an hour. Finally we made it to San Pedro de Atacama where we went through customs. Mindy's charango was thoroughly inspected, but made it through.
The first order of business in a new country is to get money. We had done absolutely no research on the exchange rate before our Uyuni trip, and so with trepidation Harriet took out $200,000 (they use the dollar sign which makes it quite nerve wracking) on her credit card, hoping we hadn't just drained our funds. We don't understand why they don't just knock a few zeros off the end! Deciding to make San Pedro de Atacama more of a transfer point than a destination we headed straight to the bus station to try to get to Santiago (or somewhere along the way). On the walk we appreciated how beautiful and laid back the town was, and wished we could spend more time there if we weren't in such a hurry to get south.
Over the course of doing our chores we learned a few things about Chile that are going to take some getting used to: the crazy 550 to 1 conversion rate, the close-to-US prices, the heat (we finally internalized it was summer in this hemisphere), meters in taxis, putting toilet paper in the toilet, men carrying babies, instant coffee, and cold drinks.
We bought a bus ticket to Calama, a bigger city about 90 minutes away, thinking we would have more options for a cheaper 24-hour bus ride to Santiago from there. We watched as a bus labeled Santiago was loaded and drove away, realizing too late that we were supposed to be on it. Something else to get used to? In Chile where bus station have at least a pretense of organization its actually harder to figure out whats going on most of the time.
The annoyed man at the bus counter reluctantly refunded our tickets and we sucked it up and bought overnight tickets to Santiago from the only company with available seats that afternoon, the expensive and supposedly fancy TurBus company. The bus left in a few hours so we were able to explore the little town for a few more hours, fill our tummies, and prepare for a full day sitting on a bus.
The bus ride was relatively comfortable, despite Mindy feeling quite ill for most of the ride, and we slept well over half of the 24 hours on the bus. We rolled into Santiago at about 6pm the next day, where we ate ice cream, oriented ourselves, and made our way to the apartment of Harriet's life-long friend Samantha, who has been living in Santiago for the past 6 months working with the local School of the Americas Watch chapter painting awesome murals and doing other rad projects.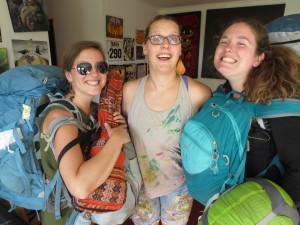 The door at her apartment was answered by her interesting roommates/friends who introduced themselves by their full names that no one ever calls them. We all drank beer and chatted until Sam got home a little while later. How sweet to be reunited with dear old friends.
For dinner we went to a close-by Peruvian restaurant where Mindy was kind to her sensitive stomach and got a simple yet delicious chicken soup. After dinner we went to the young and cool part of town to try to get into a hip-hop show that a bunch of Sam's friends were at, but it was too crowded and they weren't letting anyone in. Her friends suggested we go to a bar called "yamen" which we searched for, realizing at last that it was actually a reggae bar called "Jammin'" that we had walked past. Instead we found an outdoor table at a bar on the main drag where we caught up on each others' lives and decided to go home early (early for Chile, it was 2am).
Our first order of business the next day was to get our package with our much-needed ATM cards, which had thankfully arrived in Santiago but were stuck at customs. We barely made it to the airport on time, and then we were forced to pay $160 to "liberate" the two tiny packages from customs. We were so frustrated that we threw paperclips at the desk when no one was looking and marched right out of the building without getting our packages inspected. Chilean customs seems to be great at fleecing people and not so great at their actual job of inspecting incoming goods.
Sam showed us around Santiago a little, and it was Valentine's day so we decided to be each others' valentines and buy ourselves chocolate. We also tried a Chilean snack, "mote con huesillo," a cup with some kind of barley-like grain at the bottom, filled with peach nectar, and a dehydrated and rehydrated peach ("huesillo") in each cup. At Santiago's beautiful sprawling cultural center we met Sam's boyfriend Pancho, and watched as he and his friends/colleagues finished sketching a mural on a free-standing wall in the middle of the open courtyard.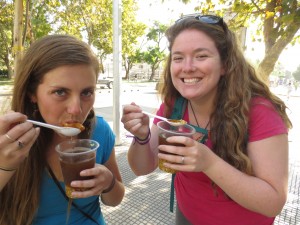 When they were done we went to Pancho's workshop/studio with Meli, a free-spirited Argentinian transplant in Santiago, and hung out in their awesome workspace. After Felipe, another muralist and friend, came over we all went out to get churrasco sandwiches, the go-to cheap late-night food in Chile, a bun with meat and various toppings. After filling our bellies we made our way back to Sam's apartment where the three of us squeezed into her tiny bedroom, her mattress, an extra mattress, and Harriet's air mattress completely covering every inch of floor.
After getting a late start (everything seems to end and start late in Chile) we went to the cultural center for the culminating event of the arts workshops that Pancho, Meli, Sam and others had been working on all summer. The program, sponsored by a UNESCO grant, brought kids from inner city schools to mural, theater, and dance workshops. Pancho, Sam's pololo (Chilean slang for boyfriend) was one of the instructors of the mural workshop, and we watched as they finished the mural outside, and joined the crowd to watch the dance and theater performances inside. It was an inspiring event celebrating some talented kids and was followed by a party back at Pancho's workshop with many of the instructors and some of the adult participants. We stayed up until 5am dancing, drinking, and doing the limbo in the tiny studio space. Some people know how to dance, some people (we) do not.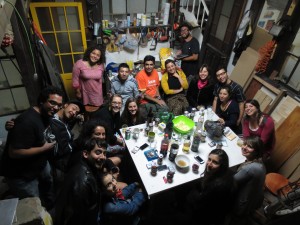 After a typical late Chilean night, sometimes you just gotta have one of those days when you lounge in your jammies, watch your TV shows, and eat fried food. We did that until we got ants in our pants and went to Santiago's biggest public park to stretch our legs and enjoy the beautiful warm weather.
We rented a giant adult tricycle/carriage thing (for three) and cruised around the park wreaking havoc. After tiring ourselves out at the gorgeous green space we went to Santiago's most famous sandwich spot, which looks exactly like a classic German beer-hall. There we found our first pale-ale since being in South America, and we thoroughly enjoyed it along with our giant sandwiches with strips of beef, avocado, tomato, and a giant variety of sauces and condiments.
The next day started super early with a bus to Valparaiso after successfully finding the right bus station (one of a seemingly endless row of bus stations with unclear distinctions). We fell asleep immediately once we got on the bus, and an hour and a half later woke up in Valparaiso. It wasn't long before Hattie's superb directional skills got us to our hostel, where we met Tina, Allie and Dena, Hattie's friends from Madison.
Our hostel, Canta'ito was adorable, perched on one of the forty plus dramatic "cerros" (or hills) that make up the city of Valparaiso. It was run by a family/group of Chilean rastas and was super laid-back, cute, and comfortable. After yummy home-made tuna melts and a siesta we rushed out for a view of the sunset over the sea from Avenida Alemania, the road the goes along many of the cerros parallel to the ocean and up in the hills. It was a pleasant walk up Cerro Alegre, and a peaceful sunset in a park with exercise equipment, until the way down…
Just a few short block from our hostel some guy crossed the street quickly towards us, grabbed Mindy around the waist, and cut her little bag off at the strap from underneath her sweatshirt. By the time we realized what was happening he was running away. Mindy threw her Coke bottle at him and instinctively ran after him, with Harriet in pursuit of Mindy. He disappeared down a dark alley stairwell where Harriet finally convinced Mindy to stop her chase, just as a good samaritan attempted to follow him further, only to twist his ankle at the bottom of the winding stairs.
A kind family in a blue house came out to see what the problem was. They were a chubby man in bunny slippers and a white bathrobe, his wife, and their daughter. They called the police for us, and then kindly waited and chatted with us for the interminable hour and a half until the police FINALLY showed up. The police took us to the station via the hostel where we picked up our new friend Pablo from Uruguay for extra support.
The scene at the police station was comedic, reminiscent of Super Troopers. Mindy called the US Embassy on the captain's cell-phone while Hattie checked her facebook on another officer's cell to get Sam's phone number as a contact. After three failed printouts of the police report he finally stopped hitting on us and got it right. Despite Hattie telling them at least a dozen times that she saw and could identify the culprit, they didn't care to ask for a description. They gave the three of us a ride back to the hostel while we snapped a few pictures of ourselves in the back of the cruiser.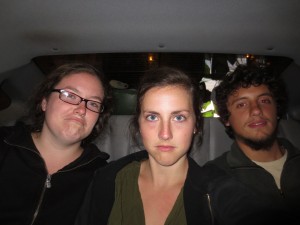 Back at the hostel we had to deal with the consequences of Mindy's passport, debit and credit cards (new and yet-to-be-used), and immunization record being stolen. We dealt with it as soon as we got back, but it wasn't quick enough as our expert thief had managed to charge almost $5,000 on the debit card in less than three hours, supposedly from a location in Angofagasta (a 24-hour ride north). We felt a little better realizing that this guy was a real professional, and thankful that the bank was going to reverse the charges.
After all the excitement it was hard to go to sleep and we stayed up late chatting with our friends on the safe and beautiful terrace. Tina and Harriet reminisced about the circumstances of the beginning of their friendship, the occupation of the Wisconsin State Capitol that had been going on exactly three years previous. Thousands of miles from Madison it was nice to discuss, remember, and celebrate that life-changing experience.
In the morning we went with Allie on a free walking tour of Valparaiso. We learned some history, saw some sites, and felt properly touristy. Valparaiso, a once bustling and fancy port city, was built up artificially on the edge of the sea. We got to ride one of the famous funiculars (like a ski-lift that takes you up the steep hills), got to taste delicious homemade alfajores (sandwich cookies with dulce de leche inside), and got great suggestions on the cheap places to eat and go around town. We took advantage of the expert advice and went to one of the recommended cheap places, and got some tasty fried fish for lunch.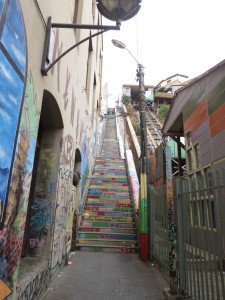 Back at the hostel we met up with our old friends and our new rasta friends, and went on an adventure to one of the cerros across the city where one of the guys lived. On the way Harriet explained (knowing the reaction would be dramatic) that her mother saw Haile Selassie (the emperor of Ethiopia who rastas believe was the second-coming of Christ) once in an airport. The news stopped our friends in their tracks, and started an informative conversation about the tenets of rastafarianism, which we knew little about.
We've managed to avoid going inside any churches in South America, but we were happily surprised to participate in our first religious experience. Once gathered at the house they started by preaching some phrases from the bible to bless the drums, and then had a long sing- and drum-along, two songs of which we recognized! After the invigorating drum circle we headed back to the hostel, and stopped at a little food stand run by a lefty local who liberally used revolutionary language and images of Che Guevarra for ambience. We ordered "guerrillera" completos (the omnipresent street food of hot dog with avocado, tomato, and mayo) and ate them on the walk home.
Our last day in Valparaiso started late with a big feast at the hostel of pasta generously made by Dena and Allie, and delivered a chocolate bar and note to the family that had helped us out after Mindy was robbed. We retraced the thief's path down the alley, which wasn't so dark or scary during the day, looking in vain in case he had tossed the bag or passport on his way. We didn't find the purse but we did find a microbrewery and enjoyed a flight of craft beers.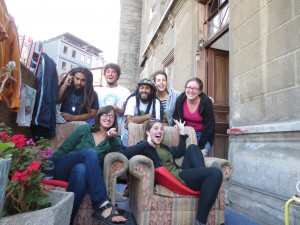 Saying goodbye to our new friends, and planning to meet Dena and Tina in Patagonia in a few days, we made our way to the bus station, a little jumpy and suspicious with all of our bags on. We picked the cheapest bus to bring us back to Santiago, and we were 2 out of 5 people for the big empty ride back to our kind hosts and hostess in Santiago.
Comments