10 Mar 2014
It was comforting to be back in Sam's apartment which had started to feel like home.
Now we really had to start dealing with Mindy's stolen passport. On our way to the U.S. Embassy on the shiny side of town we decided to have an all-American day. We walked in at least one big circle before finding the embassy, but it was a good thing because we found a bagel shop on the way where we got coffee and bagels. SUPER american. We shortly had to leave our coffees and an armful of Hattie's electronic devices at the security desk at the embassy, because they are SECURE. We got to cut the line because we are US citizens and the whole thing was really much less of a hassle than everyone makes it out to be.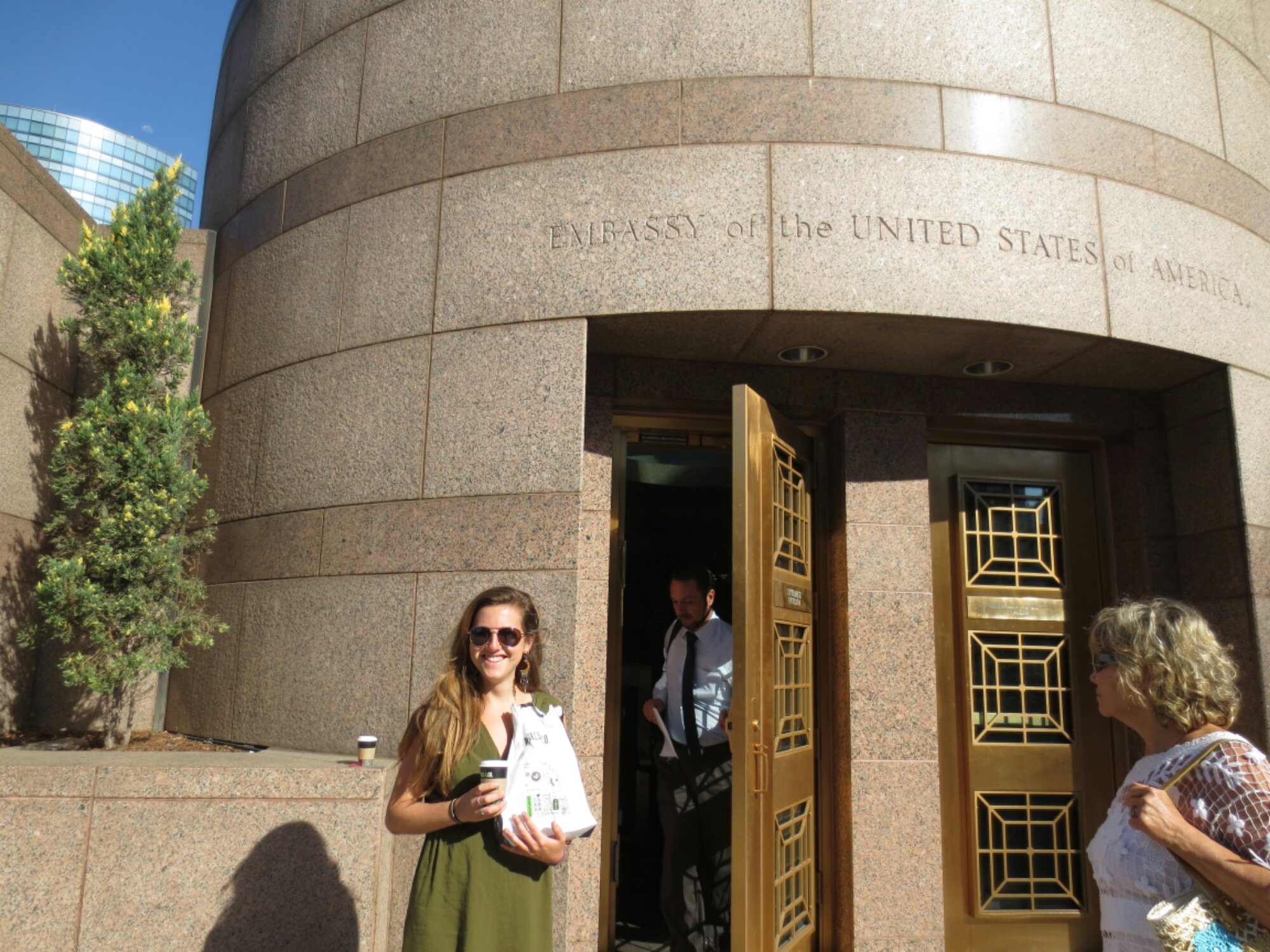 After completing the paperwork we used the free time before we could pick up the replacement passport to find the Bolivian embassy and inquire about getting a replacement visa so that we can go back to Bolivia. Two weird old Japanese ladies pointed us in the right direction, but it was closed. At least we found out where it was.
Continuing our all-American day we tried to find the cheapest food in the posh part of town which ended up being a mall food-court. It was the fanciest food-court we've ever seen. Back at the embassy to pick up the passport we got called niñas by a security guard, and were encouraged to pursue the cute boy that said "bye" to us as we were leaving. We did not pursue. But we did meet Sam to go see The Monuments Men, the only movie that was playing in English in the theater. We ate sushi and froyo, and talked loudly in English about things we wouldn't have if we thought more people could understand. Know what we mean? It was a girlie kind of night.
The next morning we attempted to get our business at the Bolivian embassy taken care of again. We woke up early and trekked all the way back to the bougie side of town, only to have to deal with an extremely mean lady who refused to do anything helpful for us. Looks like we're just going to have to go to the border and beg.
We found a Dunkin Donuts (?!?!?) and extended our American day as a kind of "F-U" to the lady at the Bolivian Embassy (just to that lady, not to the whole country). We wandered into a giant Walmart type store in the mall and found, tested (we just barely fit), and impulse-bought a cheap tent for $30 in preparation for our trip southward. Let's go camping!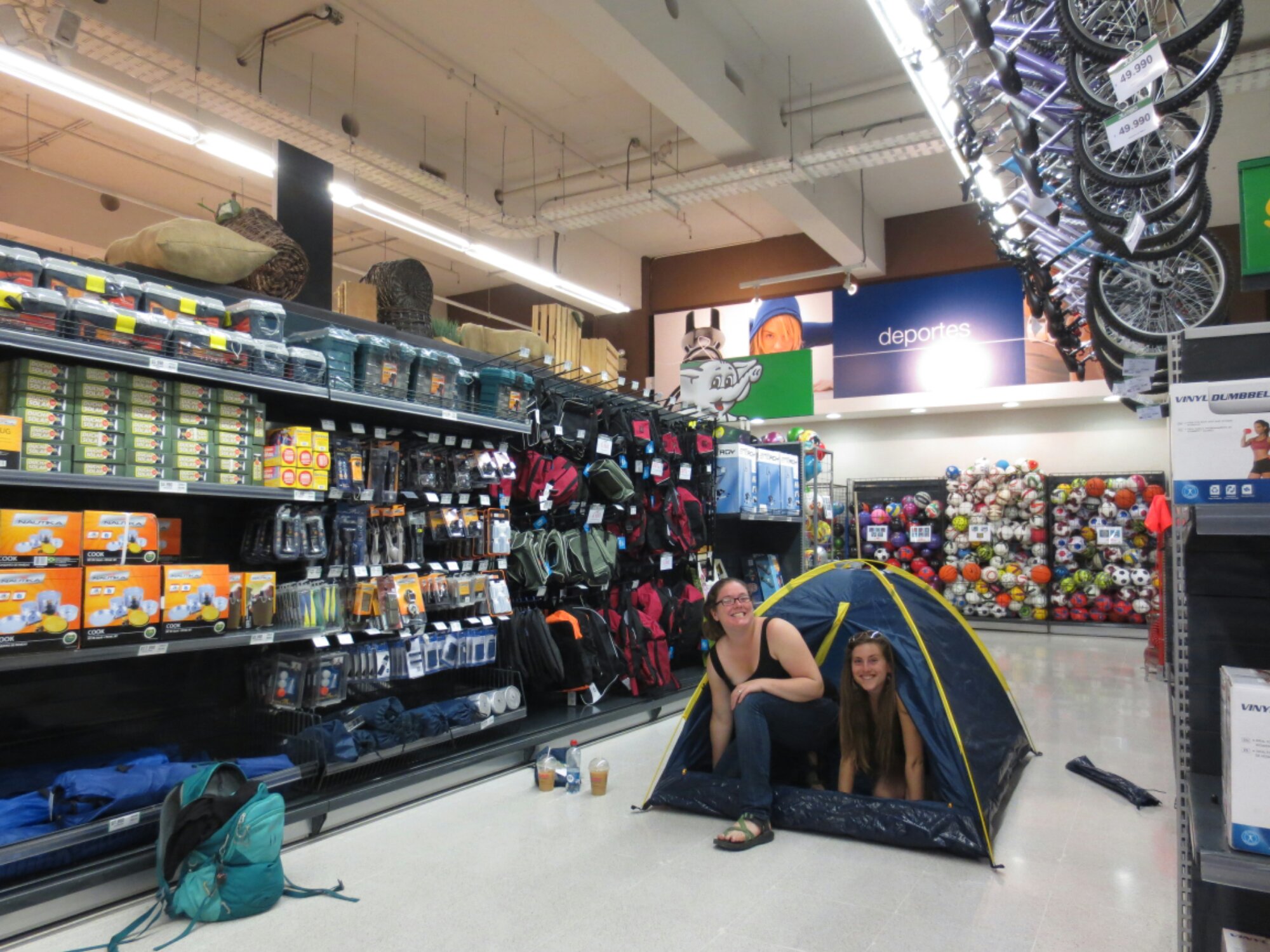 Our next task was to get a new tourist immigration card from the "Policia Internacional". We followed the directions that the US Embassy gave us very carefully but were informed that the location of the Policia had changed… three months ago. It was a taxi ride back across town to get there but quite a simple process of filling out a form, waiting in a brief line, and getting a bunch of stamps by a lady who didn't care about anything we had to say.
Our errands completed, Sam met us at the Plaza de Armas where we tried to find a cheap place for lunch. We were directed to a busy market where we were accosted by men and women trying to sell us their menus and cut us the best deal. After starting some fights between the restaurants we got overwhelmed and settled on fried fish, mostly to get off our feet and get food in our bellies. We walked a long way back to Sam's and stopped on the way to see Pancho and Felipe collaborating on a mural near her apartment. Back at the apartment, sweaty and sticky, Sam was struck with inspiration and bought and filled up 100 water balloons in preparation for a fight in the park. What a way to cool off!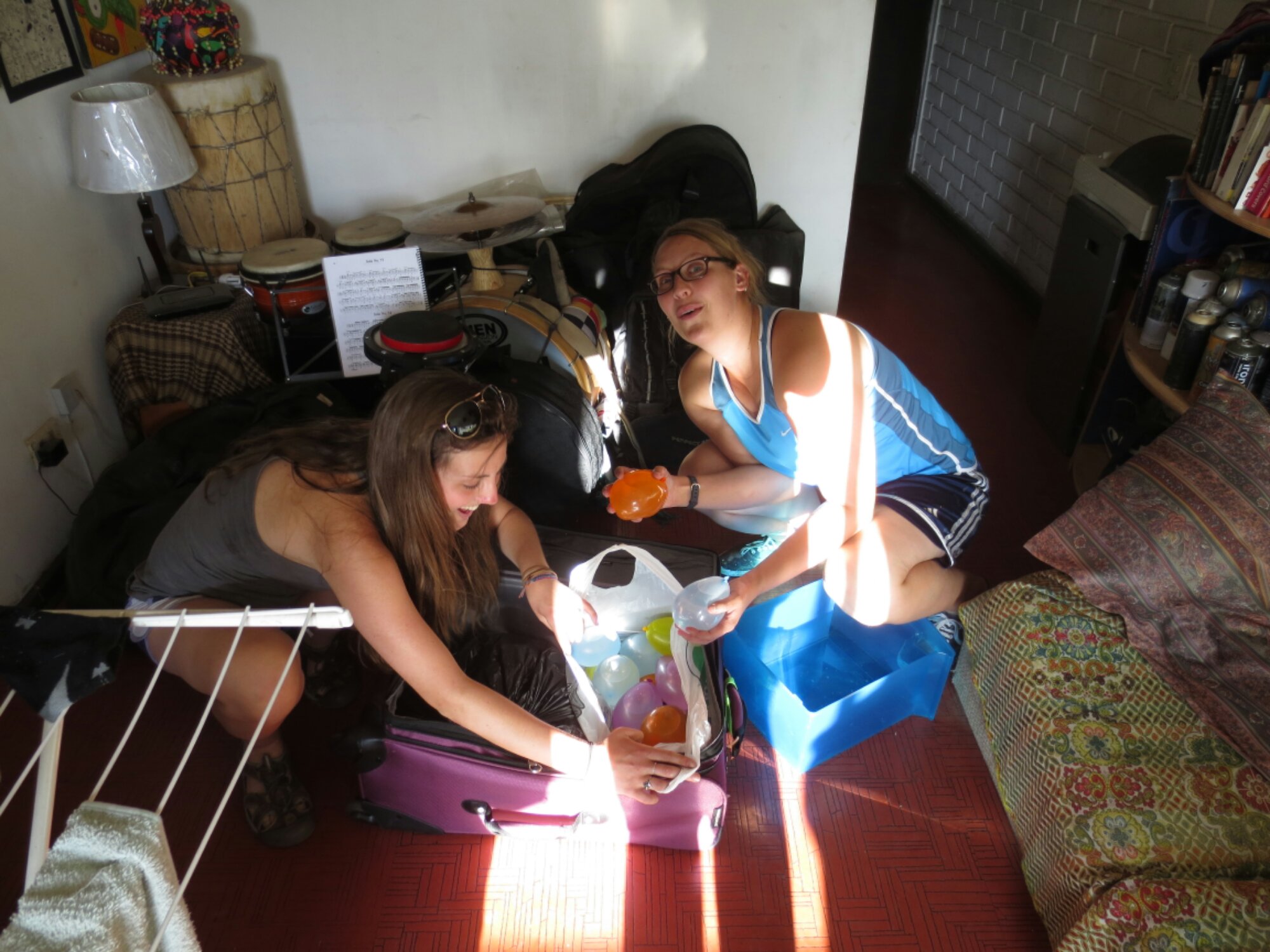 We went with Gero (one of Sam's roommates) and Chaco (their friend) to a nearby park, each lugging about 20 pounds of ammunition, and Harriet started the whole thing by pelting Mindy in the back while she was innocently bent over the bin collecting her ammo. All hell broke loose from there, the start of an intense two-minute battle. Back at home and a great deal cooler the girls cooked a yummy meal of pasta with cheese sauce to feed many mouths.
The crew that was painting the mural finally came back, and about a dozen people hung out in Sam's apartment, sharing music and conversing late into the night. Mindy couldn't hold her eyes open anymore, and went to bed early (apparently much too early for Chile), as folks slowly started to make their ways home.
Our last day in Santiago seemed like a good one to do some sight-seeing. Sam took us on a spectacular funicular ride up a cerro in the middle of the giant city with a big white statue of Mary on top. We got an almost 360 degree view of the city, and boy is there a lot to see! We left just enough time to get an empanada and make our bus to the beautiful island of Chiloe. Thanks Sam for the generous hospitality!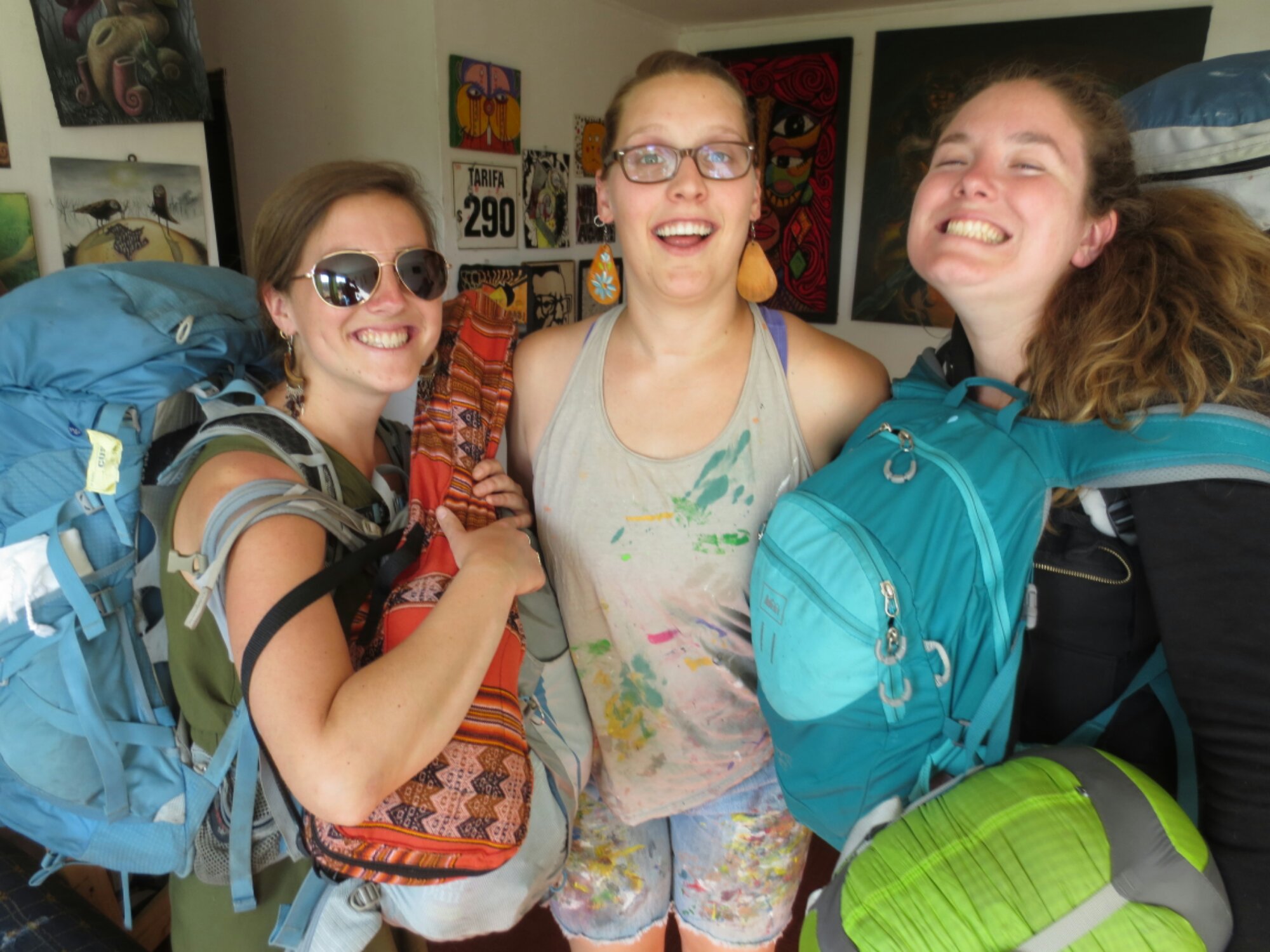 We scored the best seats for this ride…top level, front of the bus so it's kind of like we were driving but much less work. After a while we got used to constantly feeling like we were in two lanes and about to hit everything. The almost day-long bus ride ended with a ferry crossing where we were greeted by a friendly sea lion with a welcoming wave. Seriously.
After arriving at the main city of Castro on the island of Chiloe we immediately bought a bus ticket to the nearest National Park, an hour ride outside of the city. We only had two hours in town to find a tarp for our tent (remember it was cheap), food for camping, and food for eating. It's too bad it was a Sunday because we were only successful at the latter two tasks. We just hopped on the bus and hoped it wasn't going to rain in the next two days.
In the National Park town of Cucao we asked around at several campgrounds and chose the 2nd cheapest one with a view of the sea because the kind man who ran it offered to loan us a tarp in case it rained. Good deal. We set up our tent next to a good-looking French couple and went for a walk in the National Park.  Towards the end of our circuit there was a sign pointing to the outskirts of the park and advertising cerveza. We obviously followed the sign (aware that it might be a genius tourist trap) and were happy to find a charming little place where we shared a beer on an empty stomachs. How economical!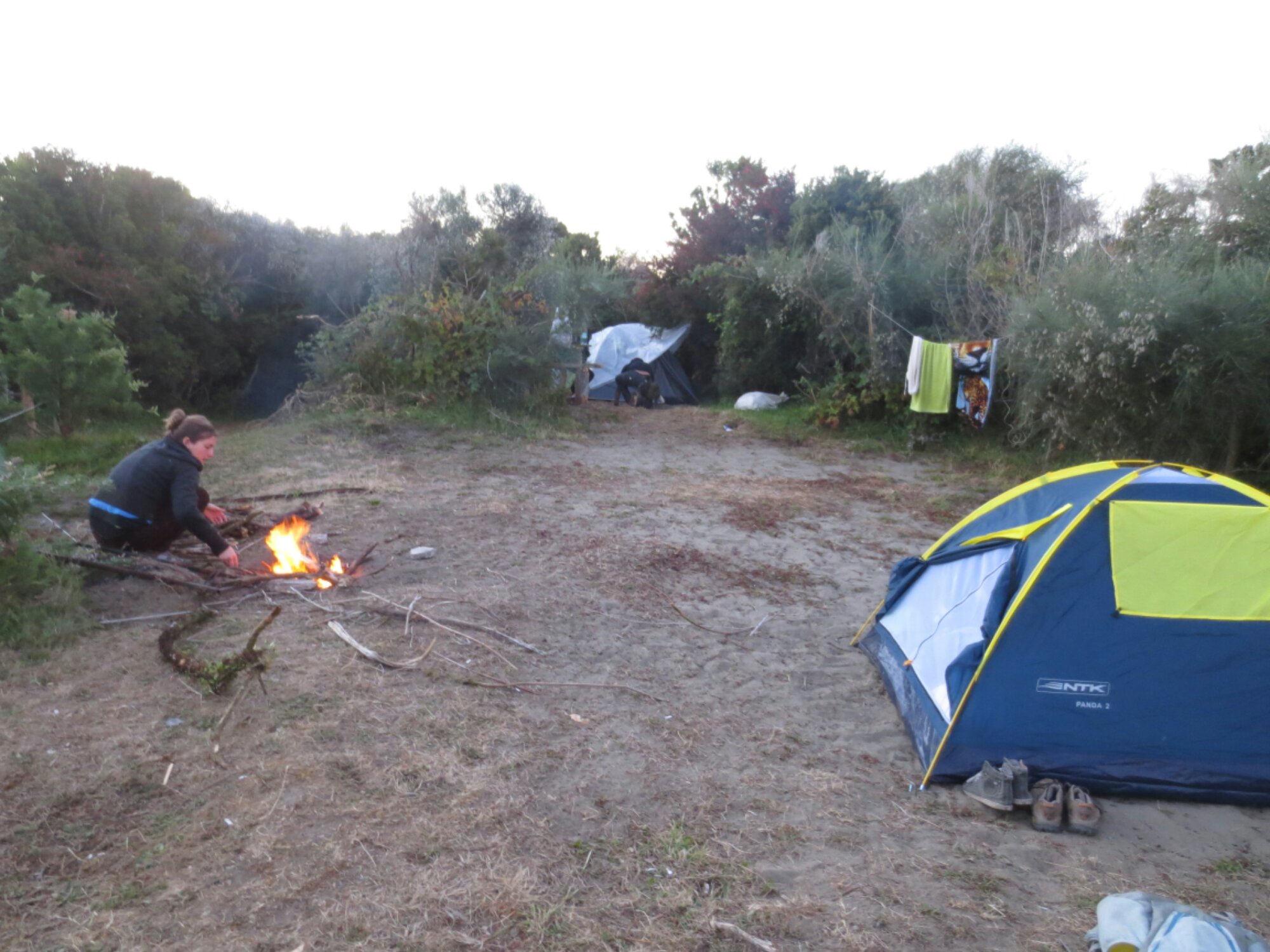 Dinner was salami and cheese sandwiches and homemade potato chips on the fire. But in order to make our fire we had to suffer prickers in our clothes, skin, hair and shoes  We would still be finding these prickers in our camping gear two weeks later. This night's stars were the best we've seen yet. Perhaps because of a hole in the ozone layer?
The intention for our second day in Chiloe was to do a 10 hour hike to what our campground host described as "the most beautiful view". We got a late start and the young man at the information desk in the park discouraged us from attempting the whole thing. We decided it didn't matter if we made it all the way because most of the walk was along the ocean, which sounded perfectly fine to us. After walking a few hours along the windy beach we found a nice rock to sit on and inspect our impending sunburns, at which point we decided to turn around. On the way back we were followed by a fly and found a rainbow colored shellfish with a little face on it that became our pet for the next hour until it dried out and got less pretty. Poor guy.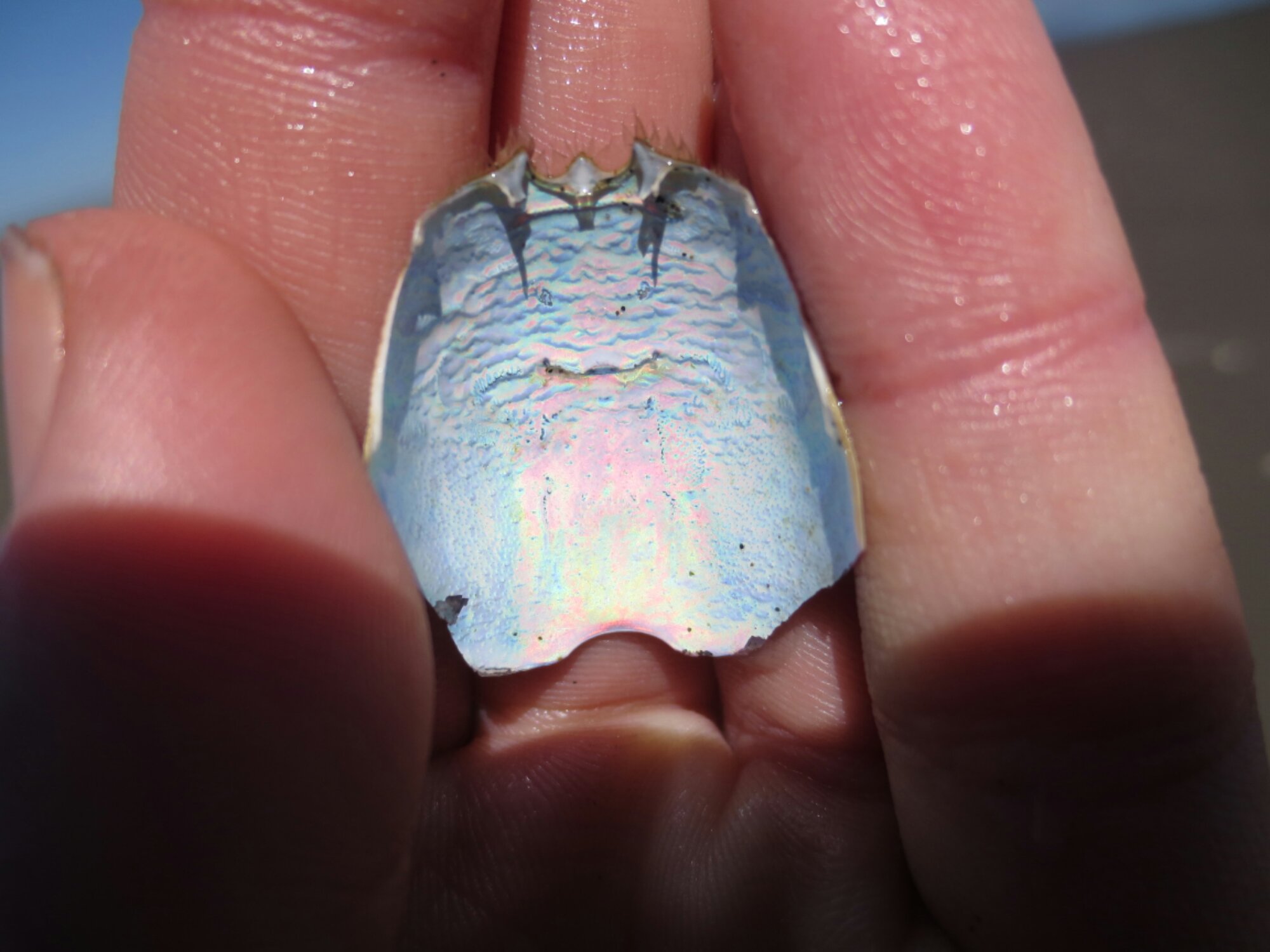 On the way back we took a detour on a trail that took us to a freshwater lake where Mindy took a dip to rinse the sand out of her ears. We had bought hot dogs for dinner but were on quest for ketchup and mustard (avocado, tomatoes and mayo are the usual condiments around here). We stopped in every market we saw and eventually had to cross the bridge to the next town to find it.  Foraging for firewood was even harder the second night but we managed to get enough to cook our hot dogs, peppers, onions and potatoes on the grill.  We met an American girl who was traveling with her Chilean cousin (cousins!!) and exchanged travel stories as the sun set and the stars began to shine.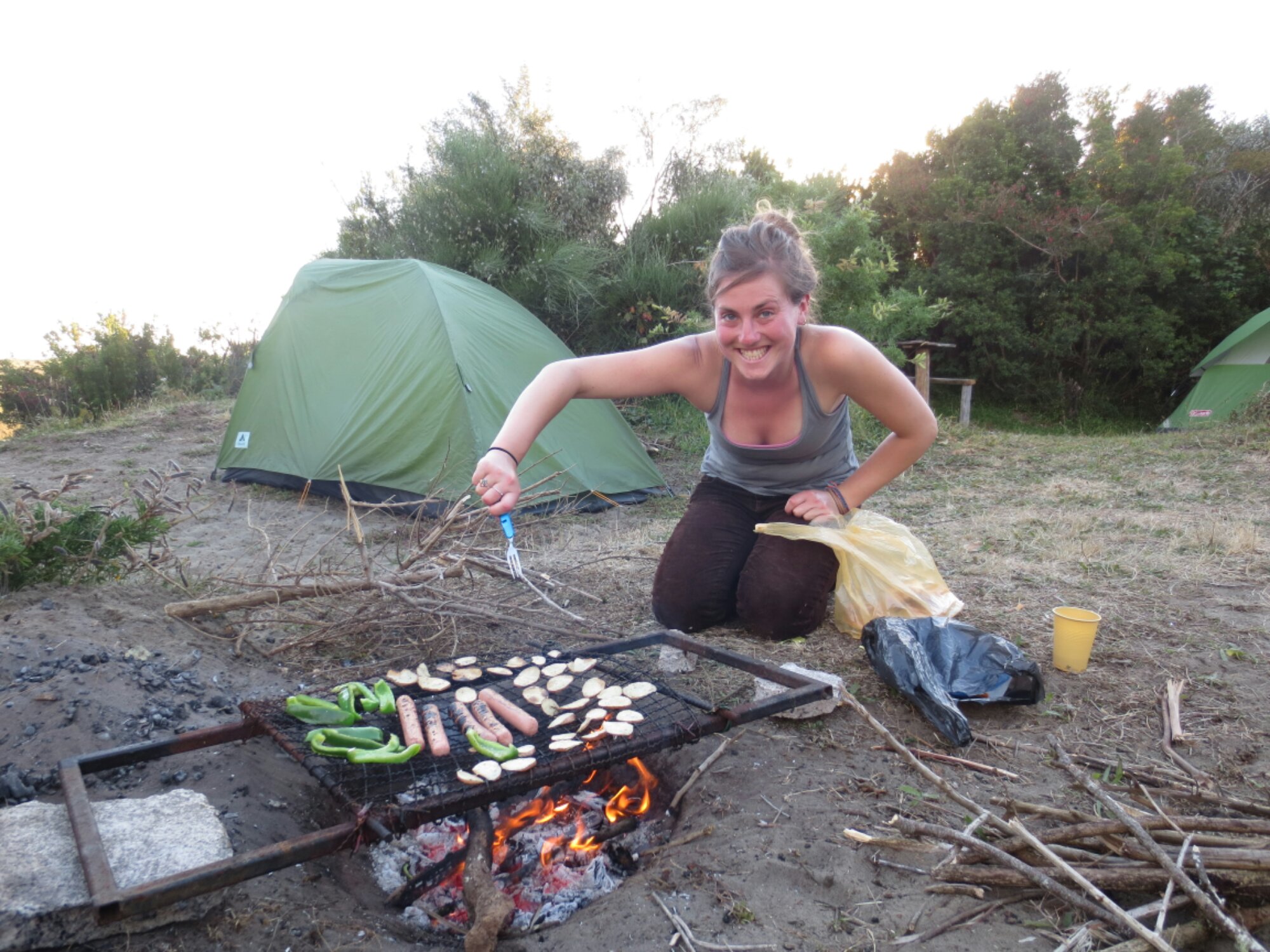 In case anyone was wondering, the tarp the owner lent us might have kept us dry from the rain, but it trapped our own condensation inside with us. The bright morning sun quickly dried out our sleeping bags.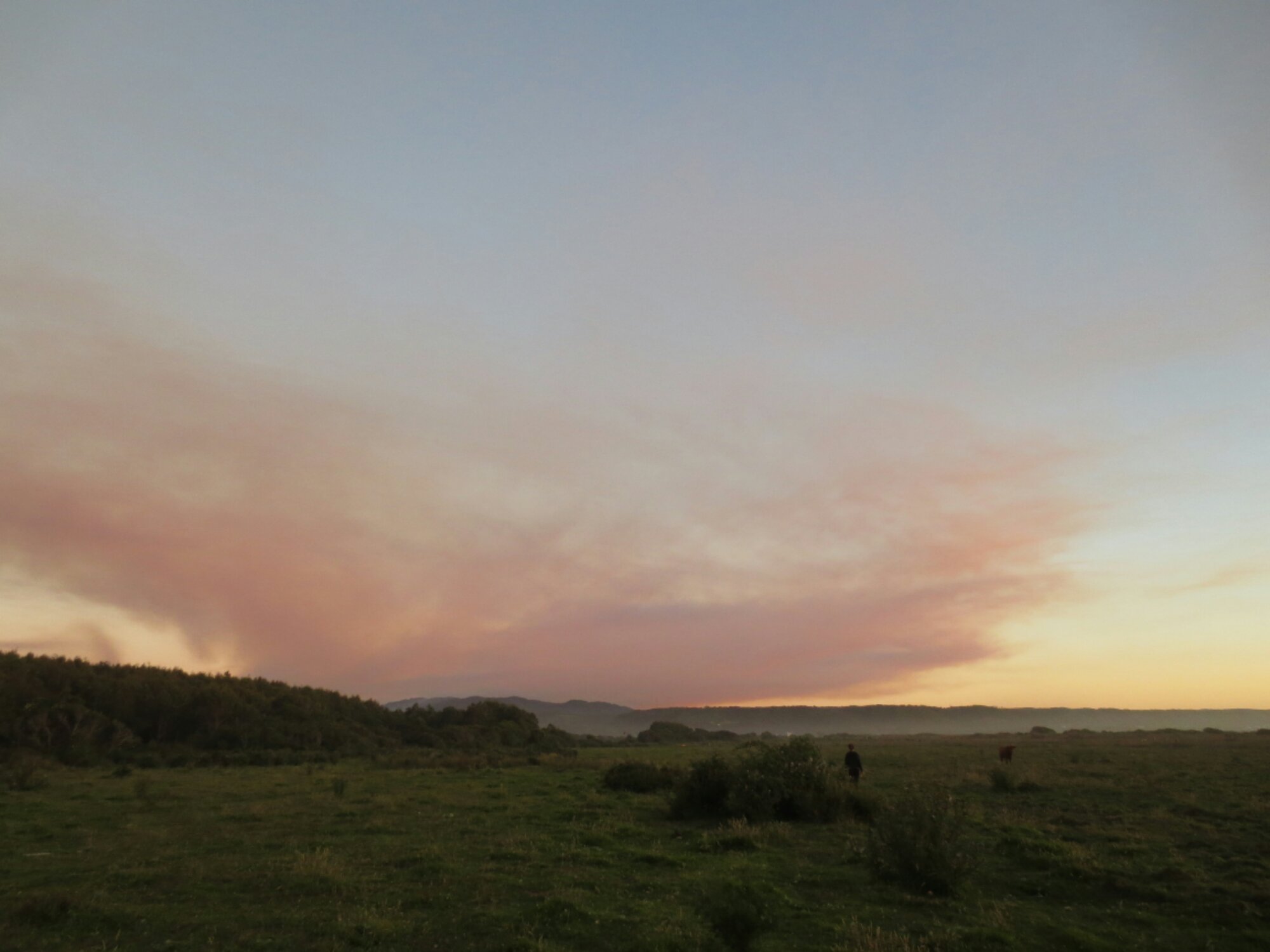 We were sad to leave the island of Chiloe on such a bright sunshine-y day, but excited to make our way down to Patagonia. We took a bus off the island and into Puerto Montt where we thought we could catch a 30 hour bus down to Punto Arenas (the main city in the deep south of Chile). To our dismay we found that we couldn't really because the buses were all booked for weeks! This was our first experience with buses that are actually booked (if it's so popular why don't you send some extra buses?). We looked into every form of transportation that could get us to Punto Arenas.
It was a particular bummer because our Madison friends from Valparaiso were down there and planning a trek in Torres del Paine, the big National Park, that we had said we'd join them for. Our quest took us to airline offices (too expensive), the internet to look up boat prices (even more expensive), and even checked with a rental car company (they couldn't let us cross the border in Argentina without a week`s notice).
Feeling exhausted and defeated, we decided that Chile was making it too hard to get to Patagonia and it just wasn't meant to be. We hastily booked the next bus ticket to the nearest city in Argentina, got some US dollars (to exchange in Argetina), found a nice spot to scatter some of Alice's ashes by the sea (apologizing for giving up on Patagonia) and got the heck out of there.
Boarding the bus we realized we knew absolutely nothing about where we were going in Argentina.