20 Mar 2014
The city we arrived in, Bariloche, appeared to be quite the ski resort town with chocolate shops and high-end clothing stores and resorts made to look like they were built from logs. Maybe they really were.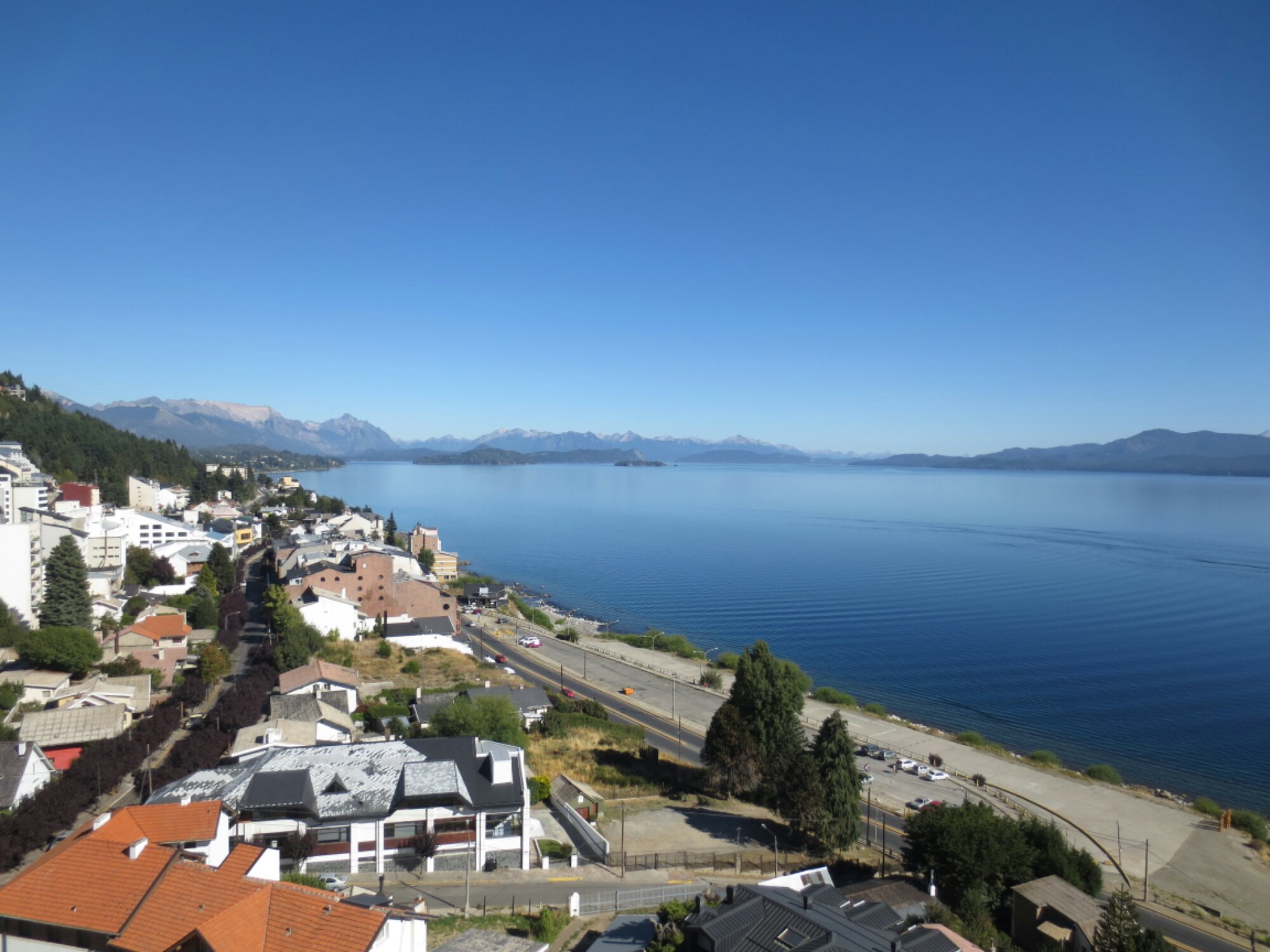 We had no Argentinian pesos but we had taken out US dollars in Chile to exchange. We paid the cab driver in USD and got a crappy rate for the change (continuing our streak of getting ripped off by taxis as soon as we arrive to a new city with our big packs on), but found the nicest hostel ever nestled on the 10th floor of an apartment building! We spent the last of our Argentinian pesos from the cab driver on three tiny empanadas… all that we could afford for dinner at the time.
The next morning was when we knew we made the right decision to leave Chile.  And Mindy made the right decision to sit down at a breakfast table with the bearded boy that she sort of thought might be German. Turned out he's from Maine, hiked the long trail the same summer as Mindy, and was leaving that very morning for a 3 day trek in the nearby mountains of "high Patagonia". Looks like Bariloche is sometimes referred to as Patagonia! We made it after all!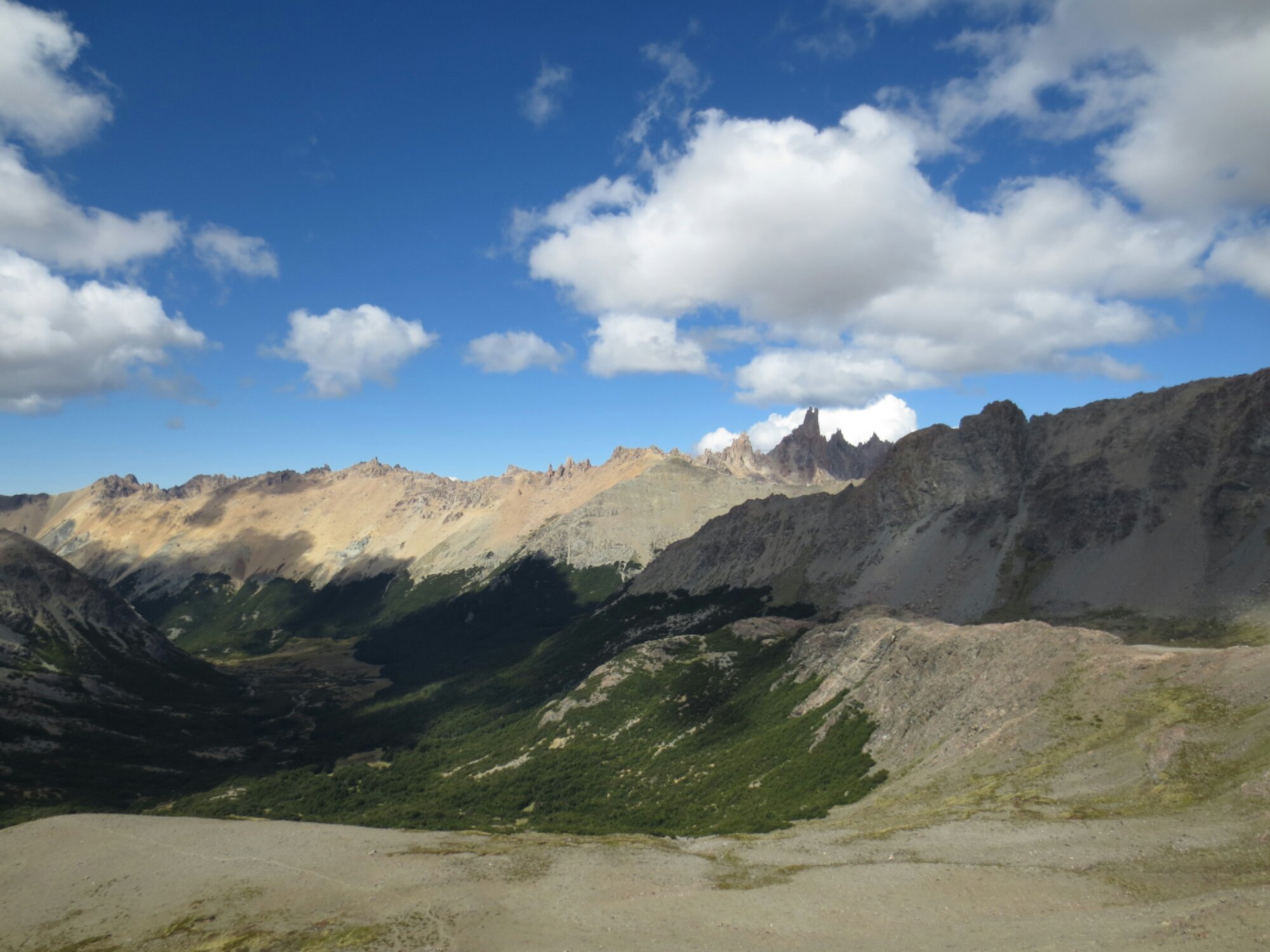 We informed our new friend, Sasha (he's a boy), that we'd be following him into the mountains. We love it when other people do our planning for us. All we had to do was find a cambio to exchange some money, get a tarp for our tent, a map of the mountains, food for 3 days and pack up. We thought that exchanging money   on the black market (or the blue market as it is commonly called in Argentina) would be much shadier than it was. We were told to go the main street and find someone saying "cambio cambio!" to get the best exchange rate (11 pesos to the dollar as opposed to the official rate of 7). We did just that and a nice young man led us into his fancy chocolate shop where he took out a little safe box from behind the desk and counted us out our Argentinian bills.
We scrambled to get our errands done and made it in record time onto the 1:10 bus out of Bariloche for a 20 minute ride to the ski mountain "Catedral".  Mindy was so excited for heading into the mountains she really just couldn't contain herself. While fueling up with pizza at the bottom of the mountain she had to scream into her sweatshirt to keep from exploding. And it was Harriet's first backpacking experience ever!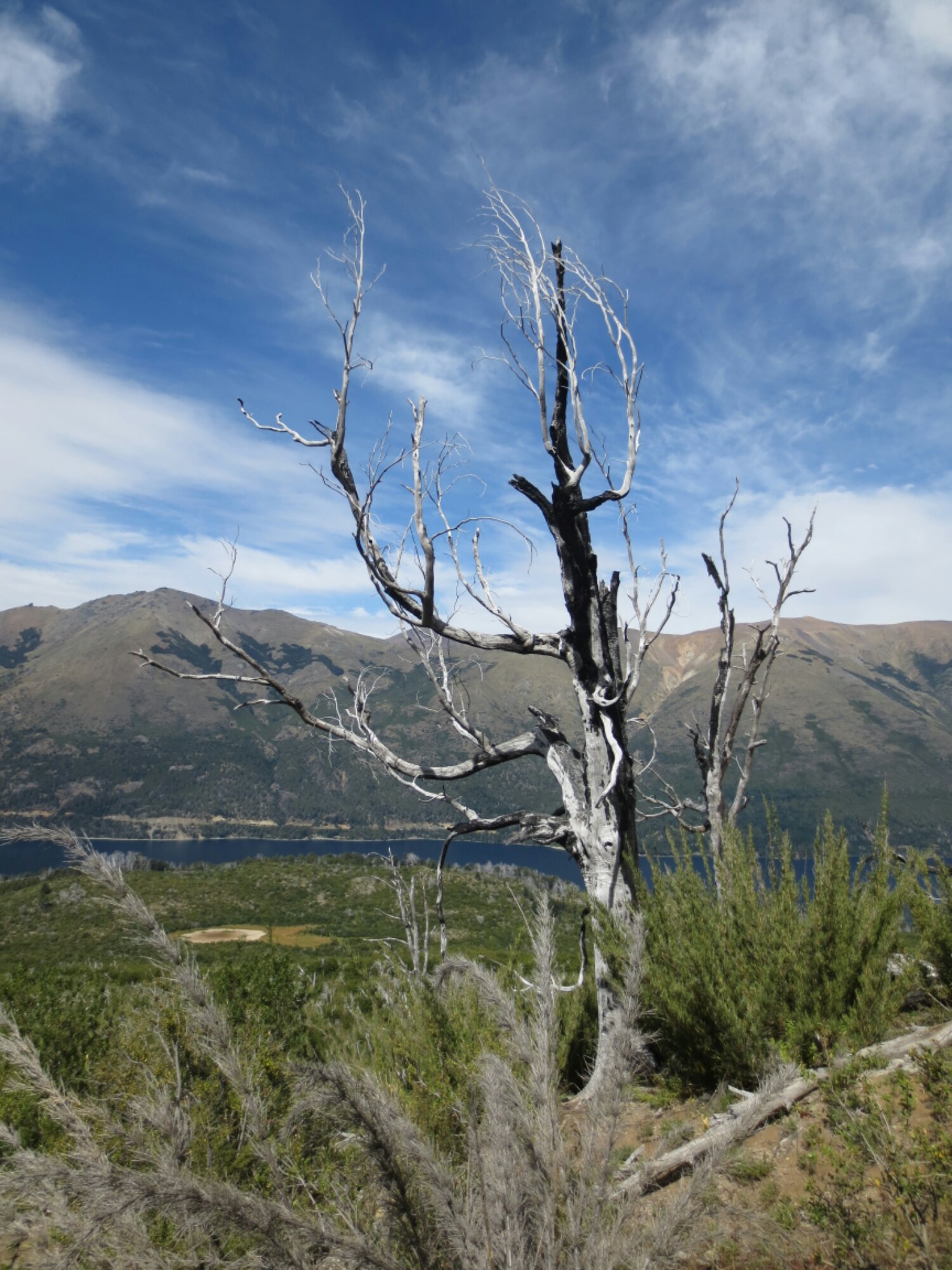 For the first two hours of the four-hour hike we spoke only in Spanish. Mindy thinks Harriet should be a teacher because she sure is good at it (and Mindy is not the easiest student either)! It was not a bad walk to "Refugio Frey," an isolated house on a rocky precipice, overlooking a crystal-clear lagoon. Hikers and mountain-climbers can camp for free in the surrounding area (with many rocky wind walls set up) or can pay to bunk inside.
Upon arrival we found our friend Sasha and gave him a slice of pizza and toilet paper to try to get on his good side so we could use his fuel, pot, bowl, fork, and spice kit to make dinner. After chatting him up we got to work setting up our tent inside one of the little man-made wind wall semi-circles that dotted the rocky landscape around the lagoon. We prayed that we had bought enough tarp to fit over our tent, but clearly we need work on our meter conversion. Mindy rigged up the tarp so that it would mostly keep us dry, and we also had a tiny front porch where two people could hang out if they were curled up really small.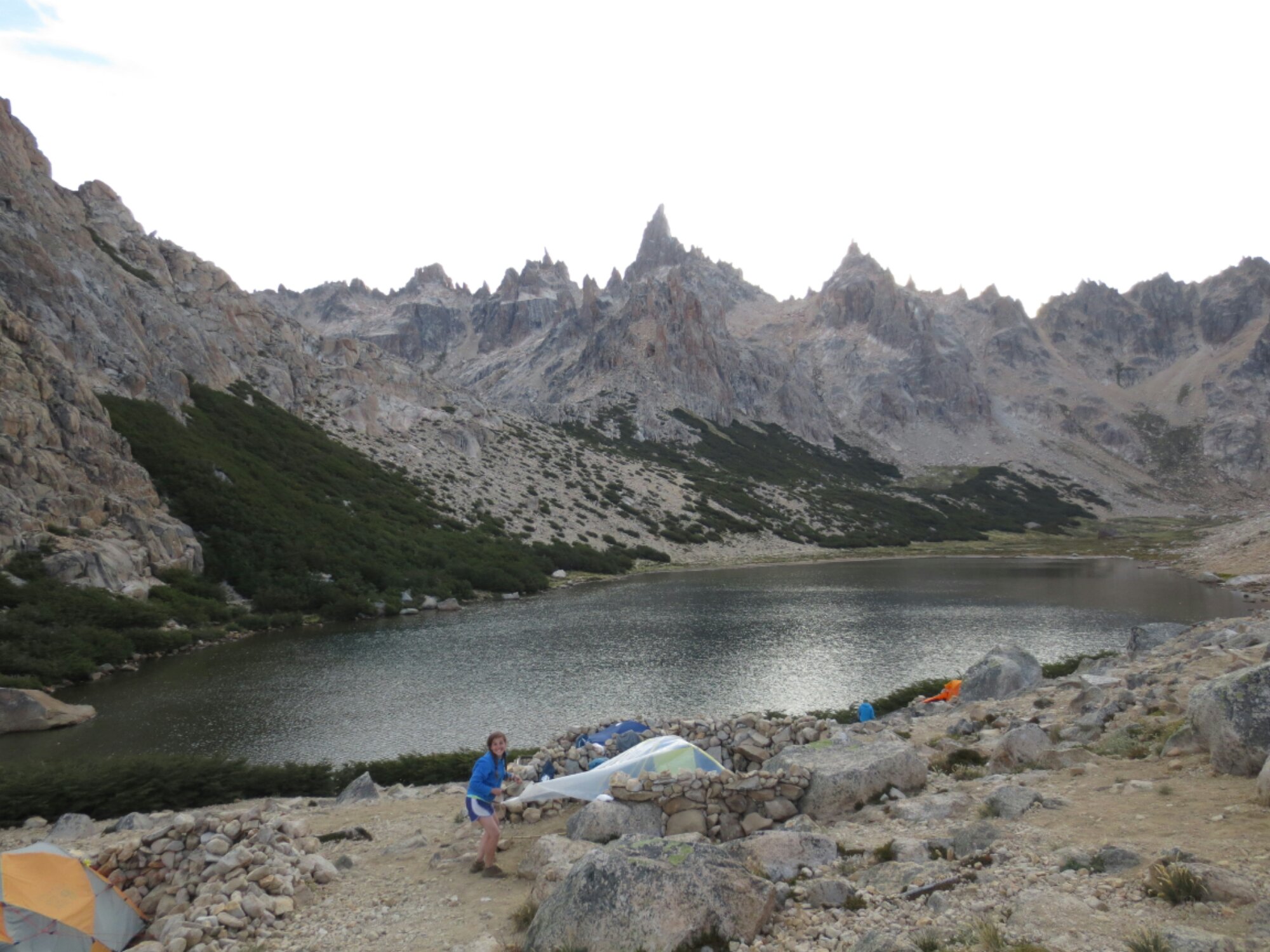 We waited for Sasha to take his last bite of dinner, and stared sadly at our pouch of dried soup until he offered to let us use his cooking tools. We watched the sun set over the towering rock formations on the other side of the lagoon, ate cookies, and got to know our new best friend.
As we were falling asleep, head-to-toe in order to better fit in our tiny tent, Harriet whispered "I have this weird feeling that I'm falling towards my feet," to which Mindy pointed out that we were sleeping on an incline, it wasn't just a weird feeling.
The morning sun came shining through our clear tarp, which had rearranged itself overnight, and we traded a coffee bag with Sasha for some powdered milk and the use of his stove. We thought Sasha wouldn't want to hike with us, but we set off for the 8-hour hike together in the morning, circling the lagoon and trying some wild pink berries that tasted like pineapple. The ascent began quickly and we climbed up the steep rocky path, passing another lagoon, and then ascending more to a stunning view of the valley we would later pass through. Sasha offered up some mate while we enjoyed the vista, and he explained the complicated social rituals that surround the popular custom from Argentina, Uruguay, and Paraguay.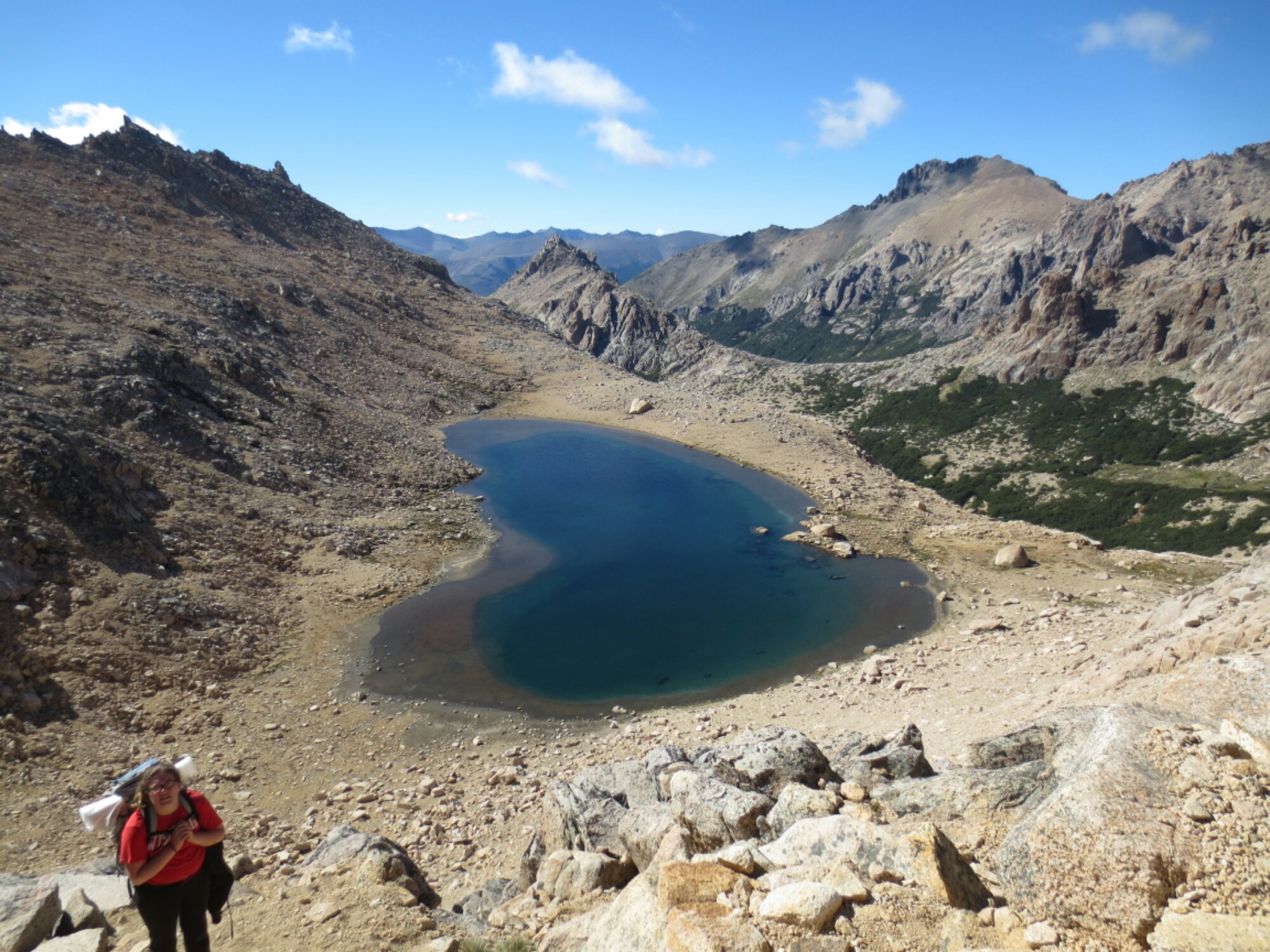 After our mate break we began the steep descent into the valley, carefully making our way over skree that moved under our feet, and stopping to dump sand out of our shoes at the bottom. We enjoyed the shady valley, and stopped for delicious cucumber and cheese sandwiches, sharing with Sasha who supplemented them with avocado and salt.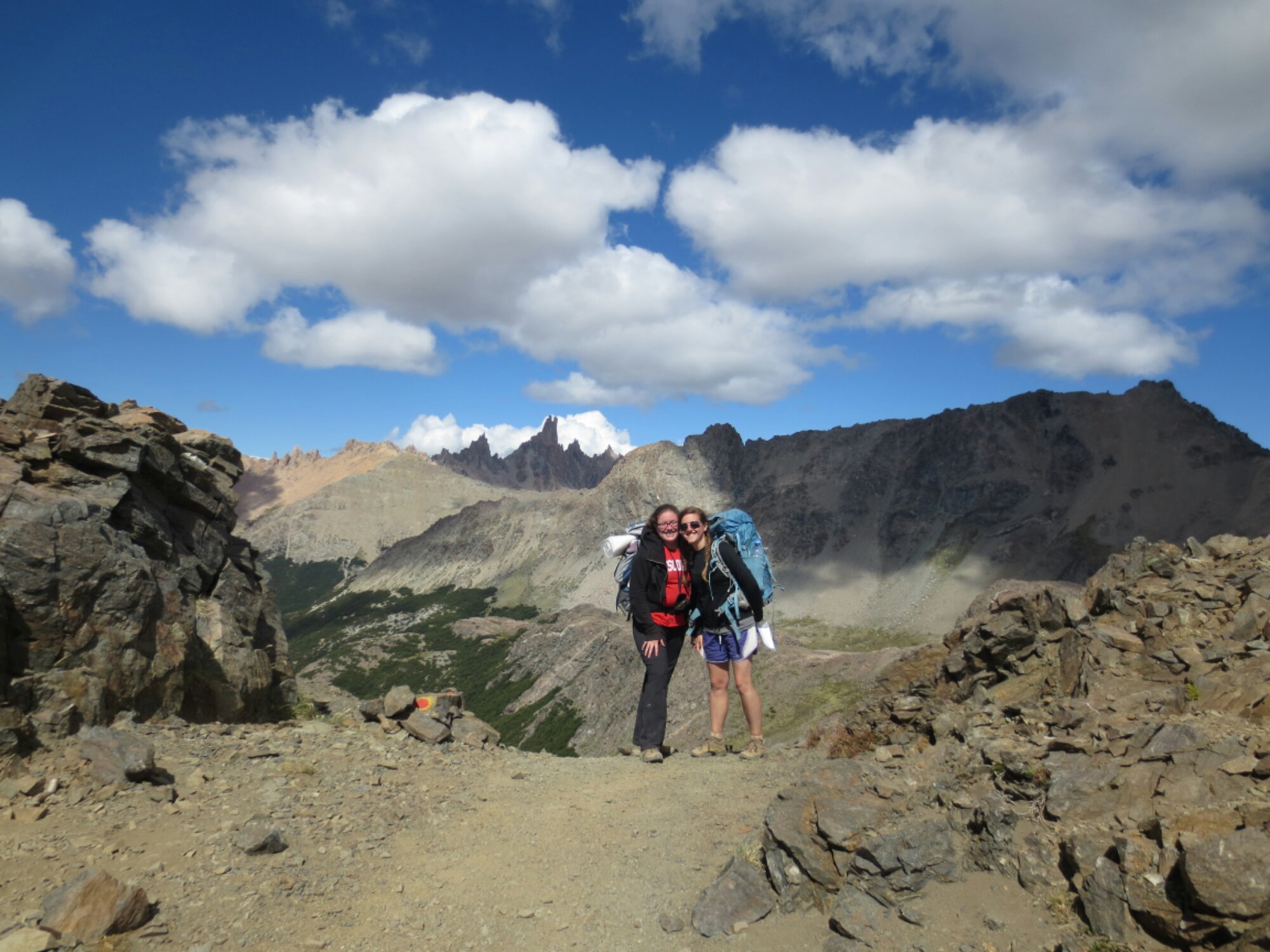 One more uphill had Harriet huffing and puffing trying to keep up with Sasha and Mindy, who waited for her at the top of a ridge that provided a 360 degree view of towering rock formations, snow-capped peaks, green valleys, and the lagoon at Refugio Jakob, our destination for the evening.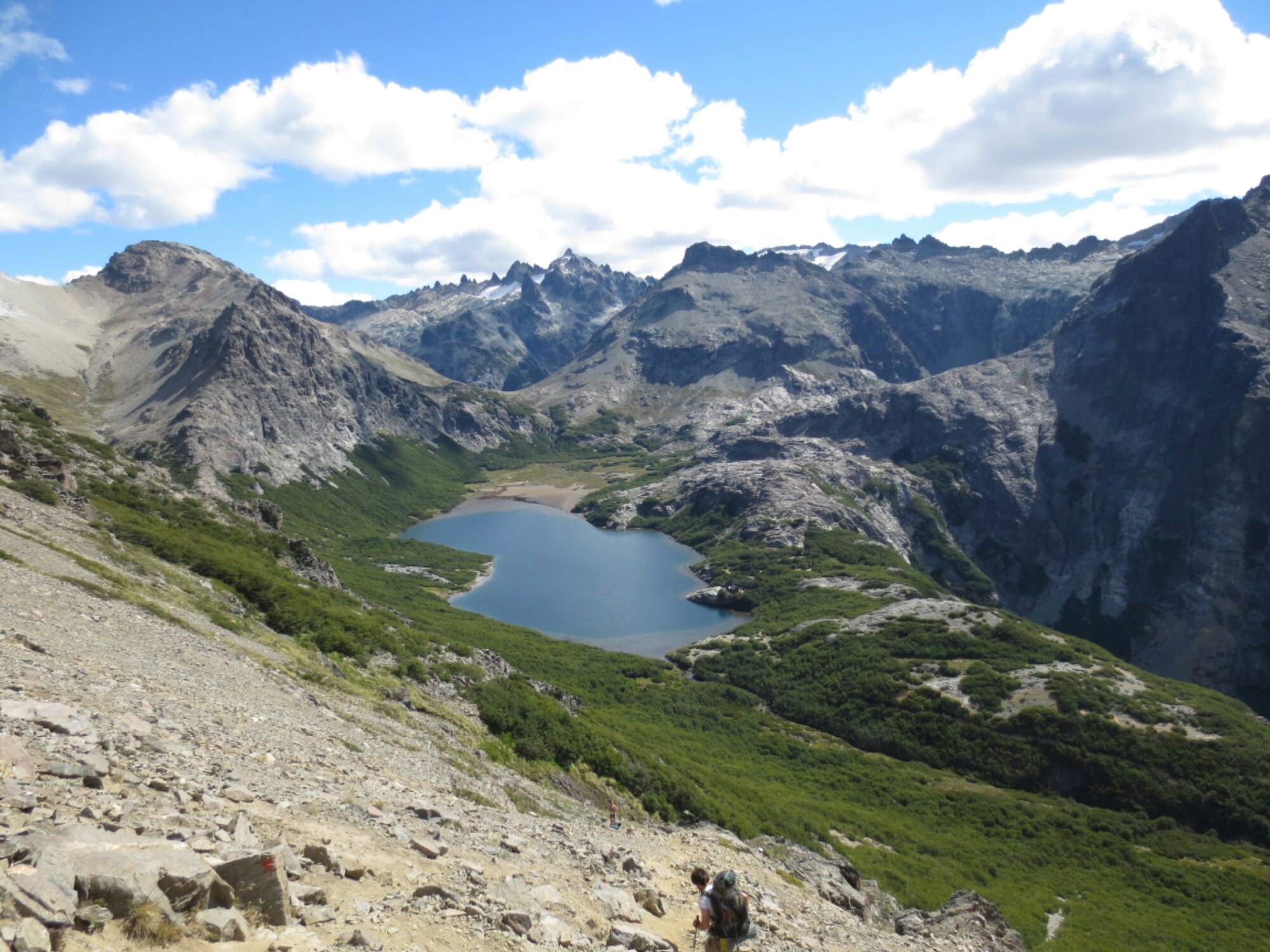 After soaking up the view we carefully started the treacherous walk down through even more loose skree, every step causing a small rock slide. Our knees aching from the long day we arrived at idyllic Refugio Jakob, similar to Frey, on the edge of a lagoon but with trees and plants instead of rocks and boulders. We got better at setting up our tarp (the trees helped) in a lean-to style that would have kept rain out if it had rained.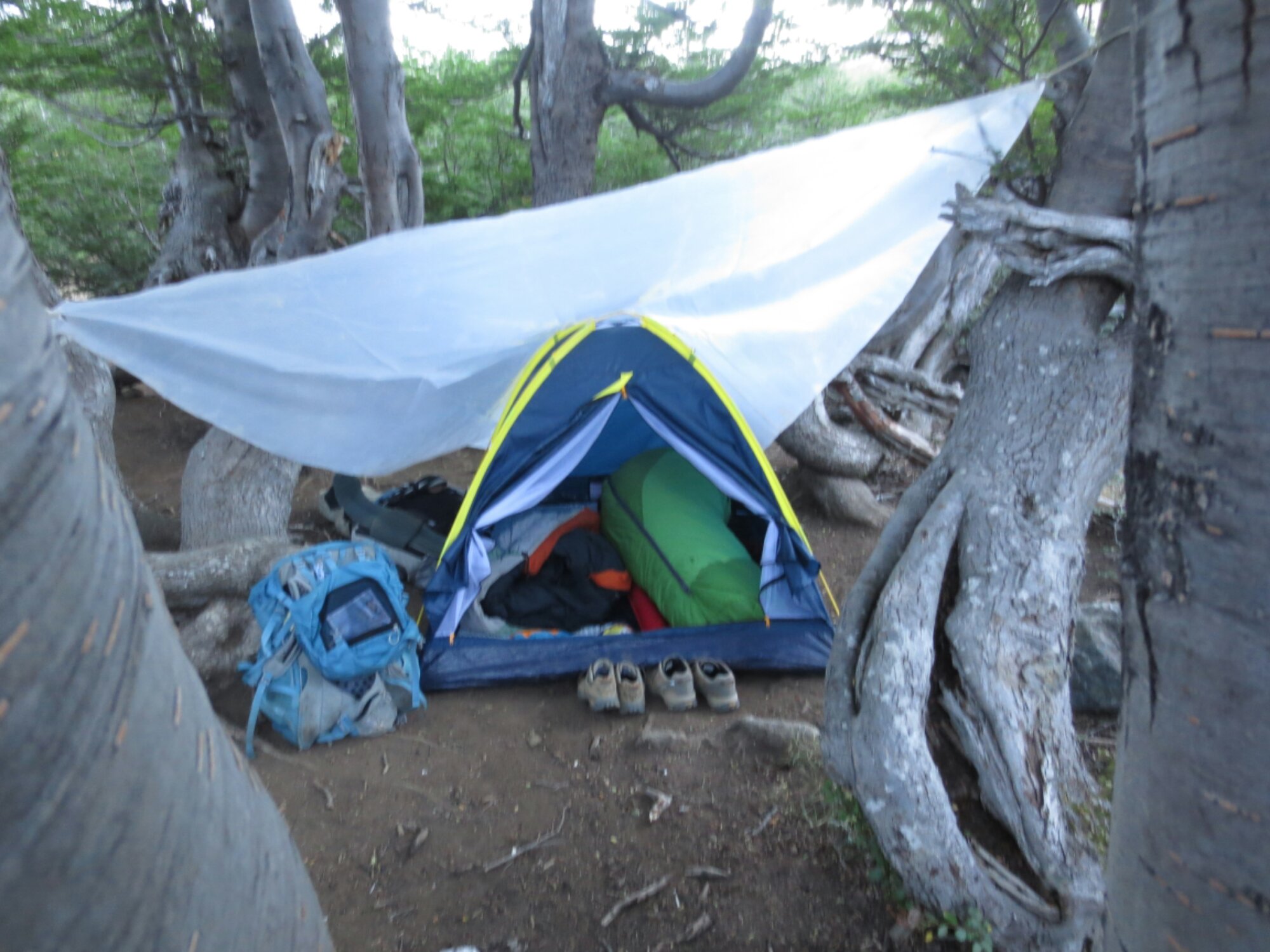 For a few dollars we rented kitchen space in the refugio and made tortellini with red sauce (and onion and garlic provided by Sasha) on the wood stove in the refuge. It was nice to lighten our load for the 6-hours of hiking the next day. We stayed up late in the warmth of the refugio common room, playing cards by candlelight, practicing our Spanish by reading children's books, and anxiously watching with the refugio staff as a lone hiker tried to make their way down the treacherous descent after the sun had set.
In the morning we again reaped the benefits of making new friends when Sasha shared the last of his cornflakes with us. We took off and were soon passed by a tiny fast runner wearing a helmet? It was a race! And there were many more to come. We spent the hike anxiously checking behind us and pulling over for runners, who were running our 3-day route in one day.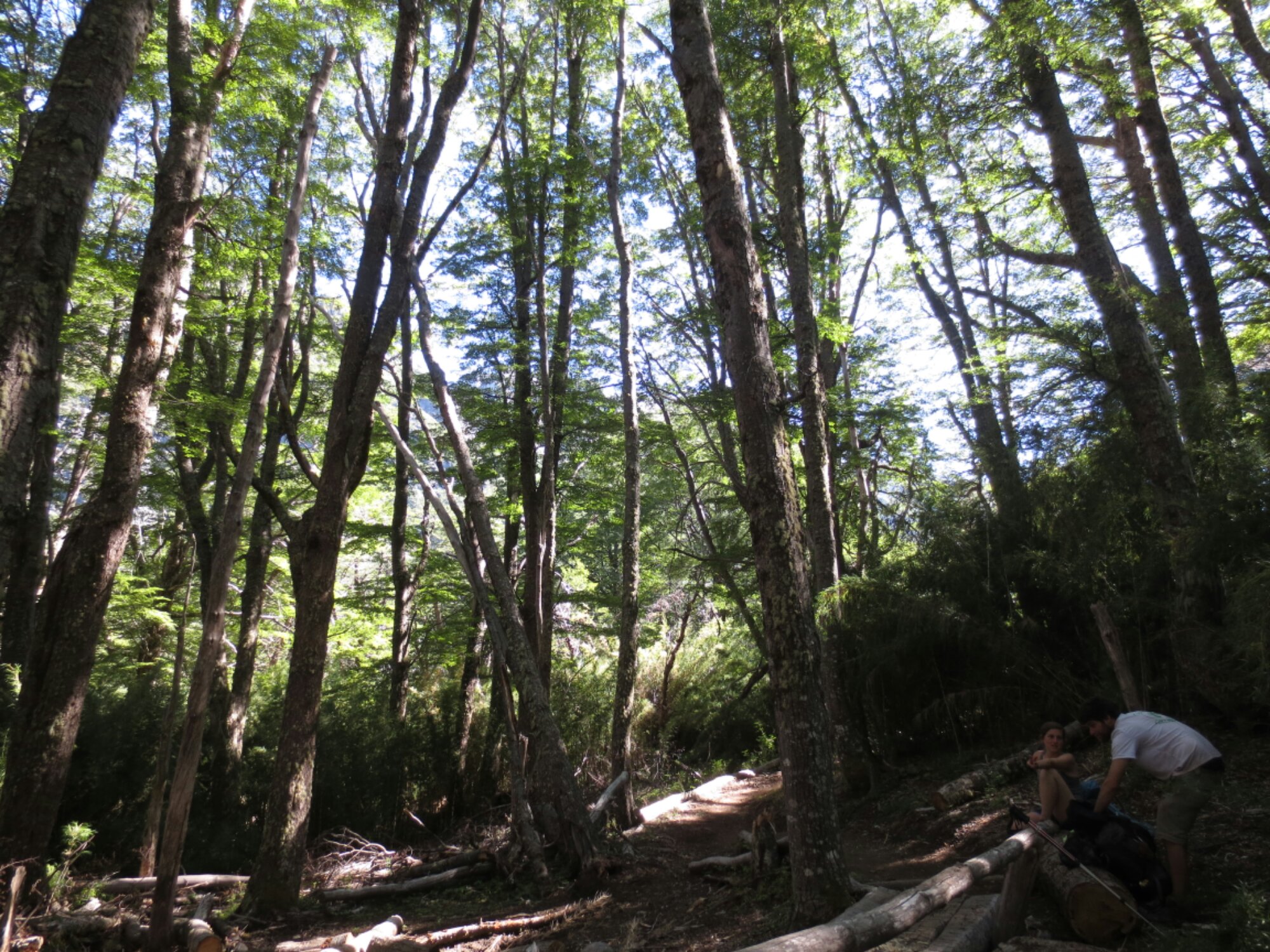 We took a mate break in the mid-morning, saw three big woodpeckers with red heads, and tried to say encouraging words to those running past. The cucumber and cheese held up well and we had a yummy lunch by the river along which we had been walking for a few hours, and rinsed our dirty legs and feet in the freezing water.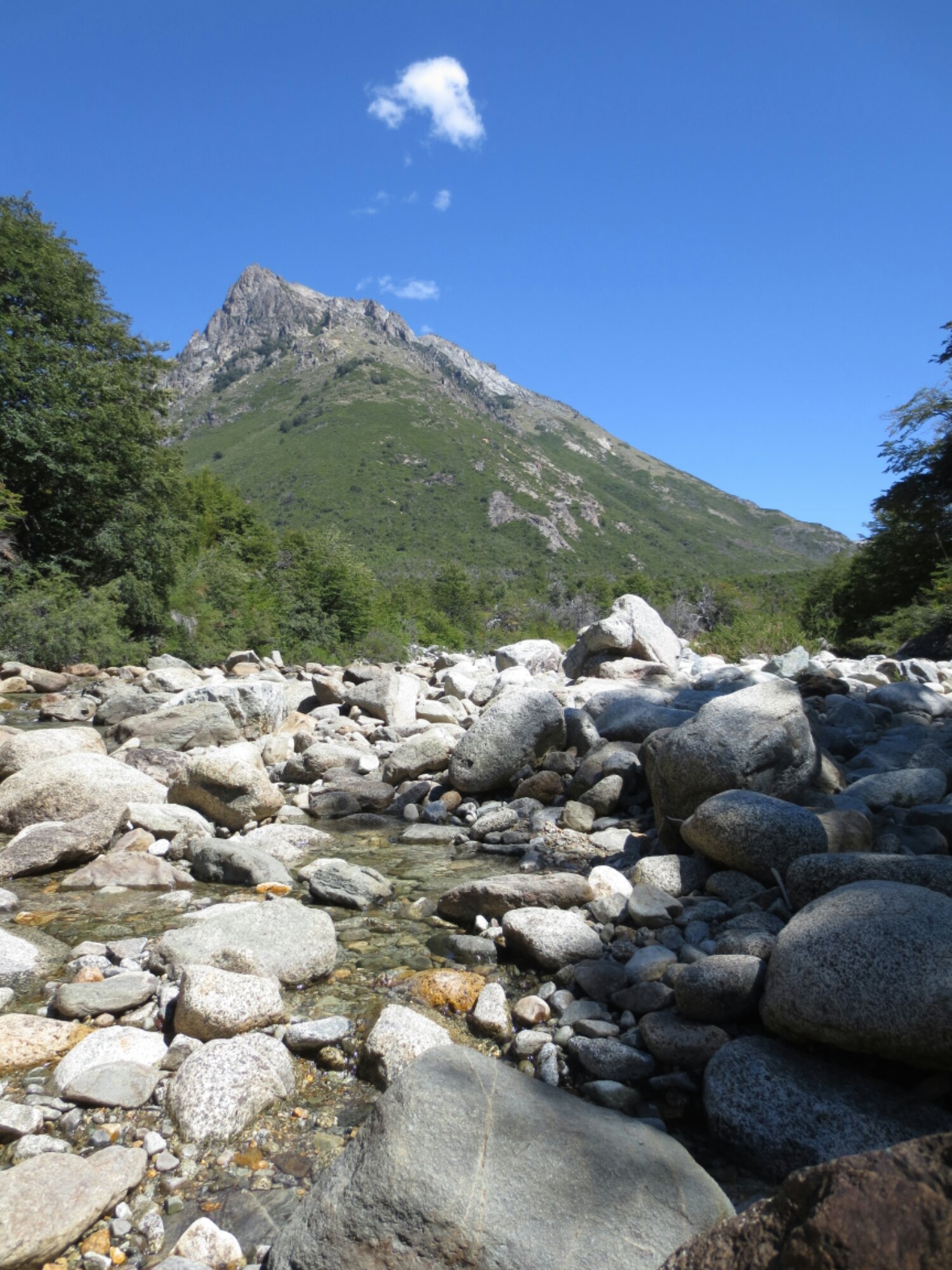 A kilometer from the terminus of our hike, we started to smell the asado (Argentinian barbecue) that greeted the weary trail-runners. We thought we were going to have to walk 5 kilometers more along the road to get back to Bariloche, but we picked the right day to hitch a ride into town. No more than 30 feet from the end of the trail we were picked up by the first car that passed, two fancy Argentinian men who worked at Club Andino, the local organization that organizes the race. We got almost trail-to-door service, and we were happy to help them load a trunk-full of Gatorade bottles into the car as payment, before walking the short block to our hostel, sipping on our free Gatorade along the way.
A shower was necessary and welcome, and fresh and clean we enjoyed snacks and beer on the amazing terrace of our hostel, which overlooked the lake and surrounding environs. We were soon joined by a local couple (one from Bariloche, the other a transplant from Canada) who were interested in sharing a ride with Sasha up north. Theykindly invited us all to their house for dinner where they fed us a delicious chicken dinner, we drank wine and chatted about travel plans, and then had coffee at 12:30… such is the Argentinian way.
The kind couple had recommended a campground on beautiful Lake Nahuel Huapi so the three of us decided to head there first thing in the morning. We checked in, staked out our sites, and headed for the beach where we all made the mistake of trusting our bellies to handle the sun more than they were able.  We dipped into the chilly water, picked apples down the beach, practiced the charango, and shared cookies.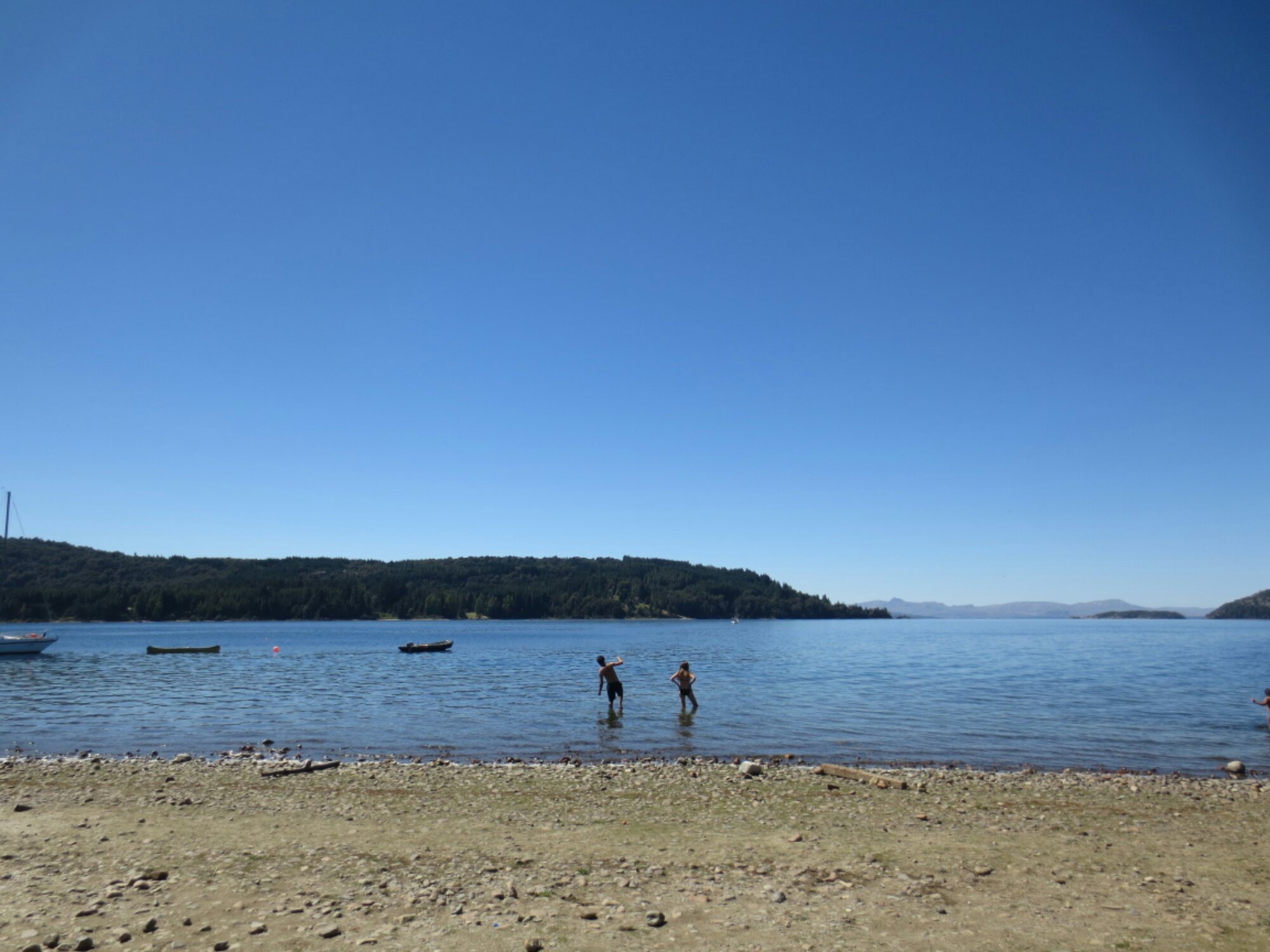 If you are camping in Argentina you HAVE to have an asado, so the three Americanos trekked across the street to the grocery store. We got three pounds of meat (for three of us), potatoes, bread, and chimichurri (a parsley sort of pesto sauce). And Argentinian wine of course!  Our asado was a success! Too much of a success even. We had plenty of meat leftover but it was okay because we were soon joined by Sasha's friend from his mountaineering course, David.  He provided the fernet (an Argentinian licorice-tasting liquor). Our tummies were full and we went to sleep just as the rest of the park was lighting up their grills Argentinian style… at midnight.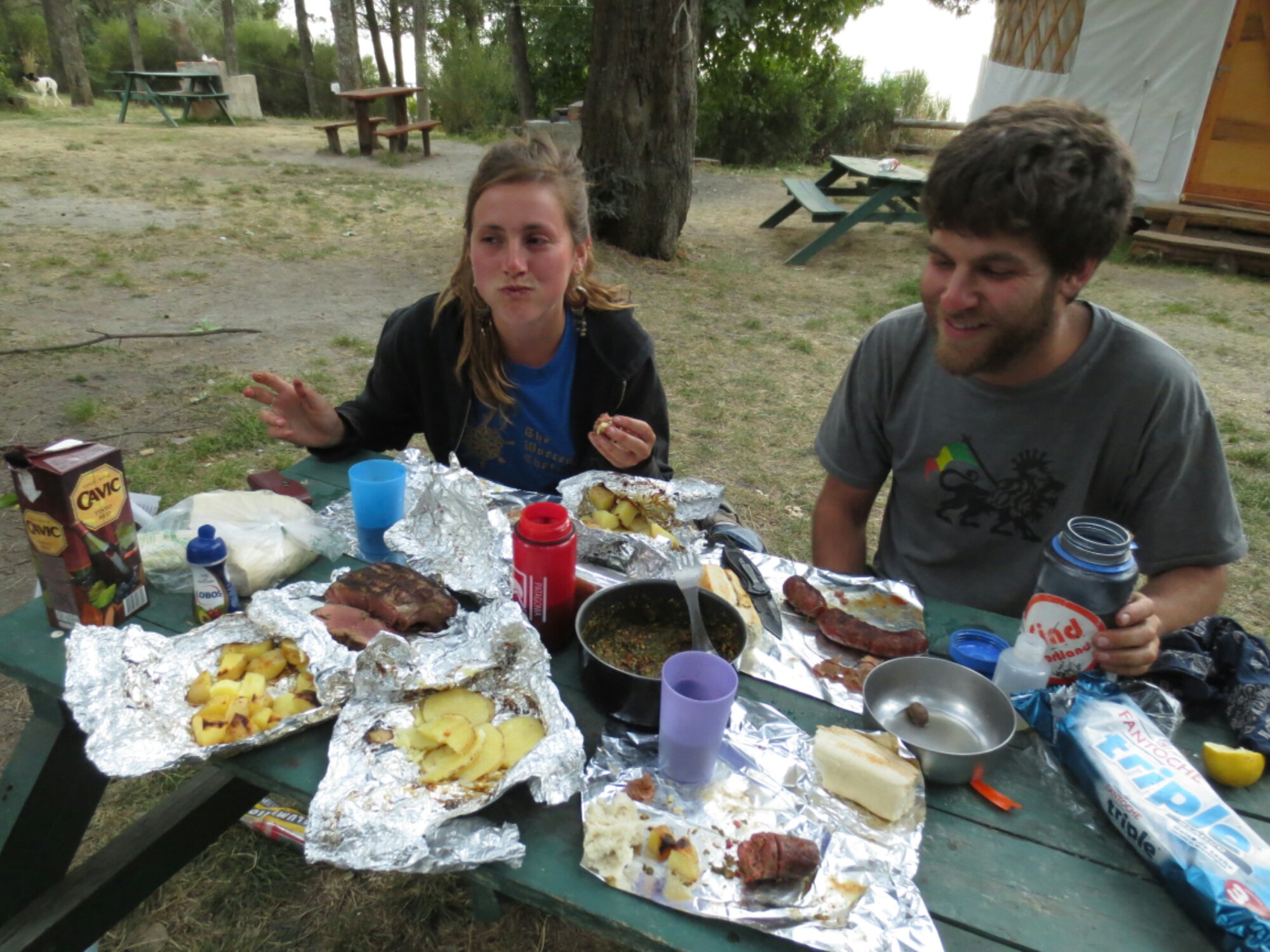 Another beautiful day in Bariloche started with avocados and then we split up for maybe the second time on our journey. Harriet went into town to purchase bus tickets to Buenos Aires while Mindy and Sasha set out down the beach to find the local Pescaderia (fish market). Sasha had his little heart set on trout but alas, the Pescaderia was on vacation this week. So instead they ate ice cream and trudged back to camp to find Hattie with the bus tickets.
Since we weren't able to find raw fish to cook ourselves, we decided to go to the fancy restaurant on the beach. We worked up an appetite playing cards and drinking beer as the sun set then walked 200 yards to the restaurant. We sat down next to a fire pit outside and shared calamari, Sasha got his trout, and Mindy and Hattie had risotto con frutas del mar. Yummy!
There was a large raucous birthday party going on and the owner of the restaurant offered us champagne in celebration!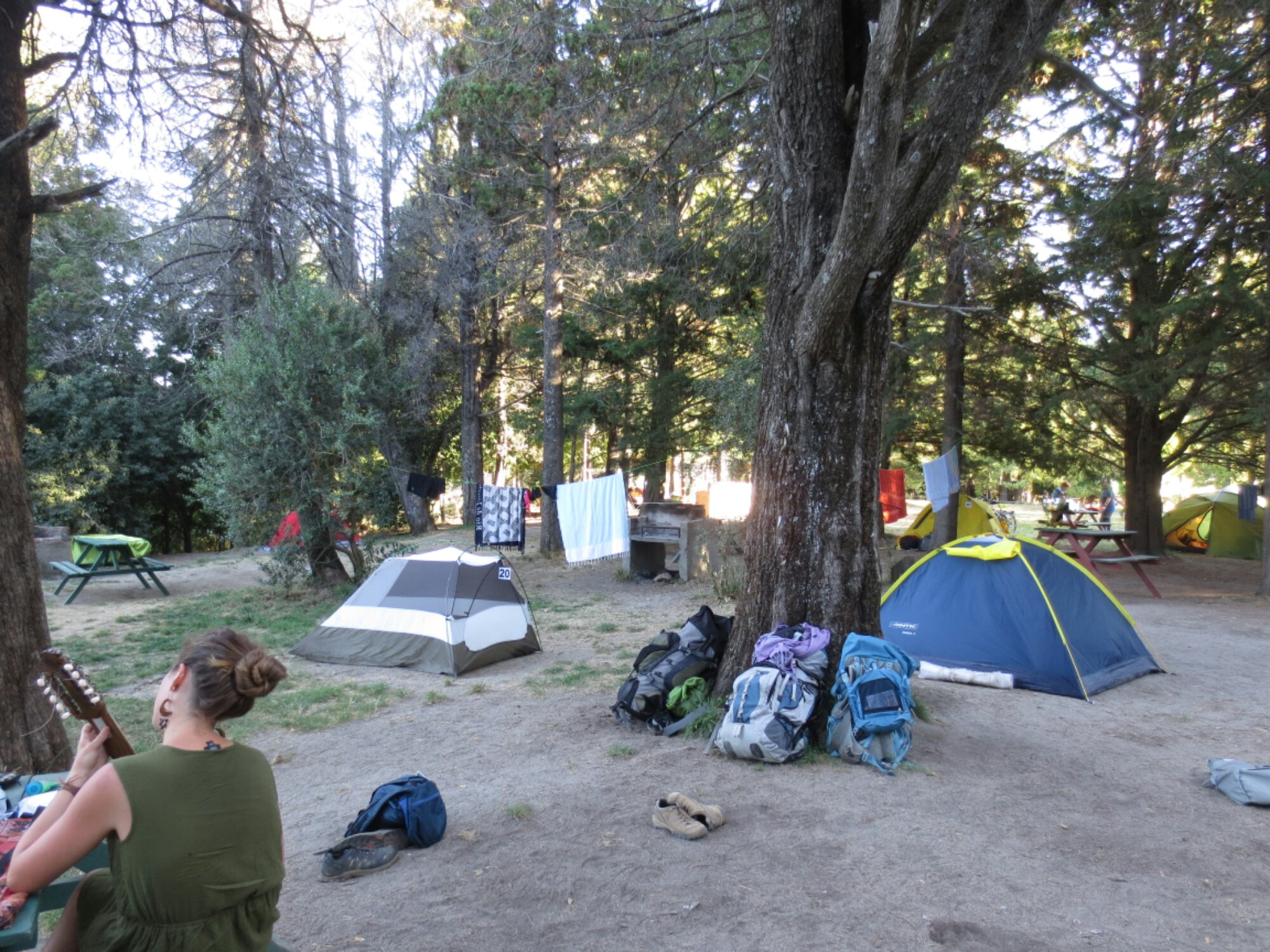 We walked back on the beach and stopped to lay down on the sand and watch the stars. This time we weren't the first ones asleep and we weaved our way through snoring tents to lay our heads down in preparation for our 24 hour bus ride to Buenos Aires the next day. Will this be the last we see of Sasha?
Comments