27 Mar 2014
Buenos Aires Con Buenos Amigos
The bus from Bariloche to Buenos Aires was uneventful, Harriet slept most of the way leaving Mindy to stare into her open mouth and think about putting things in it, and every now and then giggling at the occasional snort.
Hands down the best part of the bus trip was arriving at the bus station in Buenos Aires to see our old new friend Lucas waiting for us as we filed off the bus. We were just tickled pink that he came to meet us, and we were even more tickled that he had his car there and he was going to drive us to our hostel. Mindy got to sit in the front seat and we didn't even get ripped off. First he took us to a hostel that we found in our 2007 guide which no longer existed, so then he brought us to his apartment building where he lives with his family and we went to the 30th floor roof deck where we got a view of the whole city of Buenos Aires and nothing else because it keeps going on forever.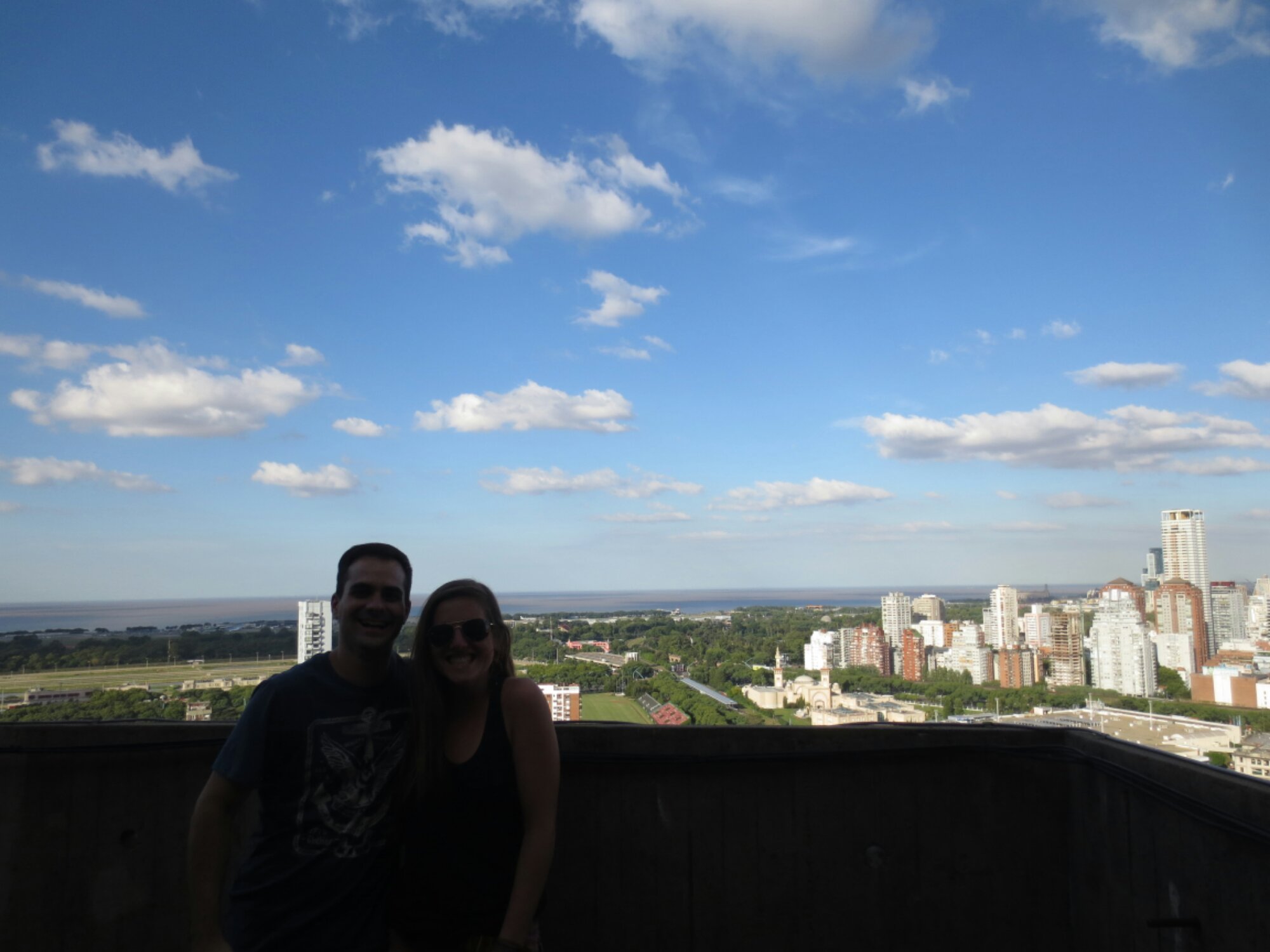 After showing us the city he helped us find a hostel and even drove us there with out stuff. Later in the evening Lucas took us out to an all-you-can-eat asado place where he forced us to try coagulated blood, intestines, and kidneys, after which he thankfully got some yummy steak and sausage. We walked around the river and then Lucas drove us home, and watched us walk up to the wrong door, catching ourselves just before we rand the doorbell.
The next day we went on a free walking tour of the city with Boris, our Israeli friend from the Uyuni tour who happened to be in Buenos Aires at the same time. We saw the pink house, the obelisk, Plaza 25 de Mayo, the national congress, and lots of other old buildings and historic places.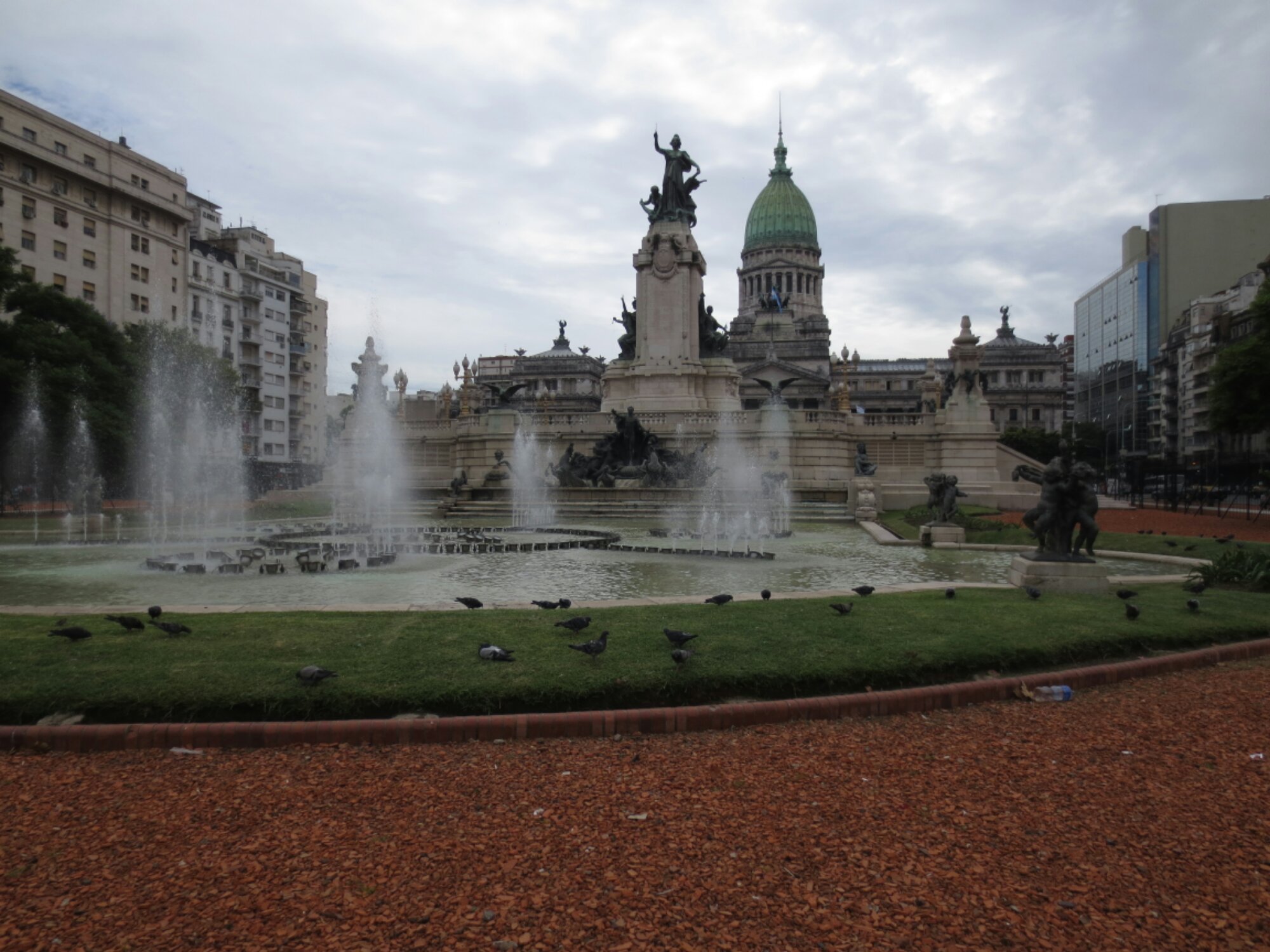 Later in the evening we stopped by a Middle Eastern restaurant for dinner. The owners were from Lebanon and our cute waiter was from Columbia. We had a serious case of the giggles and it encouraged Alex, our server, to ask for our names and numbers, which of course we don't have. Numbers that is. He asked us if we had plans for the next night and we lied and said no even though we did. He invited us to a friends birthday party but we had plans with Lucas and Martin (another chico we met in Cuzco) so we were double booked! Back at the hostel we vented our woes to a Minnesotan boy who pretended to care and assured us that everything would work out.
In the late morning Lucas and Martin met us and took us to Recoleta to see a gigantic cemetary with mini-buildings for memorials that had coffins and sometimes basements with 10 or more "bunks" for the whole family. Martin entertained us with made-up stories of all the dead people. We parted ways so they could go to Lucas' sisters' graduation and so that we could find a place to exchange more money.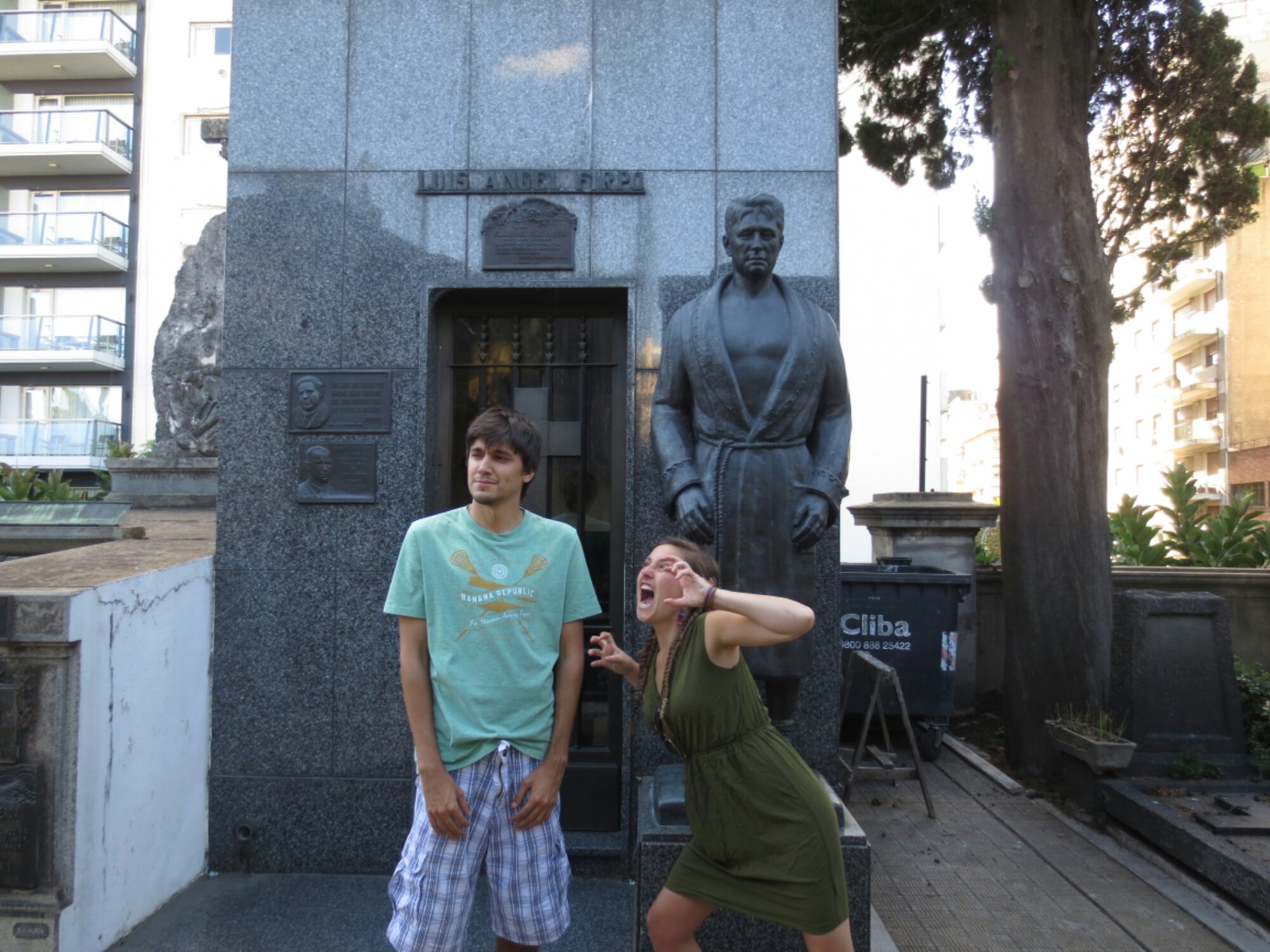 We had gotten a recommendation for a black market bank to go to from an American boy named Teddy at our hostel. He gave us very vague directions including a description of the building that "has no sign and a white doorbell." We got to the block where we were supposed to find the bank, but we couldn't find it so Mindy went into a hair salon and asked them if there was anywhere to exchange money close by. One of the stylists took us down the street and rang the doorbell of a nondescript building. They buzzed us in and we entered into what looked like a normal bank with tellers and windows and even a candy bowl which we took full advantage of.
With Argentinian pesos in our pocket we returned to the hostel to get some rest before our first Argentinian night out. Lucas and Martin showed up looking sharp. We hopped on a bus, and waited in line at a popular "shanky" (Argentinian for yankee) bar. It was a shoulder-to-shoulder body-to-body mess where your $6 admission gets you a 4-liter pitcher of beer. 4 liters of beer in a pitcher is HEAVY!!!!!! We cornered ourselves and talked about people's smells and giggled while Martin tried to juggle three different girls. Argentinians LOVE to make out.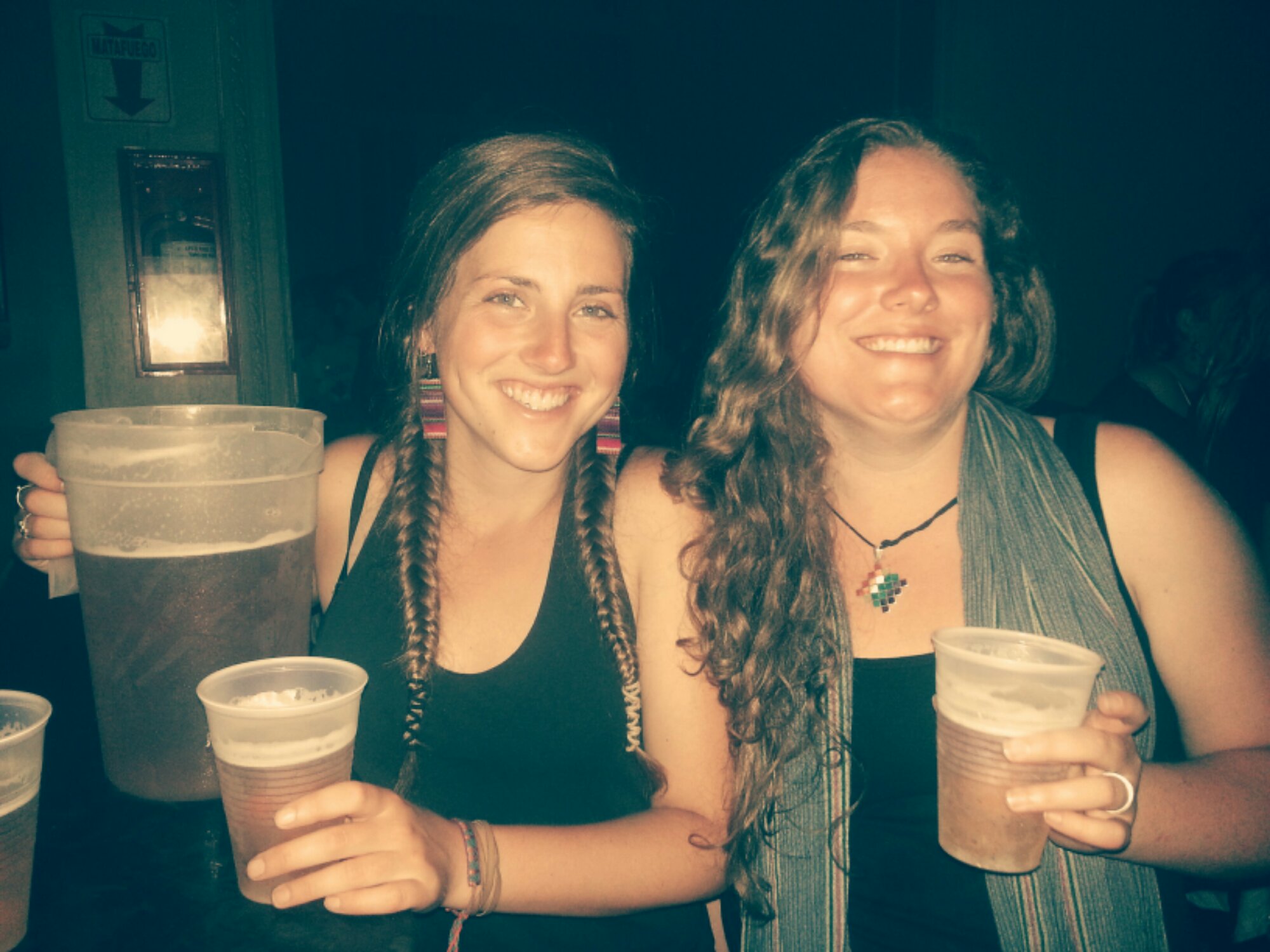 They walked us to our hostel like the gentleman they are, and we said goodnight, ending our Argentinian night out at 5am, deciding not to go out and meet our friend Alex.
After sleeping late and making breakfast Lucas came to meet us again and took us to walk around a giant park in our barrio, Palermo. We picked up snails, communicated with ducks, and attempted to take a nap on a bench. He then took us to a horse-race track where we got to watch a race. It was 45 seconds of intensity, and Lucas' horse won. We wandered around the casino filled with slot machines, and got some coffee before Lucas had to head out to play in a soccer game, which he refused to let us cheer for him at.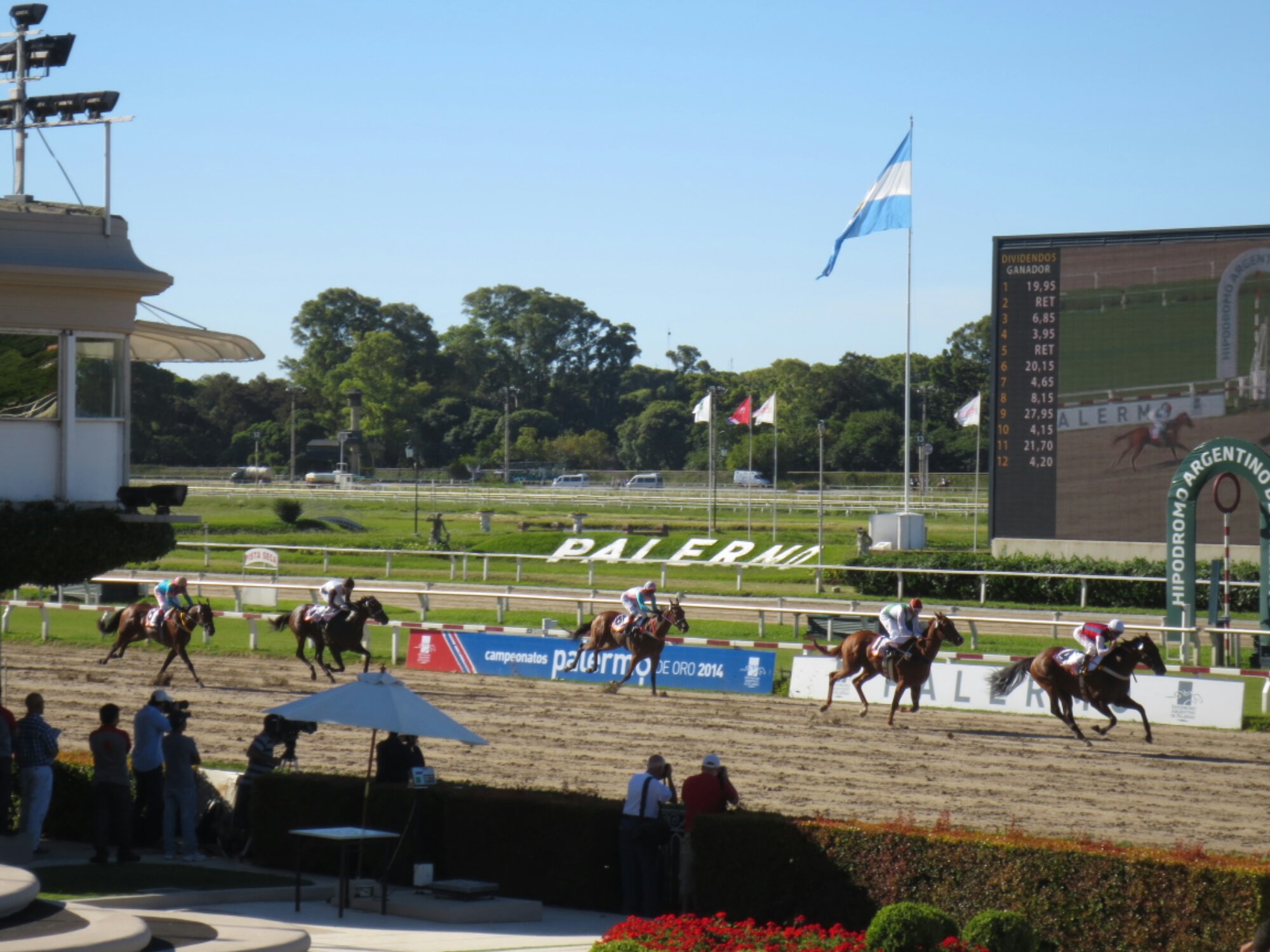 We went back to the hostel where we met a(nother) Colombian boy who convinced us to go out to a Colombian restaurant where we ate yummy arepas. Arriving back at the hostel we were surprised to encounter a bachelor's party happening in our hostel, complete with a stripper. It was a strange bachelor's party though because all the bachelor's friends were girls. The stripper was less than enthusiastic but gyrated around the the hostel's kitchen floor for a few minutes in between her short-lived wardrobe changes.
Finally we got to go to Lucas' parents house (because they weren't home) and we went out for a couple of beers with Lucas, Martin, Matias and Liz. We arrived at home happy to see that the bachelor's party had dwindled to three.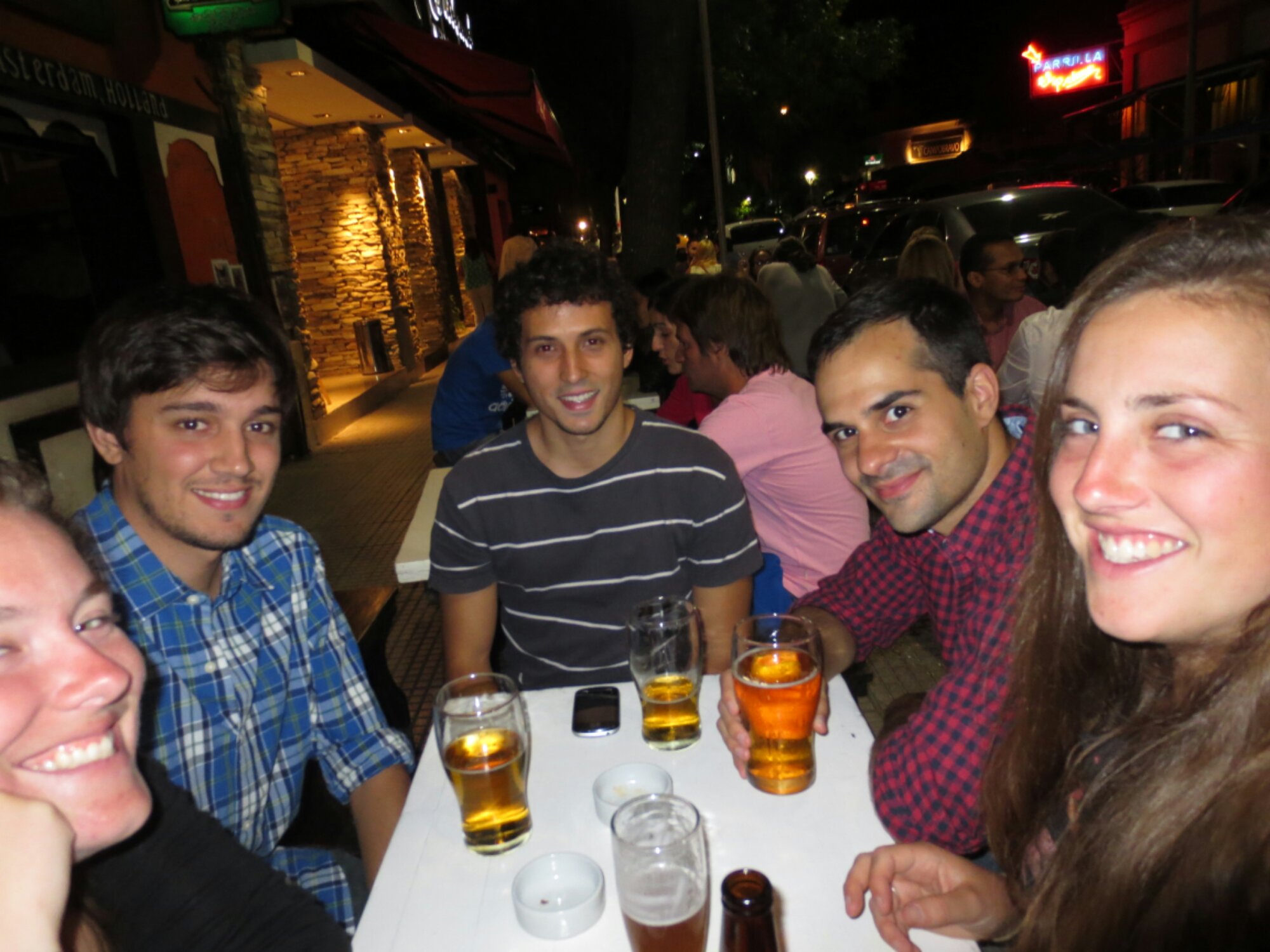 We had to check out of our hostel in the morning but our bus to Cordoba wasn't leaving until 11pm, so we took our backpacks to the bus station to stash them so we could enjoy the day. The luggage check closed too early so we had to stuff our backpacks into the only two lockers available, which were almost too small.
We met Lucas one last time. He put us in the car and would`t tell us where we were going. We love surprises. Our adventure took us past the president's house and fancy neighborhoods. We finally arrived at a river beach, where we ate lunch, watched a storm roll in, and gossiped as we wasted time before our bus left. He then took us all the way to "tigre," a famous fruit market, where there was no fruit but lots of leather and crafty things. We were all tourists there. On the way back to Buenos Aires Lucas finally let us meet his parents but not really because he closed his dad in the kitchen as soon as we arrived. We think he's embarrassed by us.
We made him go across the hall to knock on Martin's door so that we could take a polaroid with them (apparently they've lived across from each other for 8 years and he's NEVER knocked on his door?!?!).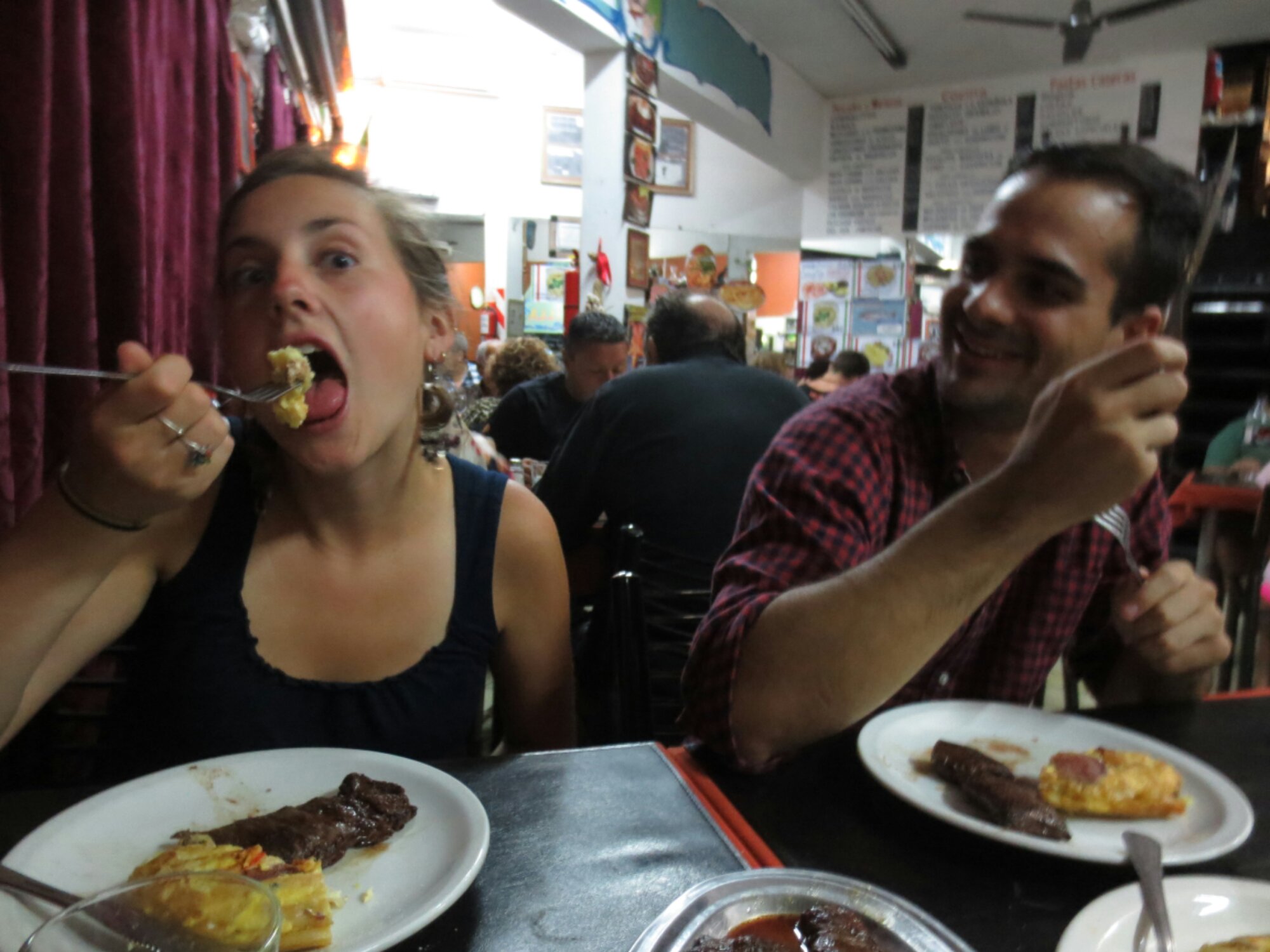 In the time before we had to make it to the bus Lucas took us to a super cool secret parrilla (a grill) where we ate steak and shrimp and a spanish omelette that we couldn't really afford. After his dinner was invaded by Mindy's elbow Lucas decided to give her a lesson in table etiquette (he's quite the expert). We took a cab to the bus station and had literally just enough time to grab our bags our of the lockers and make it onto the bus.
We are so thankful for Lucas being the best friend and tour guide ever! He took such good care of us, and is quite the gentleman, and handsome to boot.
Next stop… Cordoba.