18 Jan 2014
Planting Potatoes in the Ground
1/12/14
Today we met our best friend so far, Wilson. He is painting the mural in the bar for the hostel, and we struck up a conversation about politics and the current state of affairs in Bolivia. We had to cut the conversation short to run off to the Cuzco airport to get Harriet's bag, which was finally where it was supposed to be.
We came back to the hostel triumphant, and ended up going on an adventure with Wilson. We took a taxi up to the giant white jesus statue that overlooks the city, and got as close to Saqsaywaman as we could without paying the entrance fee. We wandered down to the city, where we got coffee and then stopped at a little restaurant a block from our hostel. We ordered lasagna. Lasagna? Yes, lasagna. Never in either of our lives have we ordered lasagna at a restaurant, but it was delicious, and way more than enough for the three of us.
Back at the hostel we cozied up for a movie night in the TV room, for which our roommates gave us a lot of grief later, earning us the nickname "abuelitas" (grandmothers). We met our 2nd group of roommates from Argentina, who informed us that Harriet's Spanish nickname, "Queta" is actually slang for a cat tranquilizer-turned-recreational drug referred to as Special-K in English. Oops.
1/13/14
We woke up early to go to the office where you can get your international student ID cards but quickly gave up after seeing the long line and the list of required documentation. Harriet bought a beautiful silver ring with rainbow stones, and we went to the hotel that Harriet and her parents stayed at 10 years ago called "Los Ninos," where we had lunch, looking forward to meeting up with our cousin Brendan who was supposed to return from his Machu Picchu hike that night.
Sitting in the beautiful courtyard we received an email from Brendan's wife Keri saying that Brendan wanted us to meet him that evening at his hotel… Los Ninos. What a coinkidink!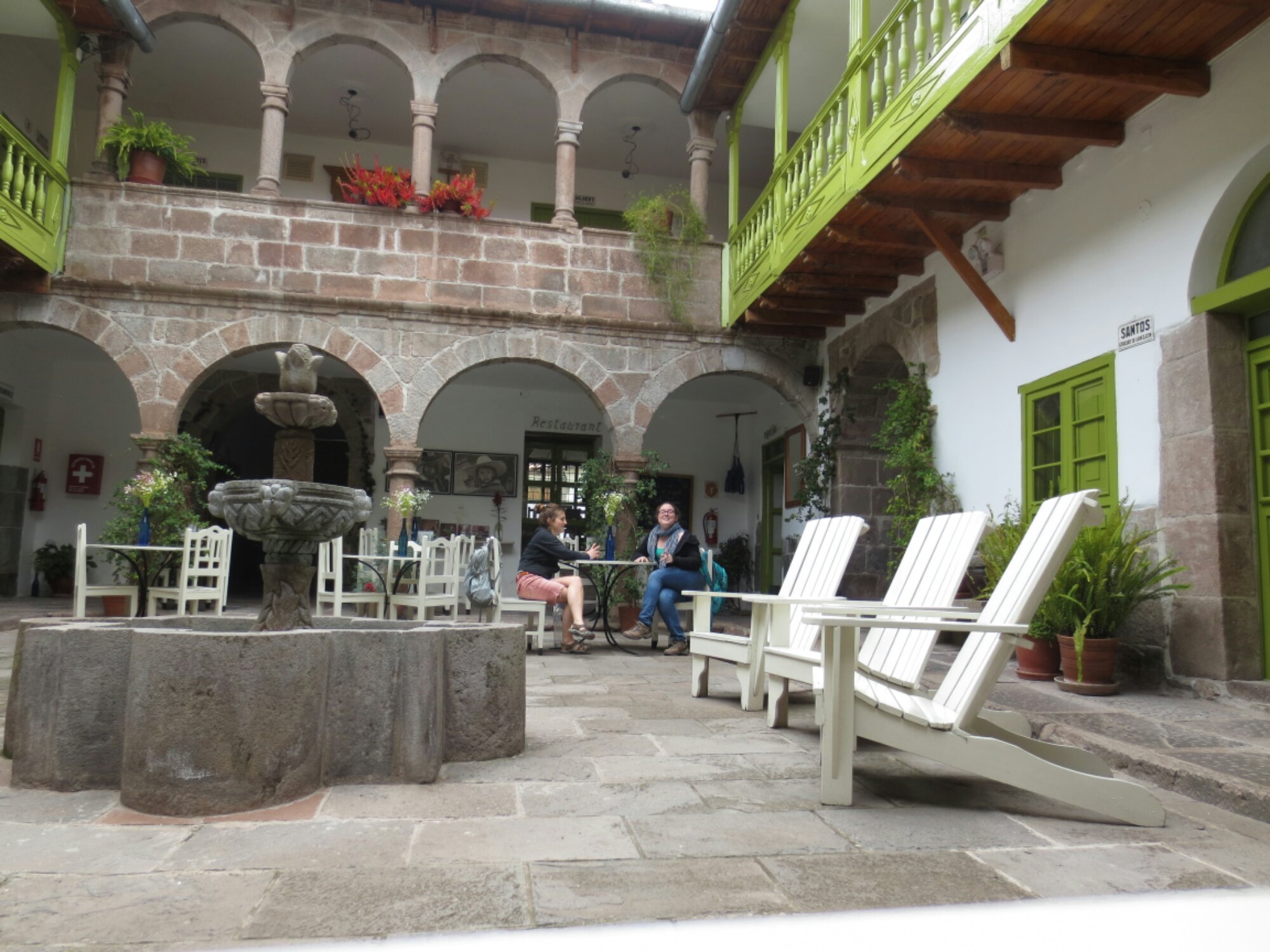 We spent all day arranging our Machu Picchu trip, and Mindy was very glad to have Harriet's spanish-speaking skills. In the evening back at the hostel Wilson, who is also a long-time tattoo artist, set up a pop-up tattoo parlor in the loft of the bar. Meanwhile kara-loki (Loki hostel's karaoke night) was going strong, and we watched as Wilson touched up the tattoo of one of the hostel employee's girlfriend.
After drinking a quick beer we set out to meet Brendan at his hotel, where we found him limping and stinky after his four-day Inca Trail trek. In keeping with South American norms he was not ready yet, so we drank juice for an hour and a half then came back to meet him and his friends who were starving.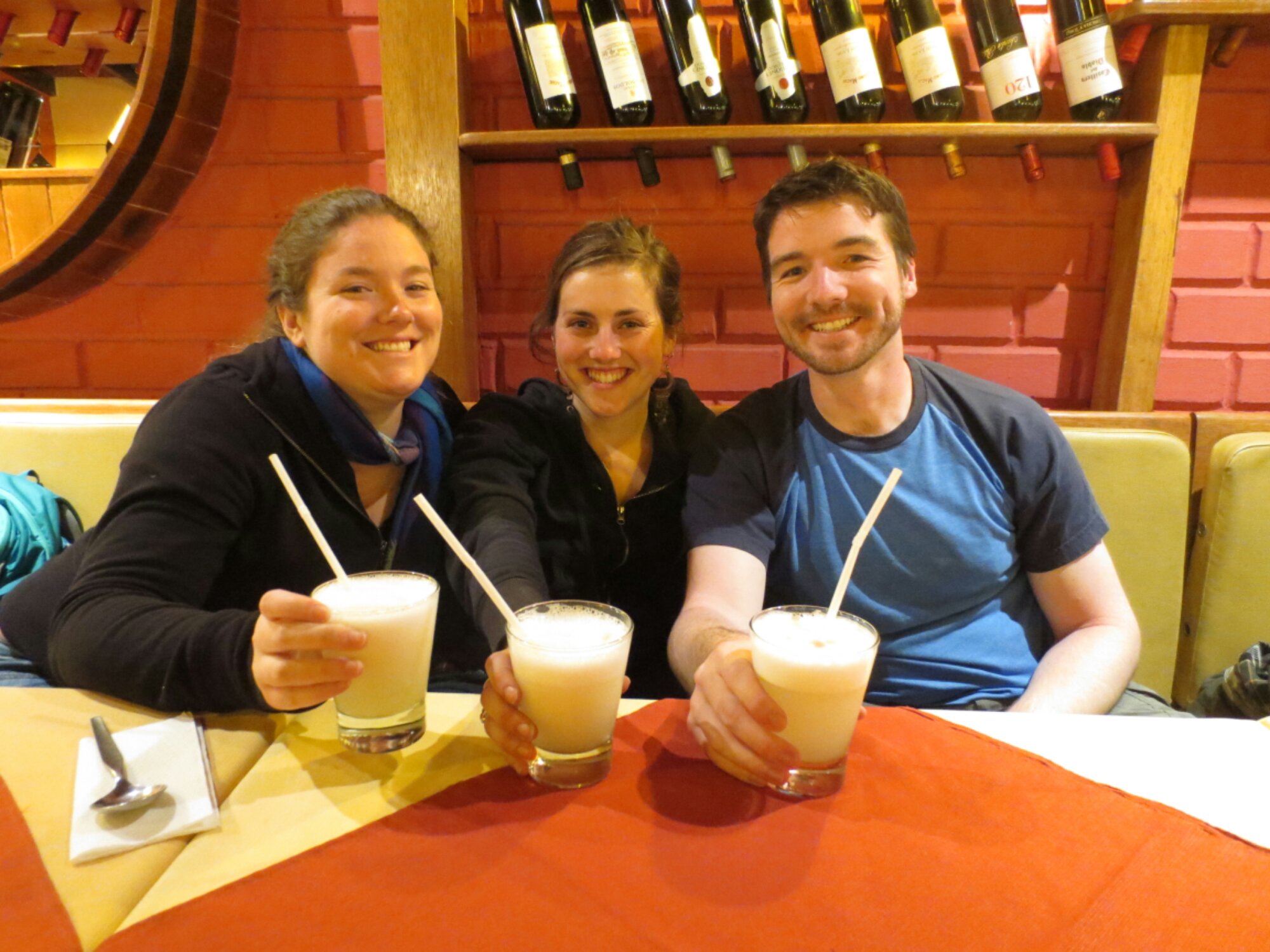 We had a nice dinner overlooking the square joined by two of the boys' hiking companions. Brendan and Dan were lame-o's and went straight to bed after dinner, but we went out with Robin, Anna, and Elaine at a club called Mama Afrika. We had a drink, watched a group of boys dance to electronic music with their shirts off, and played some pool.
Showing up at 2:30am at Loki we thought we would prove to our roommates that we weren't abuelitas but they were all asleep and the bar was closing. (The bar closes?!?!?!)
1/14/16
We woke up refreshed after our first night without bass pounding in our ears. Most of our day was spent following Wilson around Cuzco to almost 20 different art/school supply stores looking for neon paint for his mural. It was tiring but it was also a great look into the less touristy part of Cuzco, including lunch at a giant market place where the locals eat.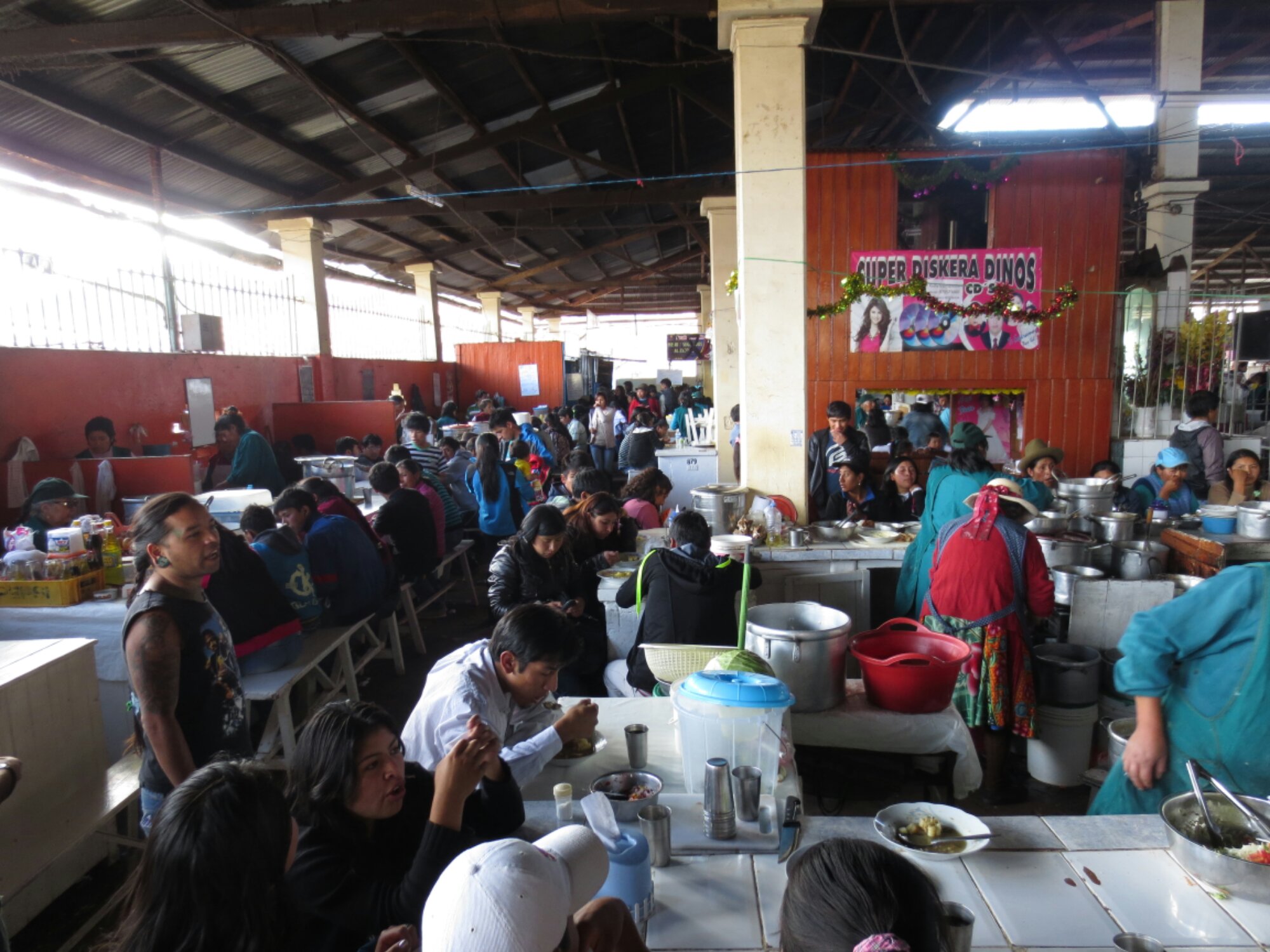 We sat down at a crowded table, and shared a fried trout dish and a lamb and pasta dish. There were meats hanging from stands like cows faces, testicles, whole chickens, pigs and cuy (guinea pigs), and it kinda stunk. Little people were selling fruit we'd never seen before and drinking juice out of plastic bags. Mindy got to try a little boiled quail egg, which they serve off of little carts, about 1/2 a dozen peeled and handed over in a little plastic bag with salt and a toothpick.
That night Wilson took us out with David from Belgium. We wandered around for a long time before meeting up with friends from Lebanon, Spain, England and Argentina in a beautiful little park where we drank beer and played soccer with some kids.
It was supposed to be an early night because we had to get up at 5:30 the next day for our train to Machu Picchu, but when we got back to the bar our 2nd batch of Argentinian roommates entertained us by teaching us bad words.
(NOT FOR CHILDREN'S EYES) The euphemisms we learned included "hitting the dog,"
and "planting potatoes in the ground." We also learned phrases like "cutting the churros" and "the eye of 1000 wrinkles" and we giggled so much our cheeks ached. Unfortunately the conversation was pretty one-sided as Mindy and I realized either our knowledge or the English language was lacking in funny dirty phrases. (CHILDREN'S EYES ARE WELCOME BACK)
Our roommates Maxi, Mariano, and Gabriel are friends from back home in Cordoba, Argentina. Maxi was super into rap, so all of his phrases came from rap songs, some of which were inappropriate. "Knah-I-mean, yo?" He asked us if we call each other wiggers in the US (we told him to watch his language if he ever visits the US). Gabi found a bowl of super salty popcorn, and joked about how Maxi invites them over for a dinner loaded with salt to make the drink more, charges them for beer, teaches them how to be straighter and cooler, and doesn't lock them in but just makes them pay to leave. They were some silly dudes.
1/15/14
We woke up at the crack of dawn after only a few hours sleep, and with perfect timing made it to the bus/train station. One of the Peru Rail employees thought we were Puerto Rican because Hattie's Spanish is so good (*blush*). The ride to Machu Picchu was comfortable and scenic, with just the nicest weather we could have imagined.
We followed the crowd to Machu Picchu but its not always a good idea to follow the crowd because sometimes they go the wrong way. We started up the road for buses accidentally but some kind folks who followed us questioned our choice and went back down to check. We're glad we had them.
The trail was just a whole bunch of steps, that went on seemingly forever. Hattie's lungs weren't filling up all the way but it was a good time to practice Spanish. Mindy practiced all the months, the days, the colors, and even counted all the way to one hundred with the help of friendly passers-by.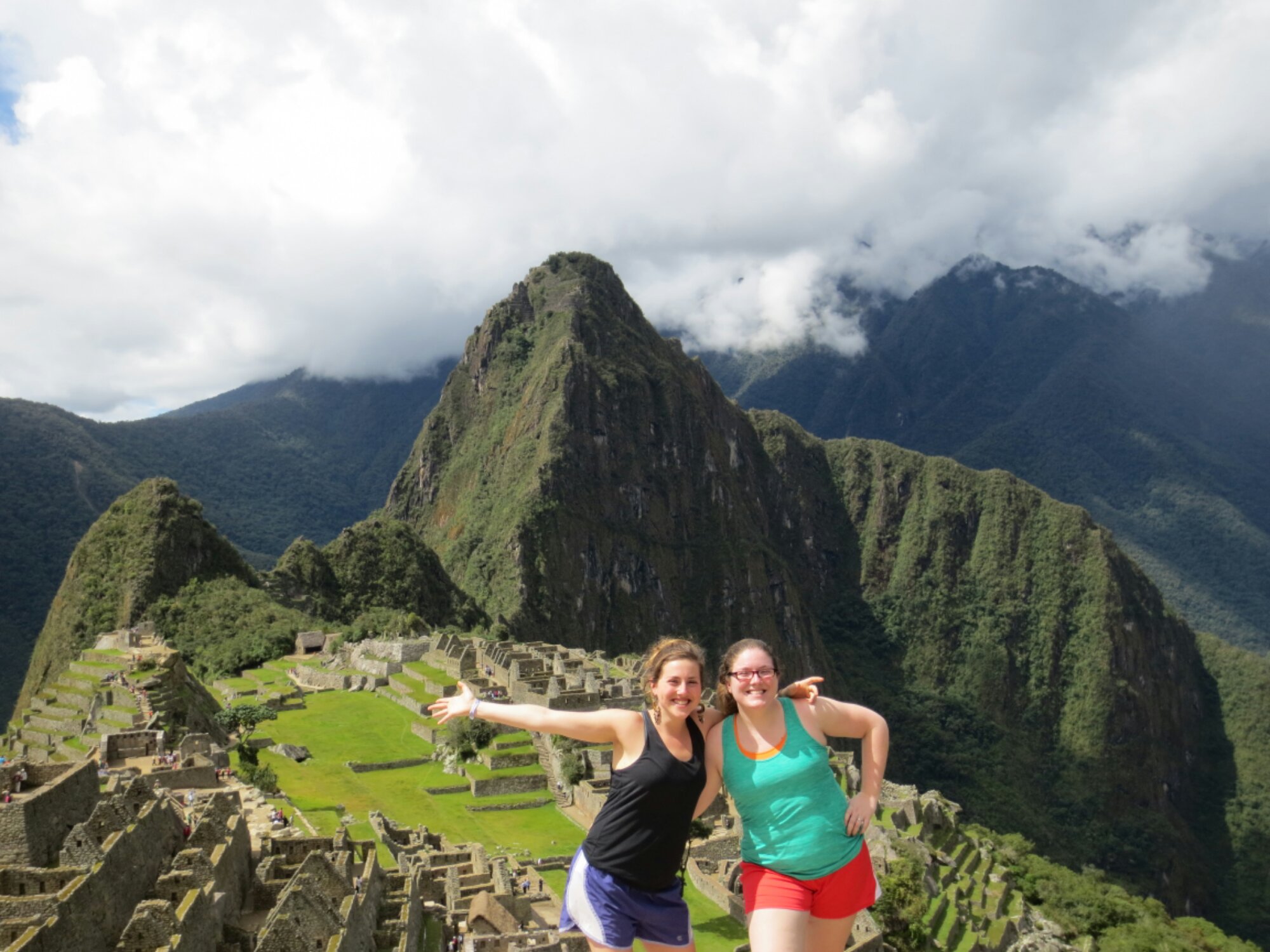 Machu Picchu was glorious and we started out with a nice bright sun-shiny day until we saw a wall of rain headed right for us. But we were lucky because it brought us beautiful rainbows and cleared out most of the tourists.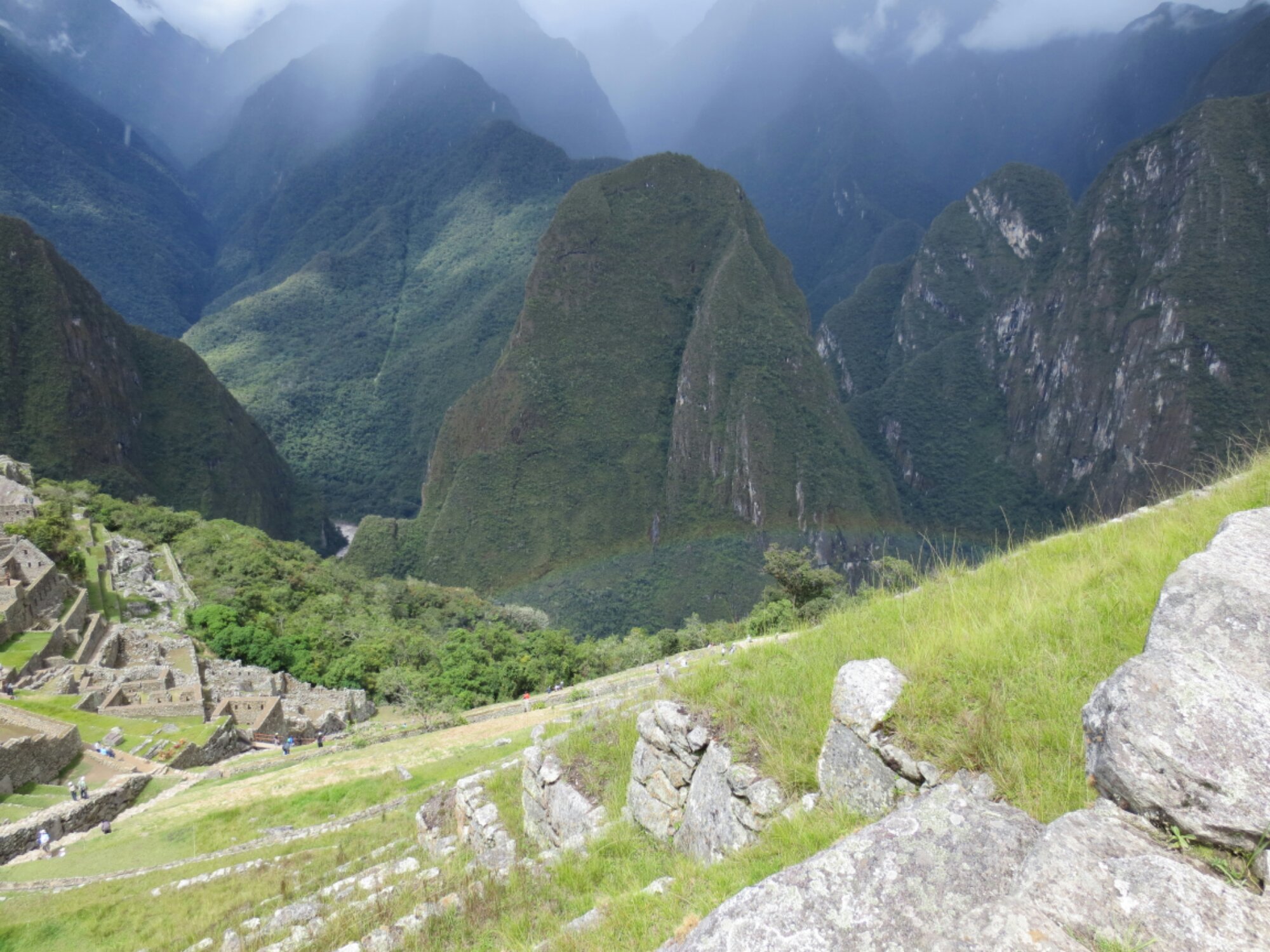 At the tippity-top we found a nice secluded place overlooking the ancient city to scatter some, but not all of Alice's ashes just as the rain really started to come down.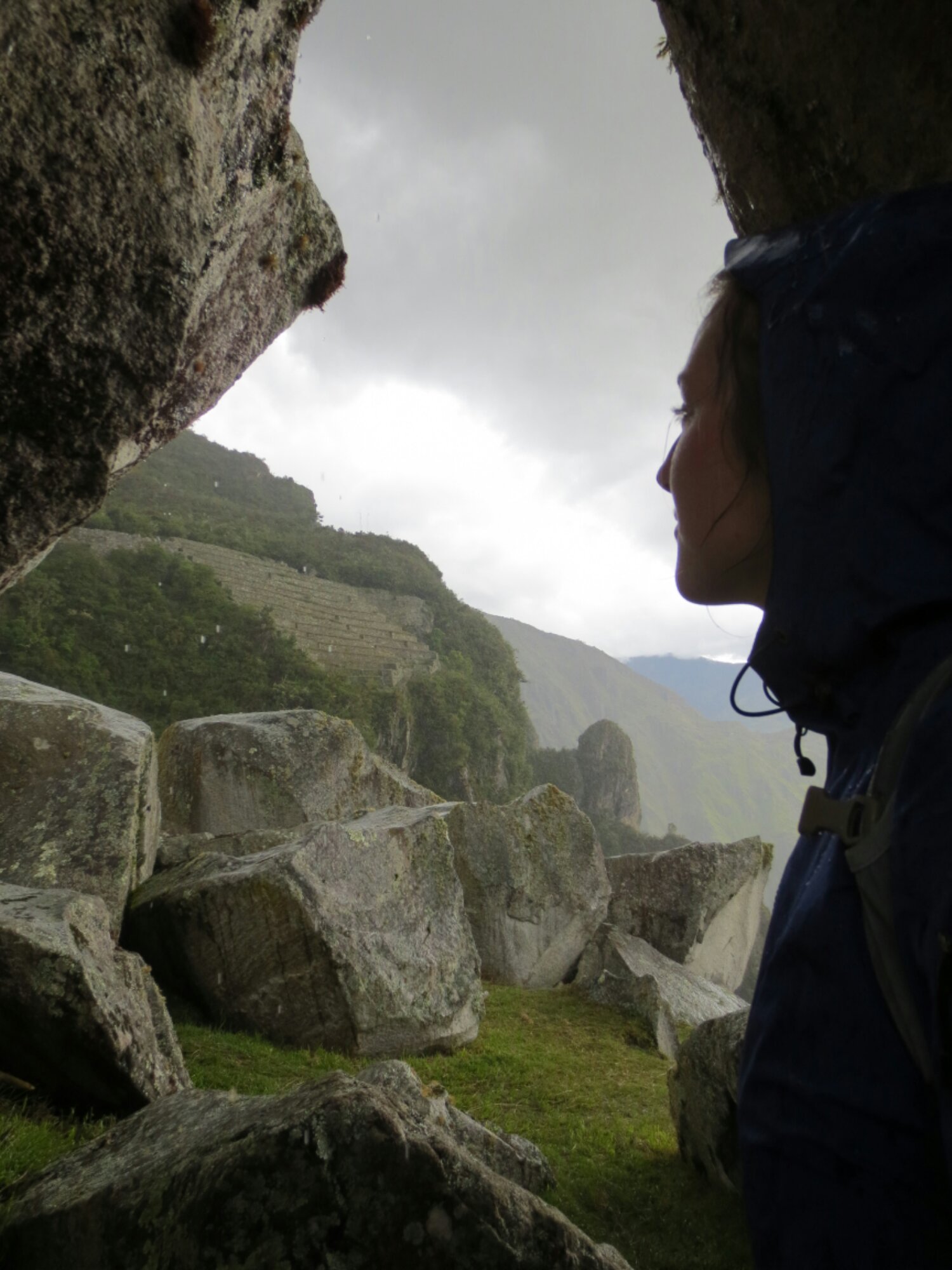 We hopped around from dry spot to dry spot and took some silly photos because eventually just standing and smiling is not enough. We stayed there until closing, then opted to take the bus down, which was a good choice because the rain just kept pouring down.
When we arrived in Aguas Calientes (the town at the foot of Machu Picchu) we were famished after having only 1 1/2 granola bars and a snickers all day. We roamed the streets until we found the best deal for stuffed potatoes, wireless internet, and warmth. Getting to the hostel was quite the fiasco as we learned that South American directions only include the first of many steps. We were happy to pay a little extra for a private room to spread all of our wet gear out, post pictures, and call it an early night.
1/16/14
We woke up after a much-needed 10 hour sleep and went to the hot springs, the namesake of Aguas Calientes, where we soaked and relaxed for several hours. Mindy's hands became "patas de ranas" (frog feet/raisin hands), and we finally were motivated to get out when her raisin hands became somewhat immobile.
At lunch Mindy had her first full conversation in Spanish… with a 4-year-old girl, while Harriet got shot in the face with a squirt gun wielded by a little boy.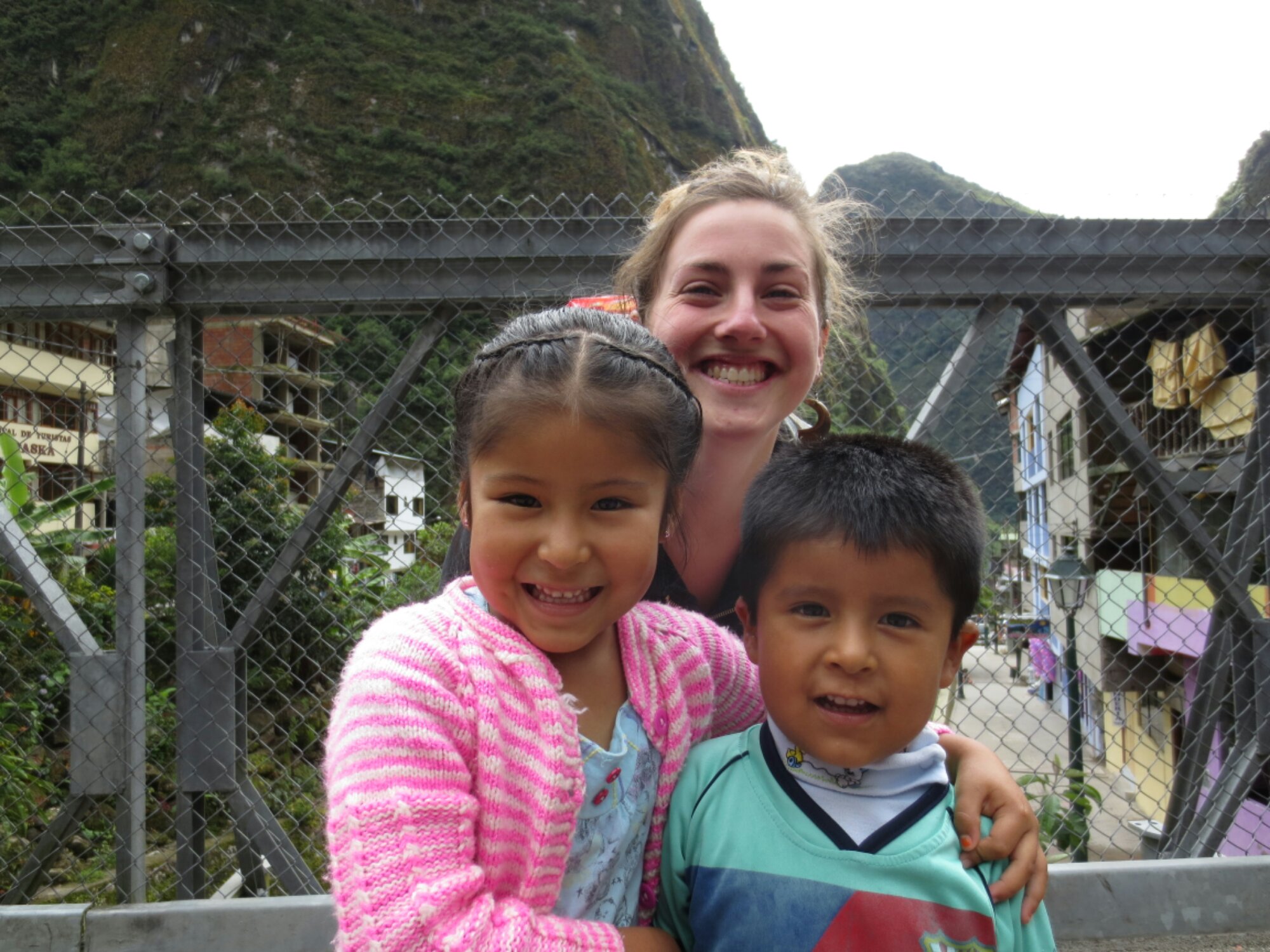 We were forced to take the luxury train back from Machu Picchu because the cheaper one was sold out, but little did we know the perks that came along. We were served a meal with real silverware, dishes, and tablecloths, and entertained by a supposedly traditional costumed dance. Our train attendants then transformed into models for a runway style fashion show of "baby alpaca clothes" (unfortunately they were clothes for humans not baby alpacas).
Our only complaint from the train ride is that they seemed to crank up the A/C in order to force people to buy their expensive baby alpaca clothes, but we were able to hold out.
The rainy season bi-modal system got us to Cuzco around 9pm and we got off the bus with just 12 soles combined. As we left the train/bus station we talked to the first cab driver we saw who said he would take us to our hostel for 15 soles, so we were forced to start walking. One block away we hailed a cab the Peruvian way, flapping your hand wildly at the street, and got a ride for just six soles. Success.
Back at the hostel we got checked into our new, and much quieter room with three Chilean boys and an Israeli. We chatted for a bit then headed to the bar to prove we weren't grandmothers.
At the bar we were reunited with our 1st batch of Argentinian roommates and added more dirty words to our growing list. Mindy enthusiastically practiced her Spanish to the delight of our friends and with the help of a couple cervezas. The cute and nerdy engineering student (Lucas) tried to find the word for "addicted" and our tall, quiet, birthday-boy amigo (Martin) used the example, "Mindy is addicted to cheesecake" which doubled us over in laughter and only made things more confusing.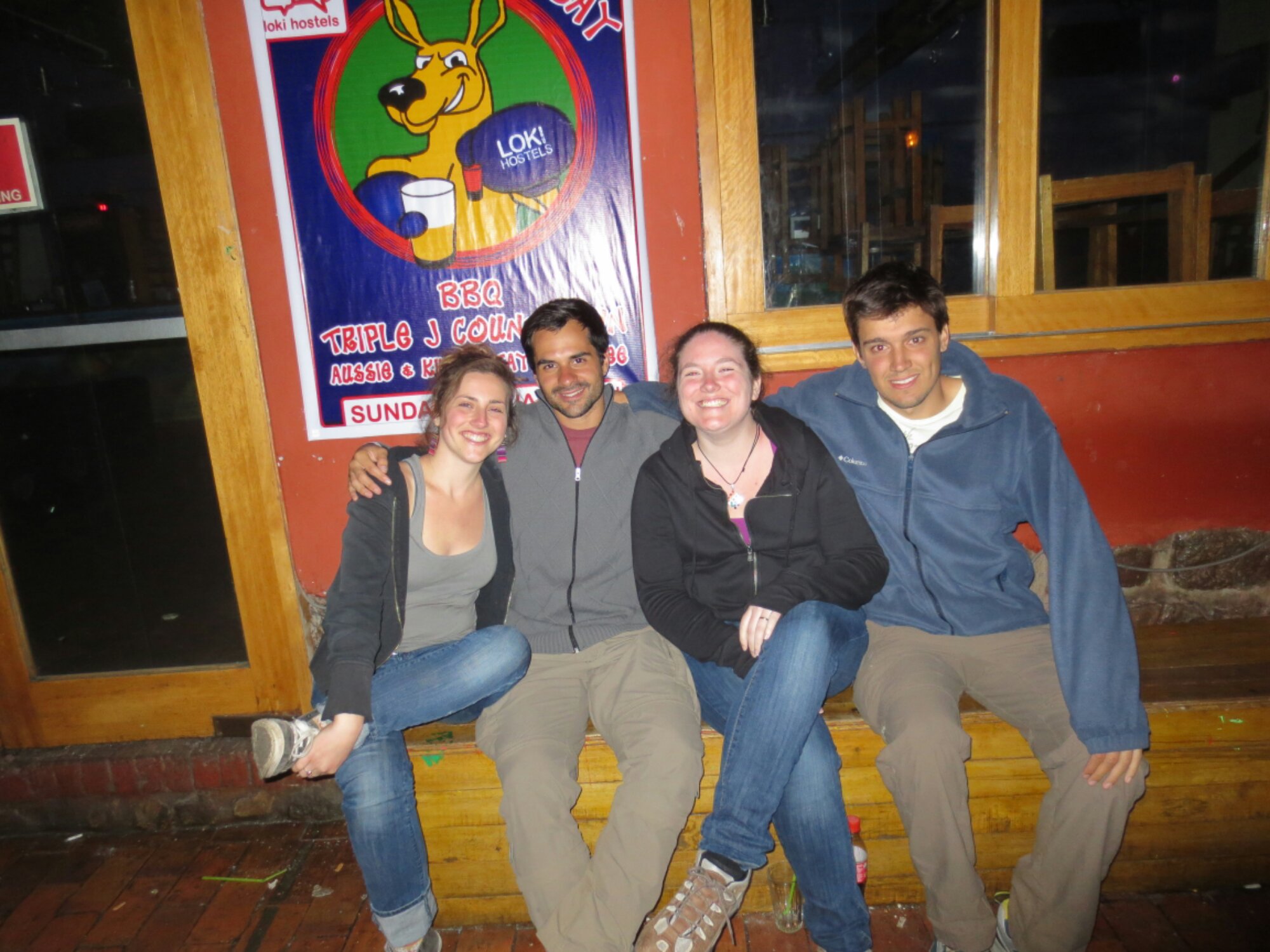 Mindy was then swept away by Rodrigo to dance to an Argentinian song which got the dance floor hopping. She awkwardly tried to keep up with the latin dancing, and was relieved when the normal repertoire of American dance music returned. Our Israeli roommate drew a lot of attention with extreme rapid movements of his legs and arms. He later complained that no one else was really dancing, even though there were about 7 people dancing ON the bar. Jerusalem's clubs must really be crazy.
1/17/14
The rocking caused by one of our top bunkmates and his guest made it difficult to get a good night's sleep, but it turned out OK because our final day in Cuzco was laid back. We packed, cleaned, repacked, and prepared for the next leg of our trip, an overnight bus trip to Arequipa.
At lunch Hattie got her long-awaited pollo a la brasa and Mindy got the shits.
We were sad to say goodbye to our new friends, but plan to visit Wilson in Bolivia and hope to see our Argentinian friends in Buenos Aires and Cordoba. Hasta luego Cuzco!
To see more pictures check out our facebook album.