01 Apr 2014
Buses, Bed Bugs, and Birthdays
We didn't know much about Cordoba except that another group of friends we had met in Cuzco lived there, so we had no idea what to expect. Unfortunately our $800 USD had run out, so we had to go to the ATM, making everything in Argentina immediately 50% more expensive. With our big backpacks we avoided getting ripped off by a cab and walked about a dozen blocks to a hostel that had good reviews and was relatively cheap. We were still exhausted from all the partying in Buenos Aires so we pretty much just lounged around all day, went to the grocery store to buy some eggs and tuna for sandwiches, and somehow put sugar instead of salt in our tuna. It definitely tasted weird, but we didn't realize why until the next morning when we took our first bite of sweet fried egg.
Our friend Maxi invited us over to his parents house for dinner, but we weren't supposed to get there until 10. Trying to be cheap we decided to take a bus to his house, but ended up having to wait at the most sketchy bus stop. There were two whores (one a man?) twirling around street sign posts and competing for turf. We had to make a conscious effort to slouch and not twirl our hair so no one would mistake us for prostitutes. Right after contemplating taking a taxi the bus came and took us to a dark neighborhood where we finally found his house, met his parents, and retreated to the garage with an asado built into the wall. Mariano and Gabi were also there, a reunion of our crew from Cuzco.
Maxi's friends Emilio and Tincho also joined us and Maxi fed us grilled meat and potatoes, and we spent the night drinking beer and playing games in his garage. Tincho drove us back to our hostel, but we had to survive the extremely loud music which shook his car as we drove home.
Today was Harriet's turn to be sick. It came on when we were in the bus station buying a bus ticket to Salta, making her dizzy and nauseous. While Harriet crashed at the hostel Mindy dealt with some bank business and hung out with a new friend we made at the hostel, also named Mariano, who was from Buenos Aires but in Cordoba on business. Mindy and Mariano went out for pizza, and she scared him off when she told him about her theory about the divorce rate being caused by people showering too much and wearing deodorant, which masks their pheromones. He thought that was gross.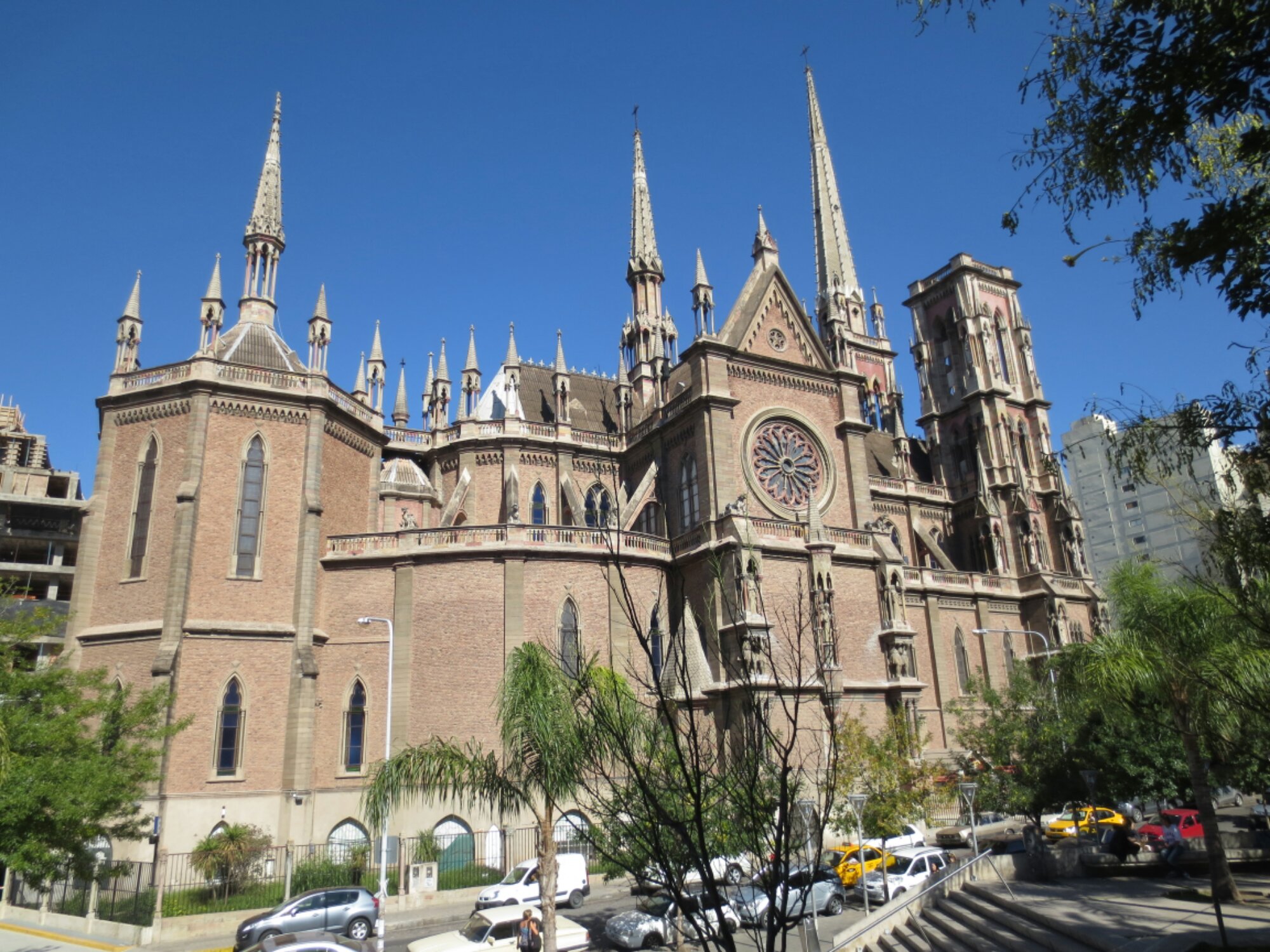 Harriet felt much better the next morning, we packed up our stuff, and decided to explore the city some before leaving. We walked to Plaza San Martin, where we read our books, then had a big lunch by the Buen Pastor (which we think is a church). Back at the hostel Harriet slept even more, and Mindy was glued to her screen until it was time to go. Cordoba bordoba, bye bye.
We arrived in Salta super early the next morning, and spent about 4 hours in the bus station deciding where to go and what to do next, coming to no conclusion except that we don't like deadlines. Loki Salta was still offering free rooms, so we hopped on the bus that took us 40 minutes out to the hostel, which was an alternate reality, surrounded by horse and cow pastures. There were lots of English speakers there, and we were peer pressured into taking our first blood bomb, a Loki tradition consisting of a glass with some red bull, with a shot of vodka and a little grenadine dropped in.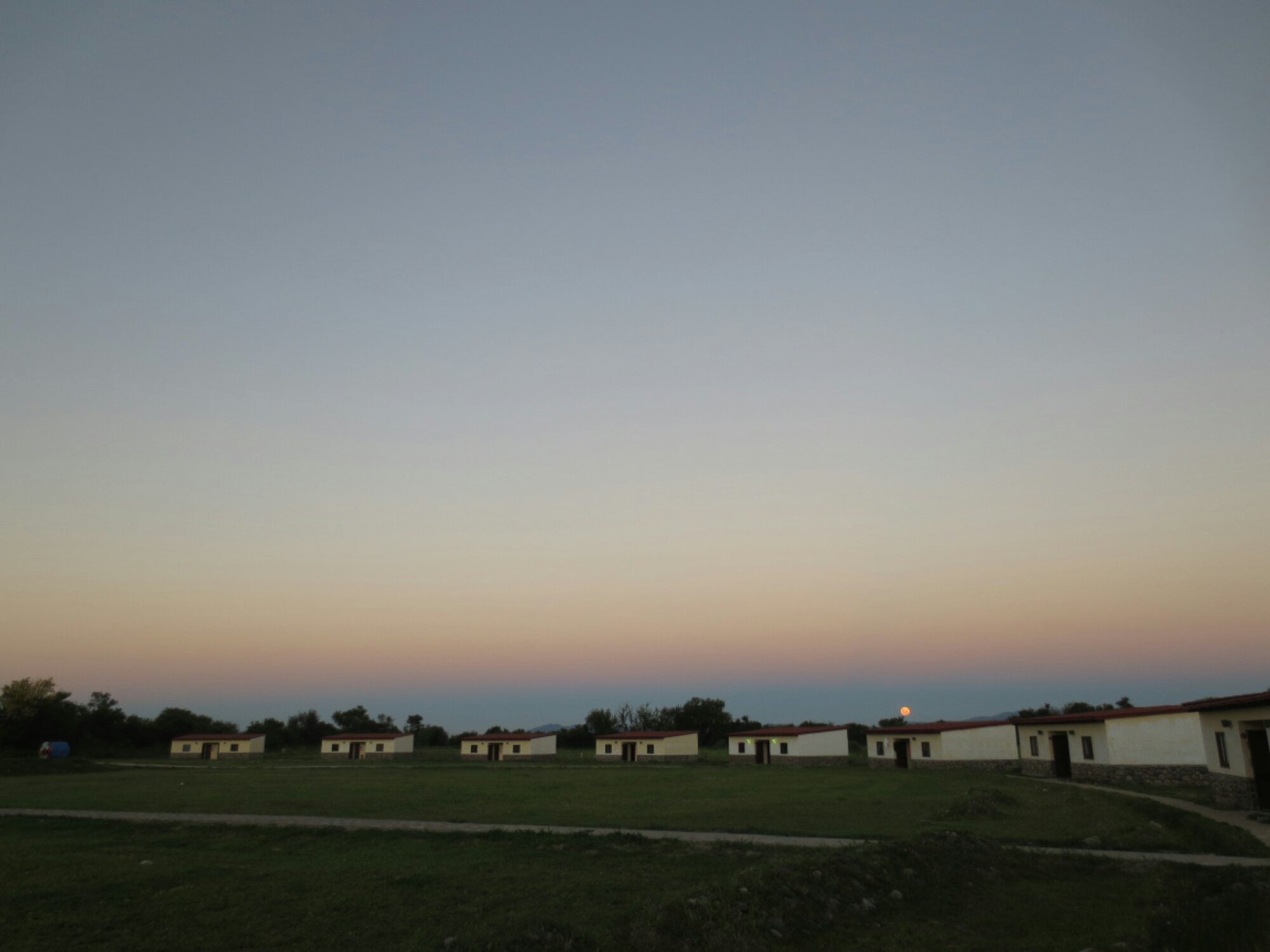 The bus ride wasn't very conducive to sleep so we took a nap, and then Harriet had to deal with the terrifying thought that she might have bed bugs. For the past few days since leaving Argentina she had been getting mysterious bites on her feet, arms and hands. We were too scared to tell anyone we thought she might have bed bugs so she quietly took all her clothes that she had worn in the past few days, and her small backpack, and soaked them in super hot water to try to kill anything that might be on them. Either it worked or she never had bed bugs in the first place because she thankfully didn't get any more bites.
It was a kind of crazy night at Loki involving slap cup, wine pong, and doing flips into big piles of bean bags. The crazy night led to a lazy next day which mostly involved reading and lounging by Loki's beautiful big pool until 2pm when we went to the bus station to meet Sasha! We DID meet him again!
He was happy to see us and we all ate sandwiches and ice cream and went back to Loki for a family asado night where we ate ribs and sausage and steak and salad, all of which was delicious.
It was the eve of Mindy's birthday so we began our celebrations early. We played a game called flip cup where our team won and Sasha's team sucked because of one lousy girl who didn't know how to flip a cup. Then it was Mindy's birthday!!! The staff gave her a bottle of champagne and forced her up onto the bar to pop the cork which proved much more difficult than anyone thought. Most of the bar staff was up there with her trying to help get the cork out and when it finally happened it was a bit anti-climactic.
Mindy's flip cup partner, Adrian from Bavaria, became our new best friend and would later travel with us to Chile! Mindy wasn't even the only birthday person in the bar so we all celebrated with Olfik, an Israeli, as well. Harriet was a good cousin and encouraged Mindy to go to bed (which she did without a fight, of course) so we could have a good birthday day tomorrow.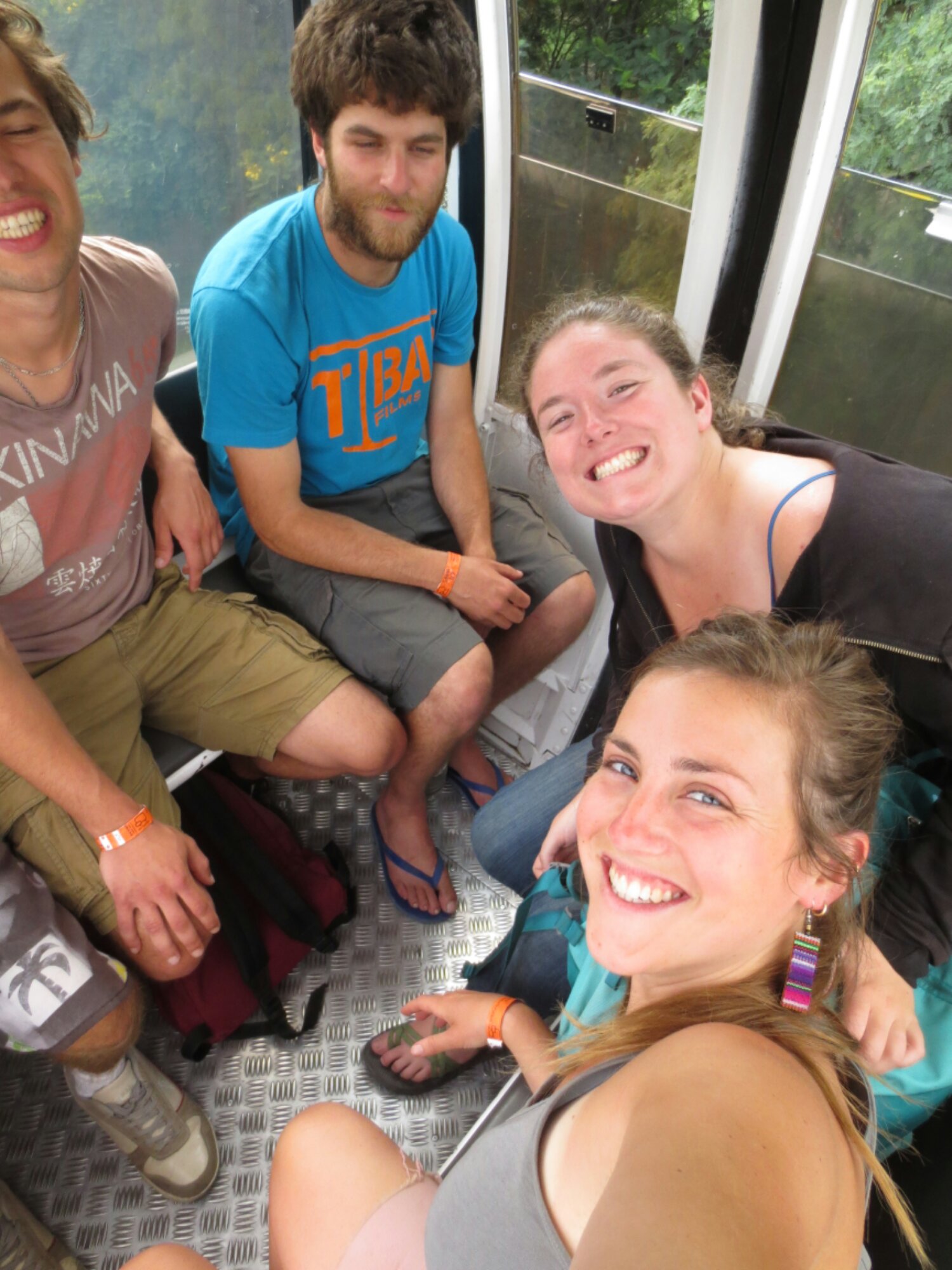 It took a while to get moving on the Ides of March and we were having a hard time deciding what to do for Mindy's birthday. Eventually we decided we needed to figure out how we were getting out of Argentina so we went to the bus station with Sasha and Adrian and bought tickets for San Pedro de Atacama in Chile, where we could get US dollars for Mindy to be able to pay for a replacement visa to get back into Bolivia. We accidentally brought along a creepy old Italian man and young festival-hopping type from Germany.
We went up a gondola to the top of a big hill overlooking all of Salta, and got ice cream to celebrate Mindy's birthday. Back at the hostel we decided not to play a crazy game of human bingo and played an fun yet interminable game of cards instead, followed by some rounds of pool, and then bedtime, because we're old now. Happy Birthday Mindy!!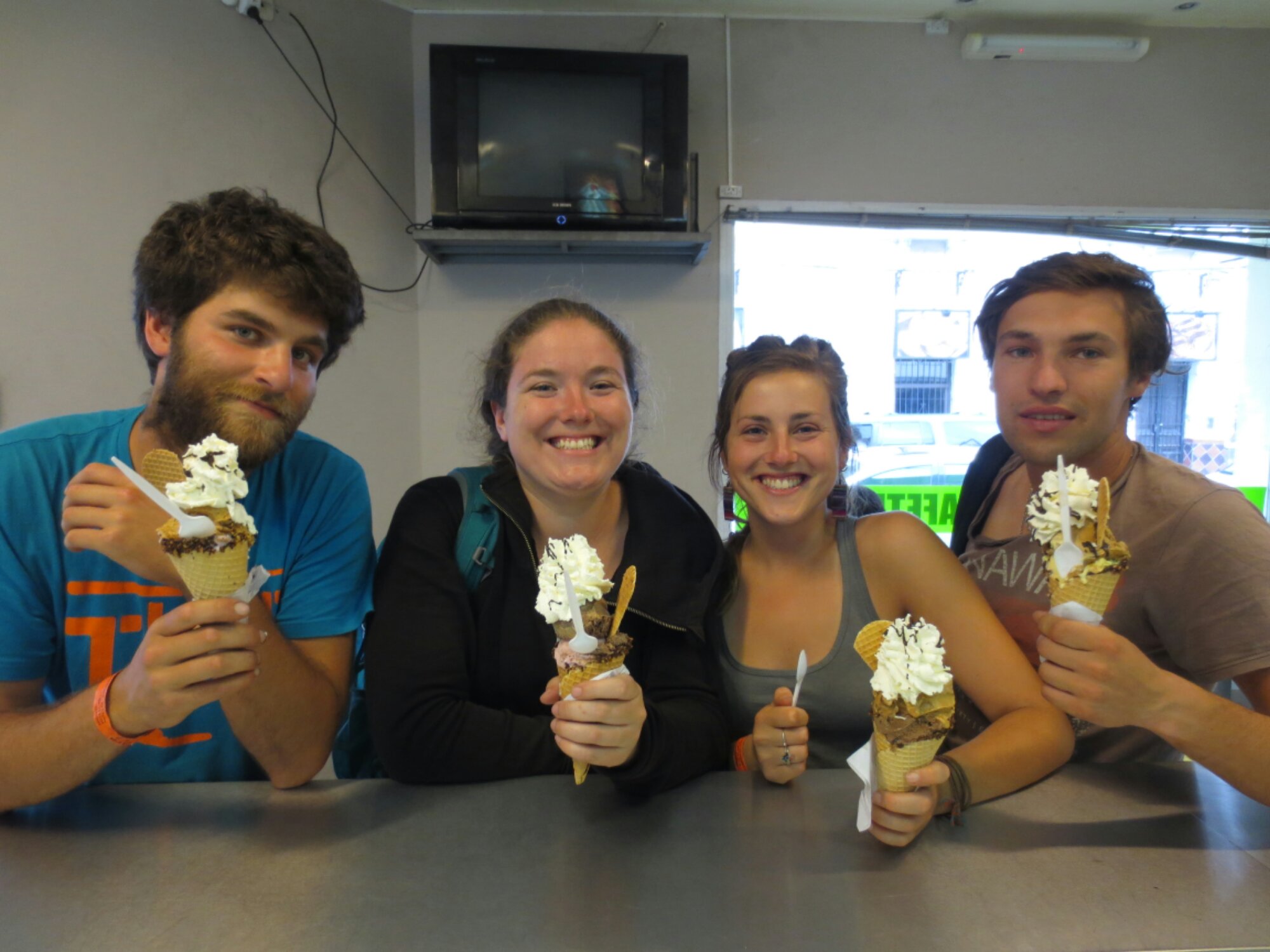 The next morning we finally made it out of Loki and took a bus 10 minutes to a small town called Campo Quijano where we wanted to try to see something pretty.  We were four with Adrian and Sasha and shared a ton of empanadas and tamales before setting off down the train tracks in search of a river to sit by. We drank mate and played an Argentinian card game called Truco which has way too many rules. It also uses Spanish cards which we've never seen before, but despite our lack of knowledge, team Primas won the game!
On the walk back to Campo Quijano we took a slightly different route that crossed a steep railroad bridge with gaps wide enough to fall through.  Mindy stopped about a quarter of the way through and had to sit down because it was just too scary. She made the whole group turn around and take the road instead. We found a pretty place to leave some of Alice's ashes surrounded by many-colored flowers and horses and mountains in the near distance. Such a darling little town!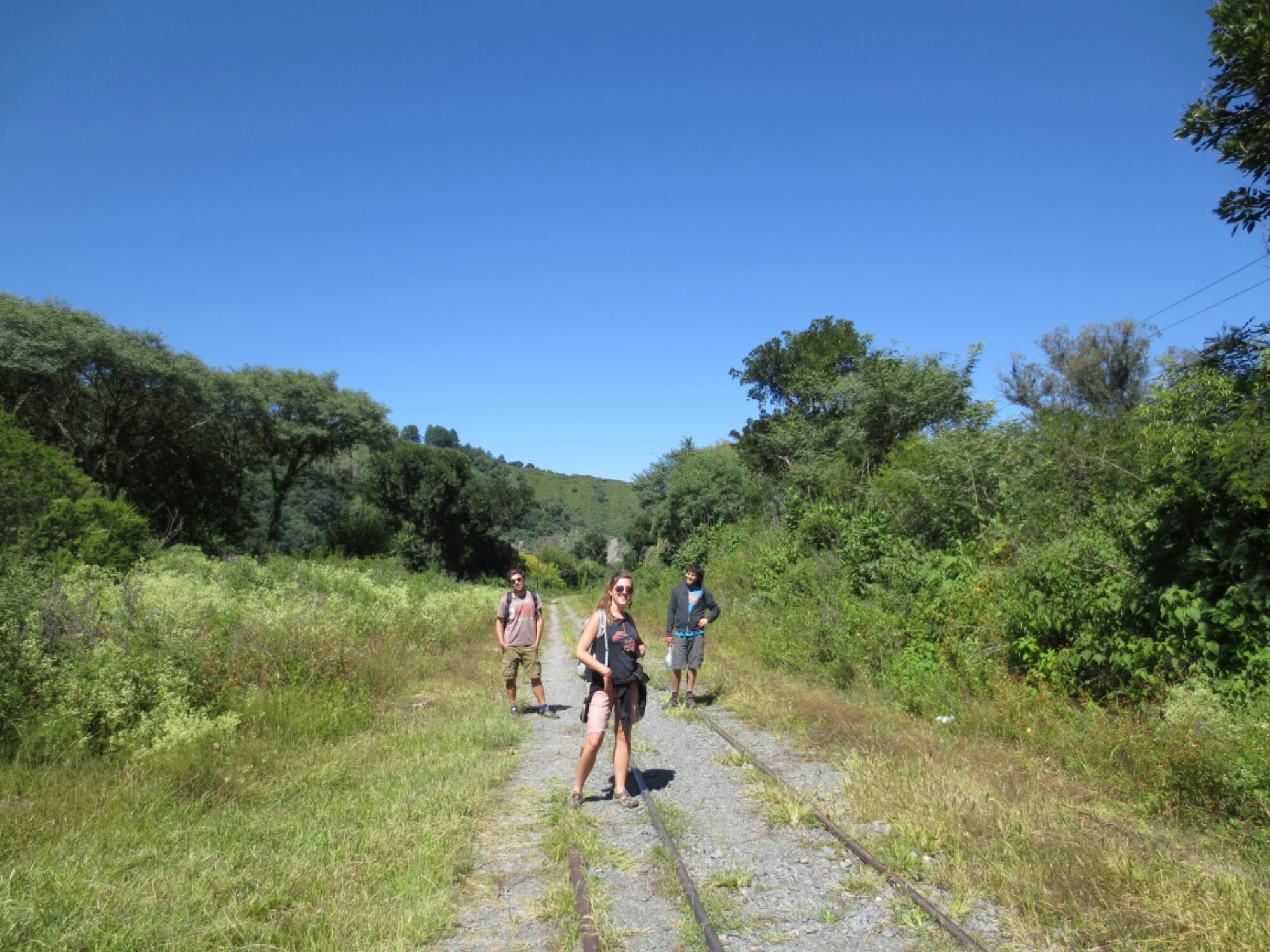 Back at the hostel we swam in the freshly cleaned pool and raced (Adrian won every time) and we did handstands and fancy dives. There was another BBQ so we loaded up on meat before catching our 1 am bus ride to San Pedro de Atacama in Chile.
We woke up very cold in a desert at the border of Argentina and Chile where Mindy's emergency passport got a thorough inspection and then she got locked in a bathroom and panicked when no one responded to her "ayuda me's" and desperate knocks. As usual, she was saved by Harriet when she walked by and could turn the handle from the outside. What if Harriet hadn't heard her and she got stuck there forever?
Back on the bus we played "I spy with my little eye" going through the alphabet where we had to get creative considering the desert doesn't have much in the way of diversity. Our plan was to camp in the Valley of the Moon (desert surrounding the oasis of San Pedro) but we found out that it's not allowed so the four of us had a long discussion over lunch and decided to do an evening sunset tour of the Valley of the Moon and spend the next day in San Pedro, then Harriet and Mindy would split for Bolivia the following day.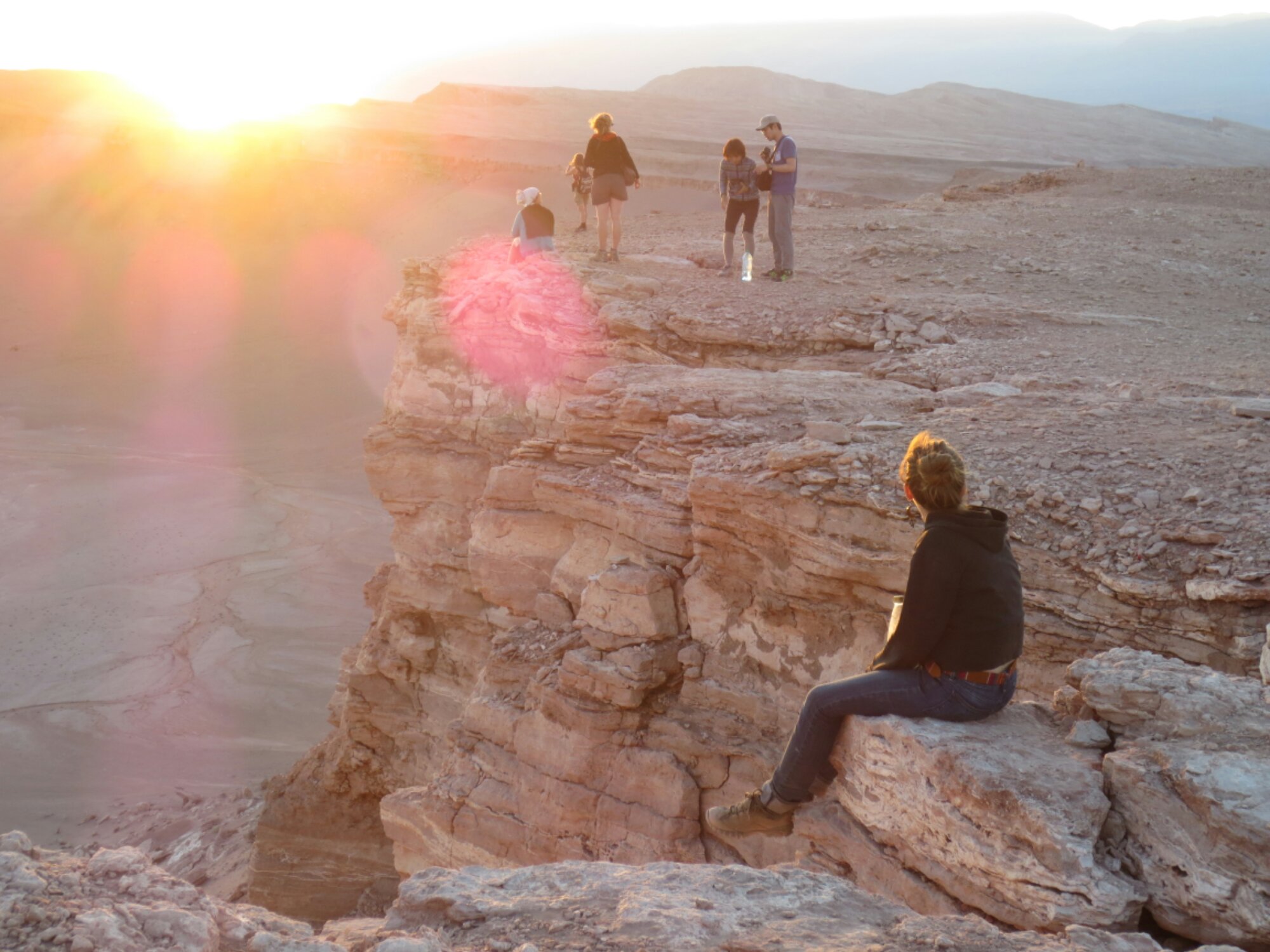 Our desert tour was incredible and took us to a salt mine, many wild rock formations, a salt cave, a natural ampitheater and a huge canyon where a little boy's hat blew over the edge and he cried. We're just lucky he didn't chase it. The area was similar to the salt flats in that there used to be a sea there so it was swimming with salt crystals and white crunchy earth.
The finale was the sunset which filled the sky and surrounding mountains of the barren desert with color. Here we had a chance to share some of Alice's ashes with the earth as the sun sank over the horizon and the temperature dropped.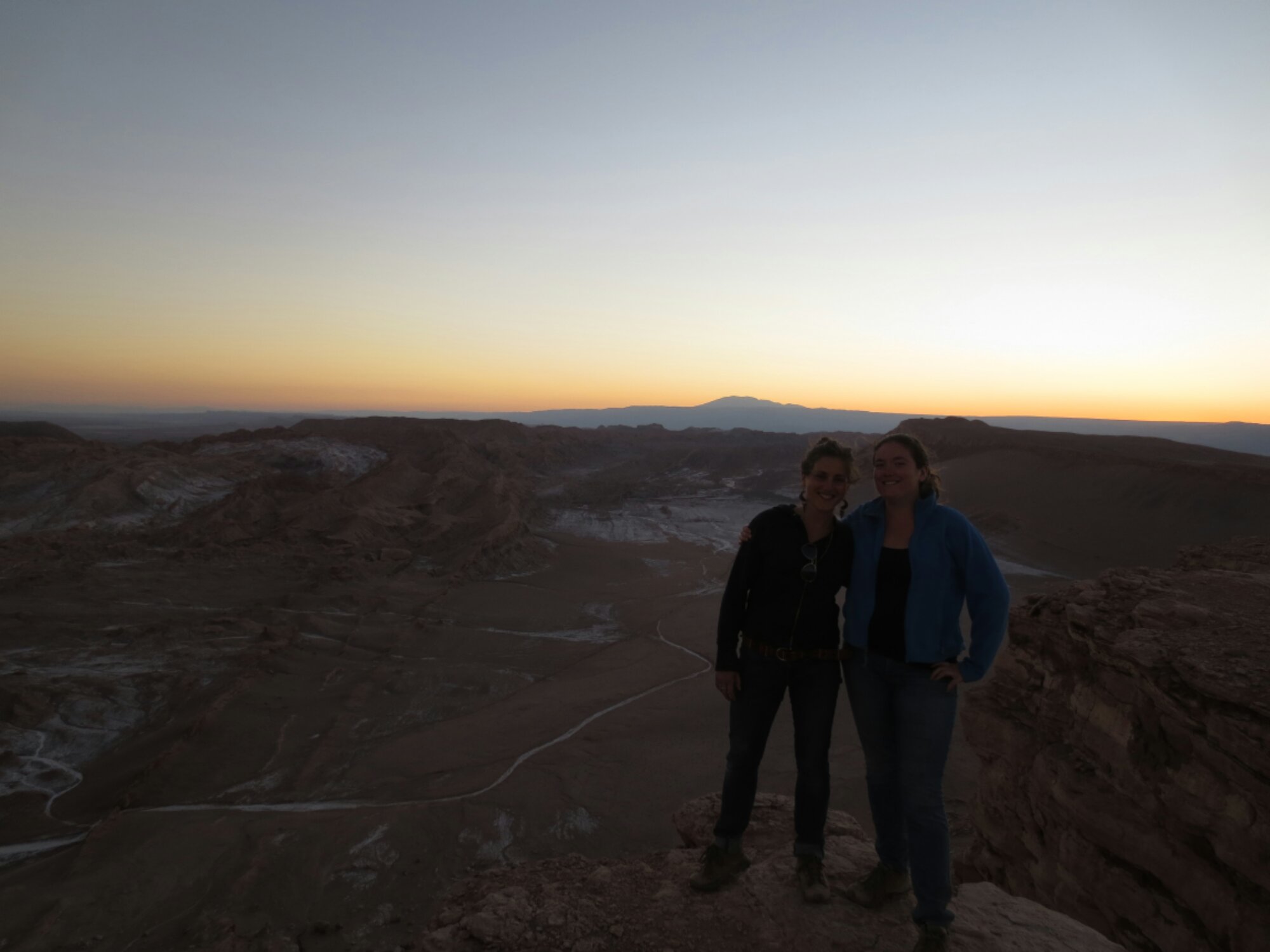 We had to celebrate St. Patty's day so back in town we got some beer and shared a whole chicken and a massive heap of fries between the four of us. We played cards which seems Irish because a quarter of them have a little clover in the corner. That works doesn't it?
After making a group breakfast and enjoying the sunshine of the oasis we walked to the bus station to set off for a journey that would be much longer than anticipated, but land us in Bolivia much sooner than anticipated.