05 Apr 2014
Caimans, Dolphins, and Snakes… Oh My!
Now begins our quest to make our way back to Bolivia from Chile. We had a plan to go back the way we came, but met a nice Israeli boy in the bus station who told us it would be quicker to do more traveling in Chile and cross over further North. We thought that sounded nice since it would take us a different route that we had already been, so we headed to Calama, scrambled to get on a bus that night to Arica, and then hopped on a bus to La Paz. As expected, we held up the bus at the Bolivian border with Mindy's emergency passport and lack of Bolivian visa. Everyone on our bus had left the immigration office and when we finally exited there was no bus in sight! We weaved our way through tractor trailer trucks and began to panic until we found our bus and our driver tapping his toe and yelling at us to run. The whole bus hated us and were conspiring to leave without us, but three buses, and 24 hours later we were back in La Paz!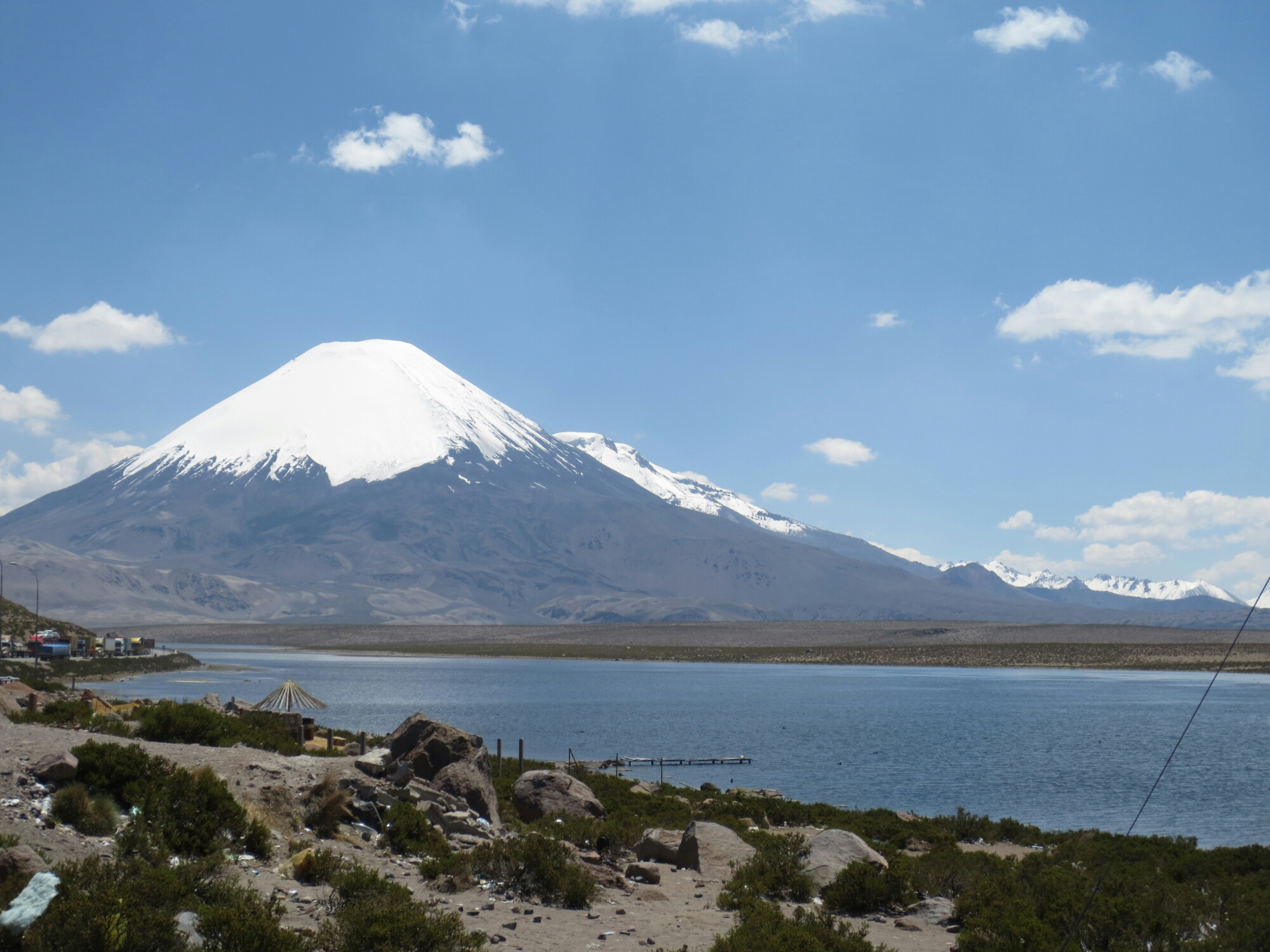 We decided we had moved past the party scene of Loki so we set out to find a more peaceful hostel. After checking out three scary looking places we gave up and surprised our tattooed friends, Mandi, Jhonny, and Alfredo at the studio. They informed us that a new Loki had opened up and we had to give it a shot. So we found ourselves, once again, at Loki. And once again signed up for the beer pong tournament. Once again we made it to the final round, and once again we lost to two Israelis. The only difference is that this time they weren't cheating and they were actually as good as us.
The next day was dedicated to sorting out the visa fiasco that delayed us at the border. At the immigration office we were sent to make a photocopy of Mindy's passport, back to immigration, sent out to get four visa photos (4×4 with a red background), back to immigration, out to check jungle tours while we waited, and finally back to immigration to pick up the visa. Four hours and $80 later Mindy was legal in Bolivia!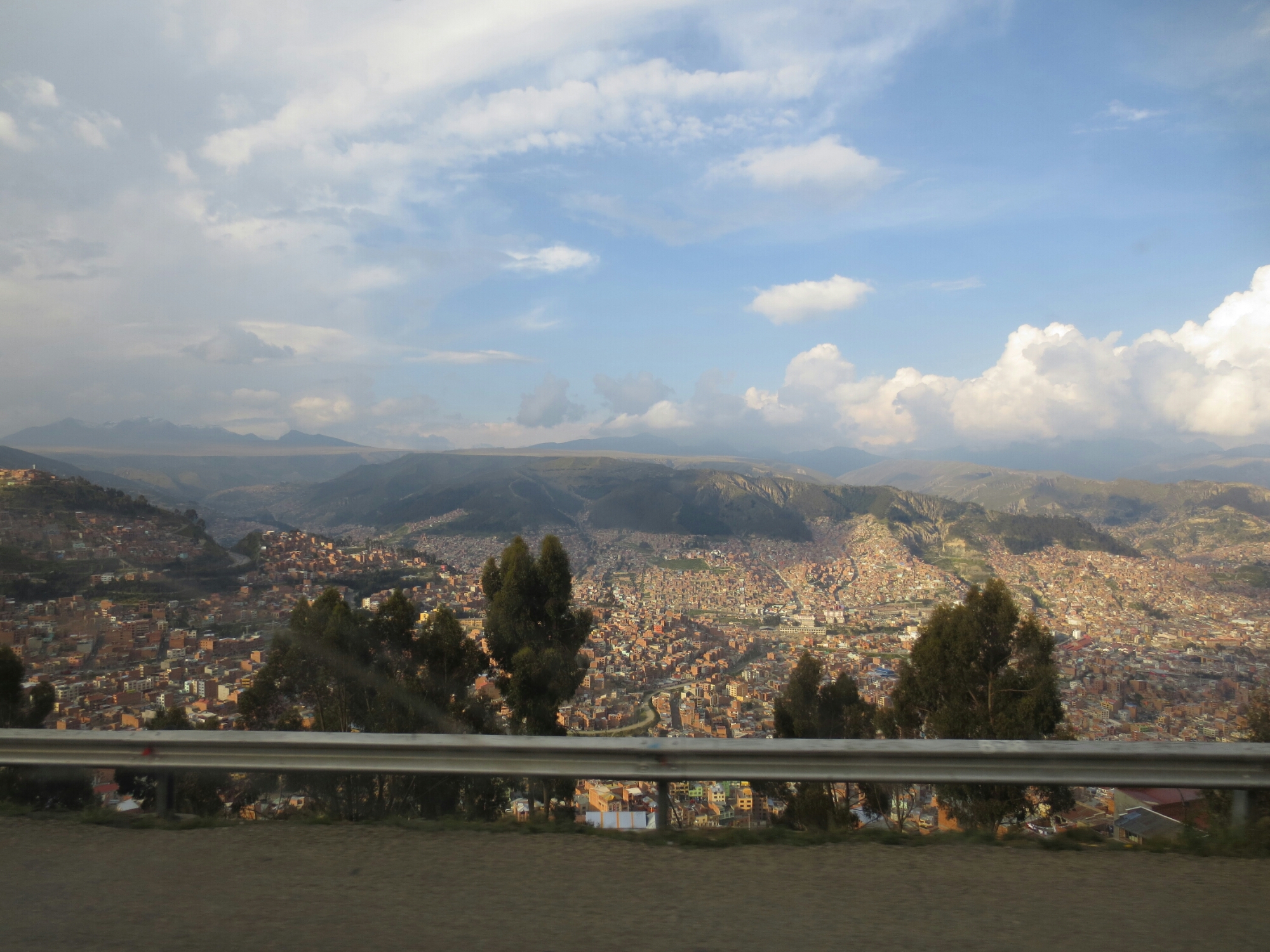 Later we discovered how late our friends are (or maybe its just miscommunication?) when Mandi showed up for our dinner date at 11, and the only place that was open was called Dumbo which was kind of like Chuck E. Cheese, where we ate hamburgers and witnessed two old ladies birthdays while highly inappropriate soap operas played on the TV.
In the morning we went to the witches market, a touristy area where little shops with llama fetuses and good luck charms are mixed with souvenir shops full of silver jewelry and alpaca sweaters. Our mission was gifts, and it was overwhelming. After buying a few things we came back to the hostel and met our new roommates, Matt from Australia and Julio from Mexico, who would turn out to be great friends to have.
Mandi, Jhonny, Alfredo, and Andrea (Will's sister) showed up and introduced us to our Swiss roommates, who we knew would be friends with them because one of them had tattoos on his eyelids which we noticed while we were watching him sleep. One drink led to another and we found ourselves out at a club called "Pa Gozar" with our Bolivian friends and our new Danish friend Mads. We left shortly after a trip to the bathroom where two girls introduced themselves as members of the military but asked us not to tell anyone… sketchy.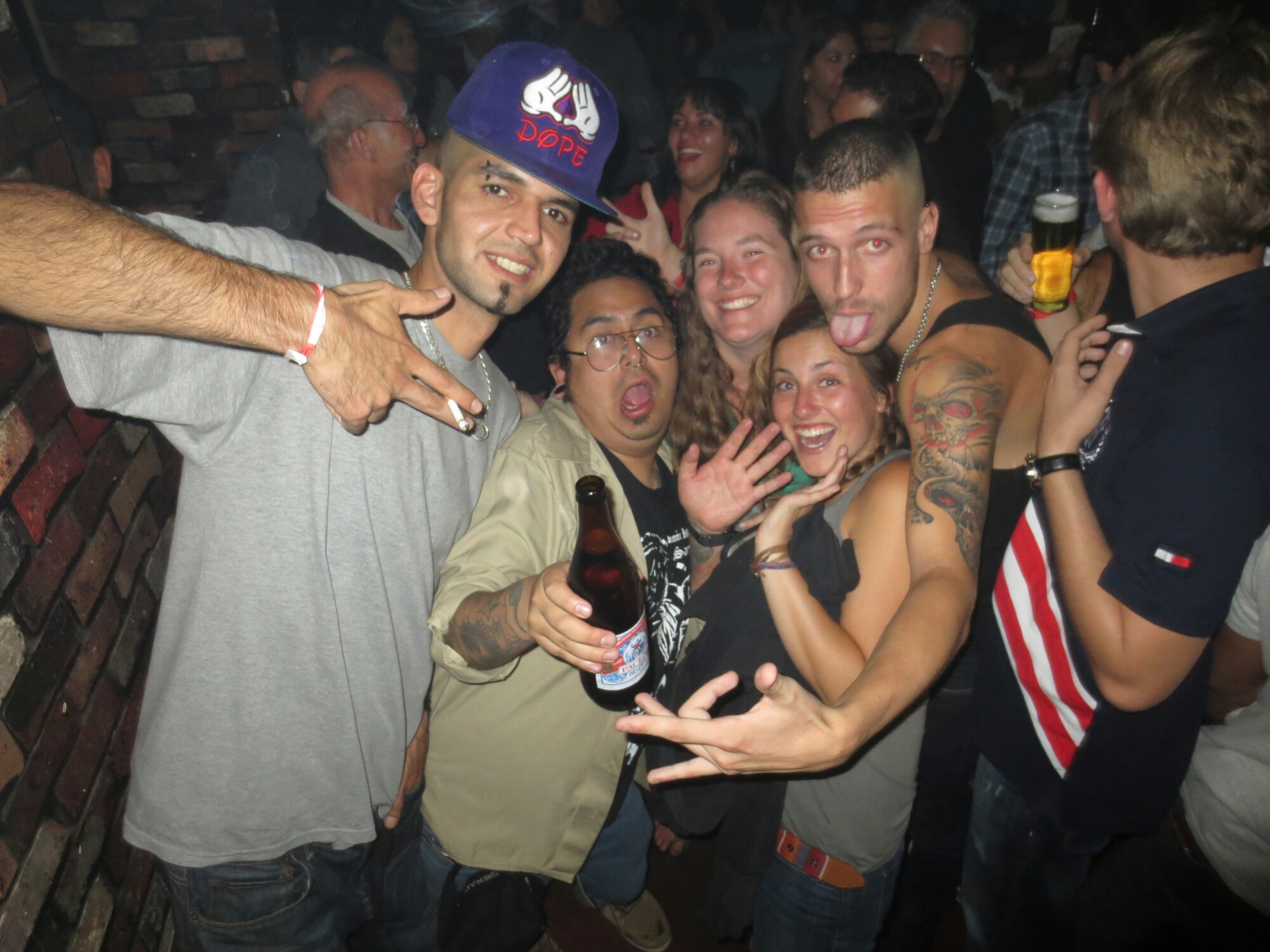 We slept till noon, and had a laid back day hanging out at the studio, posting pictures, watching youtube videos, bothering the boys, and getting to know our new super-tall Chilean/Swiss friend Nico, who speaks English, Spanish, German, French, AND Portuguese, whew! Finally we mobilized to get out of the studio and get dinner at a pizza place across the street, where we sat for a long time chatting and were joined by the singer of Mandi's band.
On our way to Loki we stopped at Mandi's hotel to drop off his stuff, where he showed us his English-learning app. He proudly repeated phrases after the British accented lady and we giggled when she taught him the word "tortoise" (pronounced tor-toys), and the phrase "to stroke the cat." Excited for our jungle trip the next day we went to bed early, wondering what kinds of crazy adventures we would have.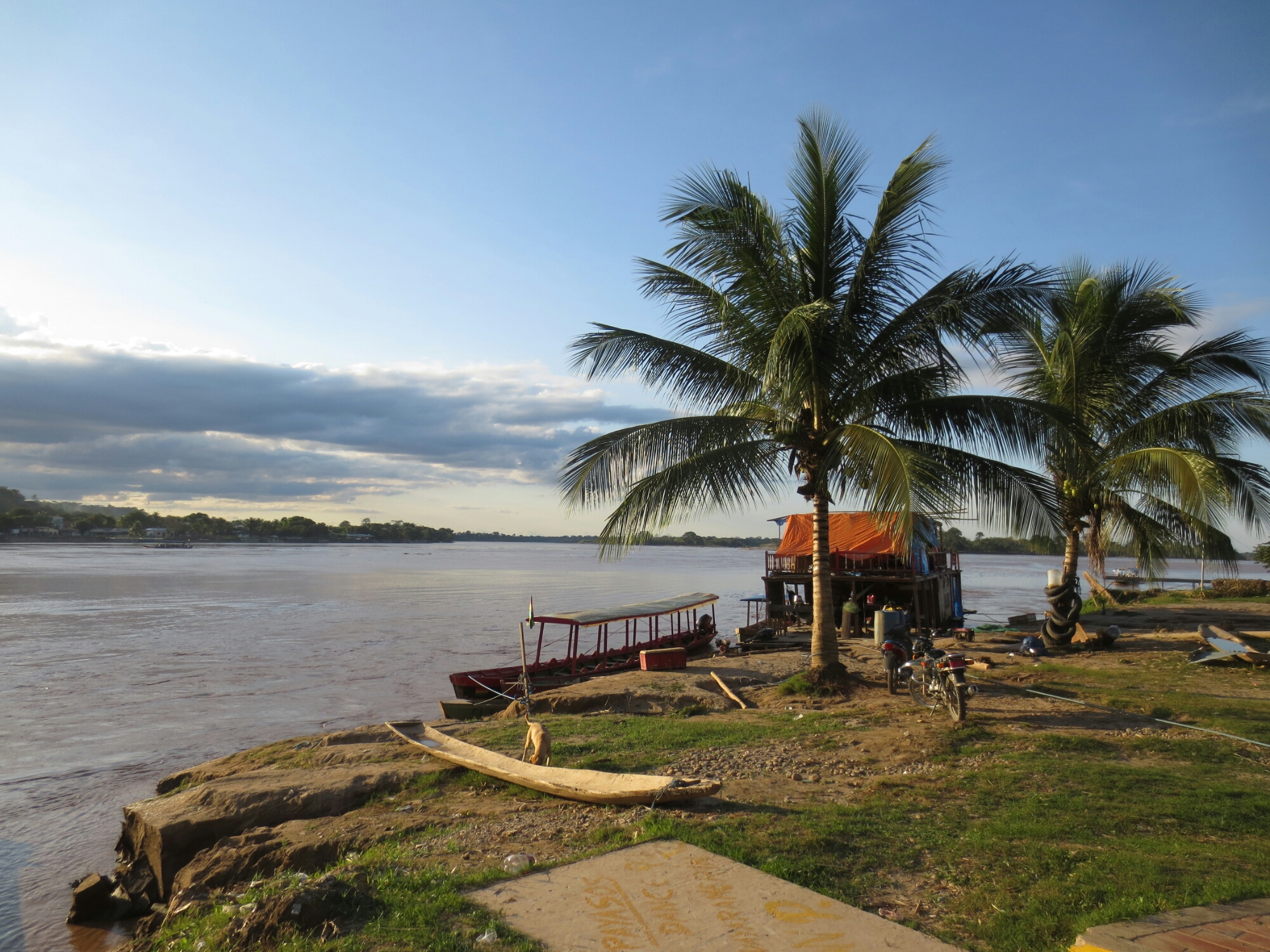 We landed in Rurrenabaque on a tiny plane and got to the one-room airport where we were greeted by a man holding a sign with our names on it which made us feel special. We went to the offices of our agency, Indigena Tours, and got the details for our tour the next morning. They took us to our hostel where we lounged in the hammocks and read our books until we couldn't handle the mosquitoes anymore. Little did we know what we were in for.
Before dinner we decided to explore the city a little. Rurrenabaque was seemingly back open for tourist business, but had suffered from massive flooding and a landslide that had crushed ten houses and killed around 10 people. It was surreal to walk around the town full of hostels, nice touristy restaurants, and tour agencies, while seeing the water line still visible halfway up the doors of most establishments. It was hard to tell if Rurre was actually recovering, or if it had just recovered enough to start carting tourists to and from the jungle again…
For dinner we found an adorable little food cart on the street and ate some Belgian fries and skewers of fish from the Beni river (3 blocks away).
We got yummy French bakery and REAL coffee (we've had mostly Nescafe) in the morning on our way to the agency, and met our tour-mates Andrea and Matthias, an adorable young couple from Denmark. Our tour guide Choco and our cook Tomas rounded out the crew, and we cozied up in the van with our driver.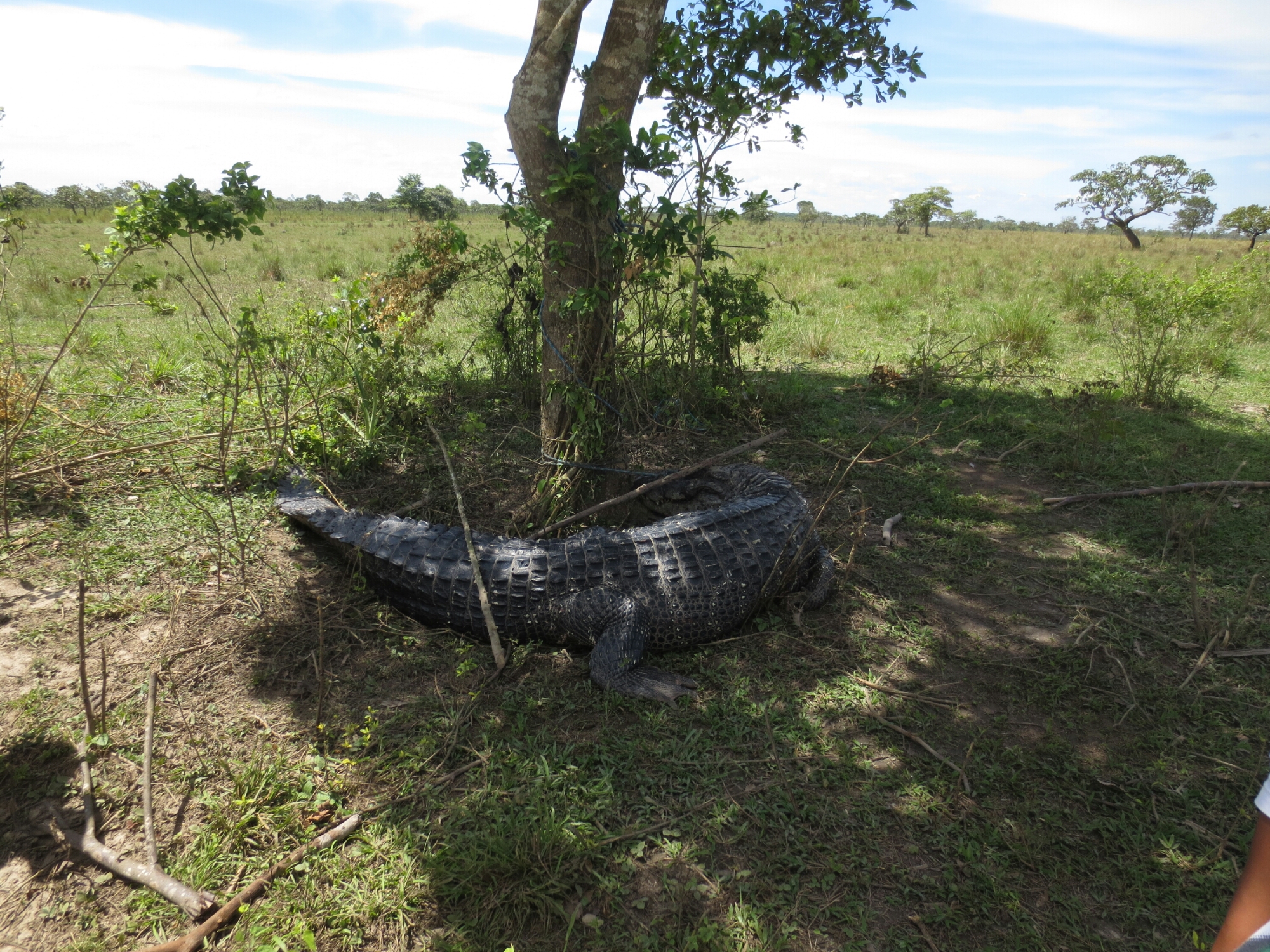 The next four hours was an incredibly bumpy ride spent anxiously watching Matthias' head bobble back and forth, coming dangerously close to smashing into the window when we went over big bumps. In Santa Rosa we stopped for lunch, and got dropped off at our boat which would be our transportation for the next three days. It was a 3-hour ride to our stilted eco-lodge on the river, and on the way we got a spectacular introduction to ecological diversity. We saw turtles, birds, black caimans, A SLOTH!!!!, river dolphins (both pink and grey), and not only did we see squirrel monkeys but they jumped on our boat.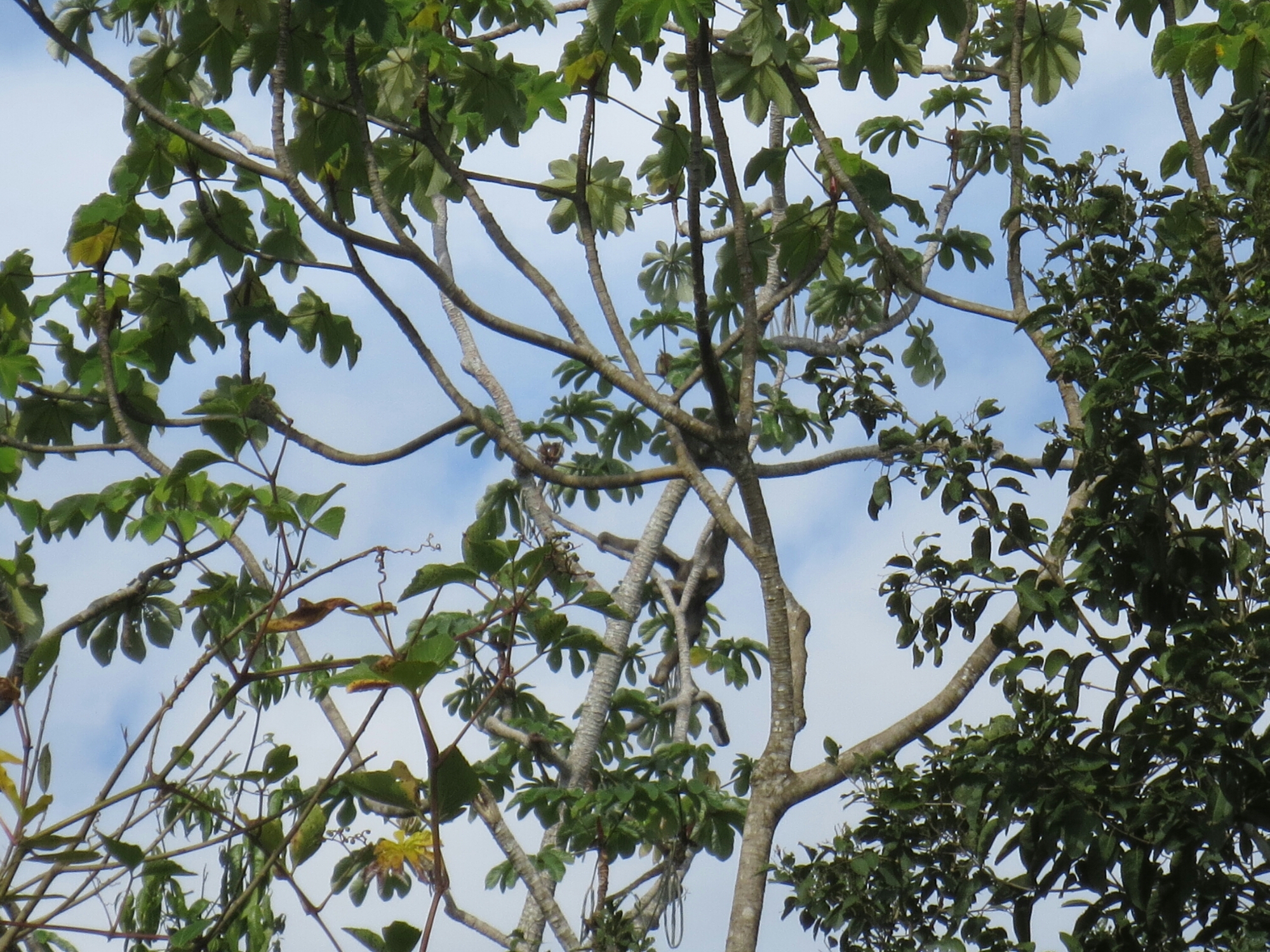 Tomas made us a snack and Choco brought us to a little establishment where all the tourists come to watch the sun set over the Pampas (the jungle-like wetlands where we were touring). After dinner, which was hard to enjoy while swatting away the clouds of mosquitoes, we took a night cruise to look for glowing gator eyes with our head lamps. We saw a few, and just as we were getting close to a big one a fish jumped into our boat, and genuinely freaked us out. Good thing it wasn't a caiman.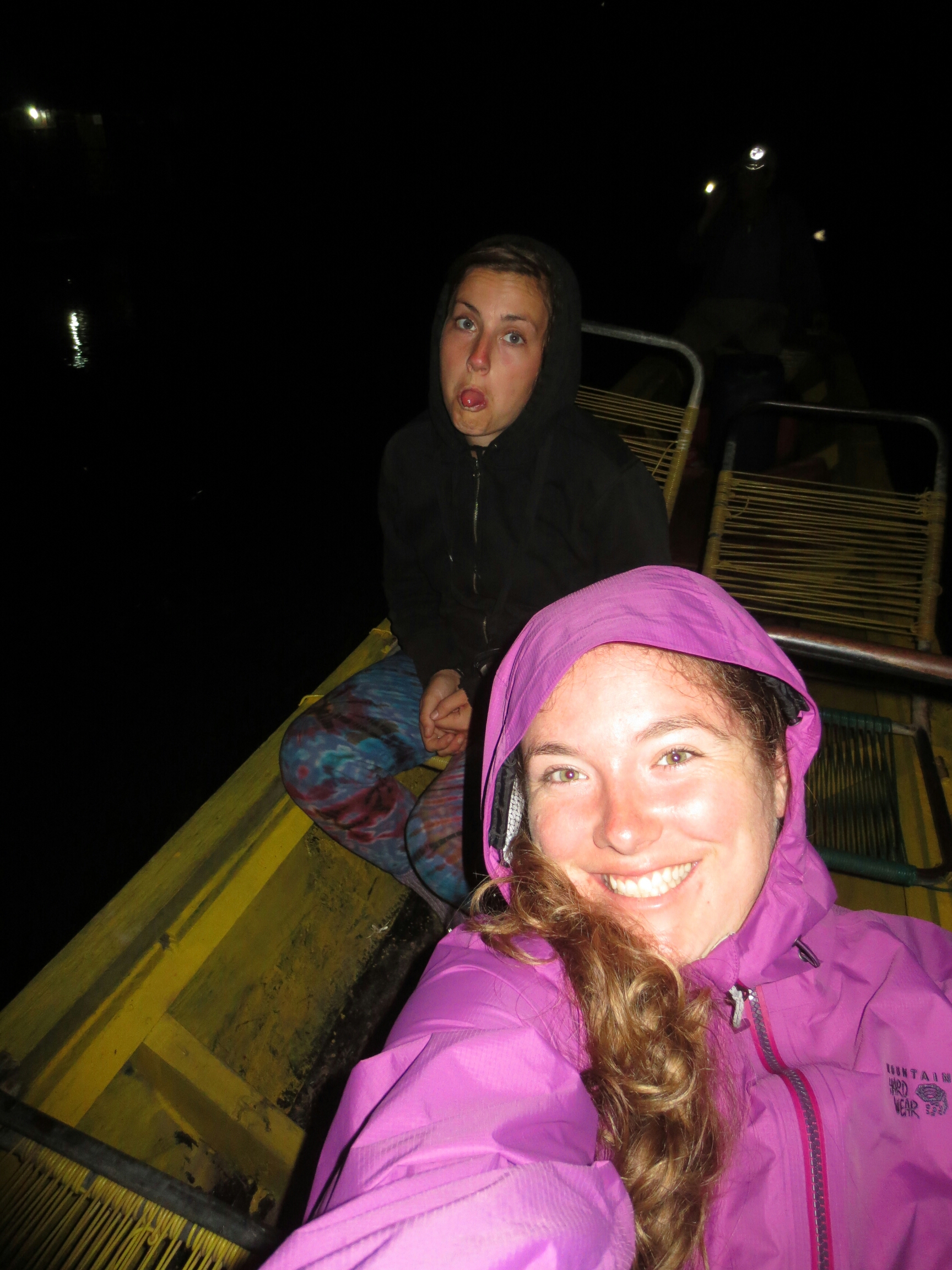 Back at the lodge we swung in hammocks, because moving is the only way to keep the mosquitoes away. When we were tired of swinging we went to bed under the protection of our mosquito nets. In the middle of the night Mindy mumbled, "I'm scared," and Hattie said "of what?"
"Of big bites" Mindy whimpered as she woke up and got all offended that someone had caught her talking in her sleep.
With boots on and a big breakfast in our bellies we were off to the mosquito island to hunt for anacondas. We were the first group at the island, getting the most mosquito bites in the four inches of exposed skin between our shorts and boots. While searching for the elusive anacondas Mindy volunteered to be bit by fire ants, whose painful bite/stings can supposedly cure rheumatism. She's so brave.
After a bunch of other tour groups showed up, Choco, who has the eyes of a bad-ass hawk, was the one who finally found an anaconda hiding in a tree. He and the other guides teamed up and caught the anaconda, holding it up for all the tourists to pose for photos. We felt kind of bad for the poor thing.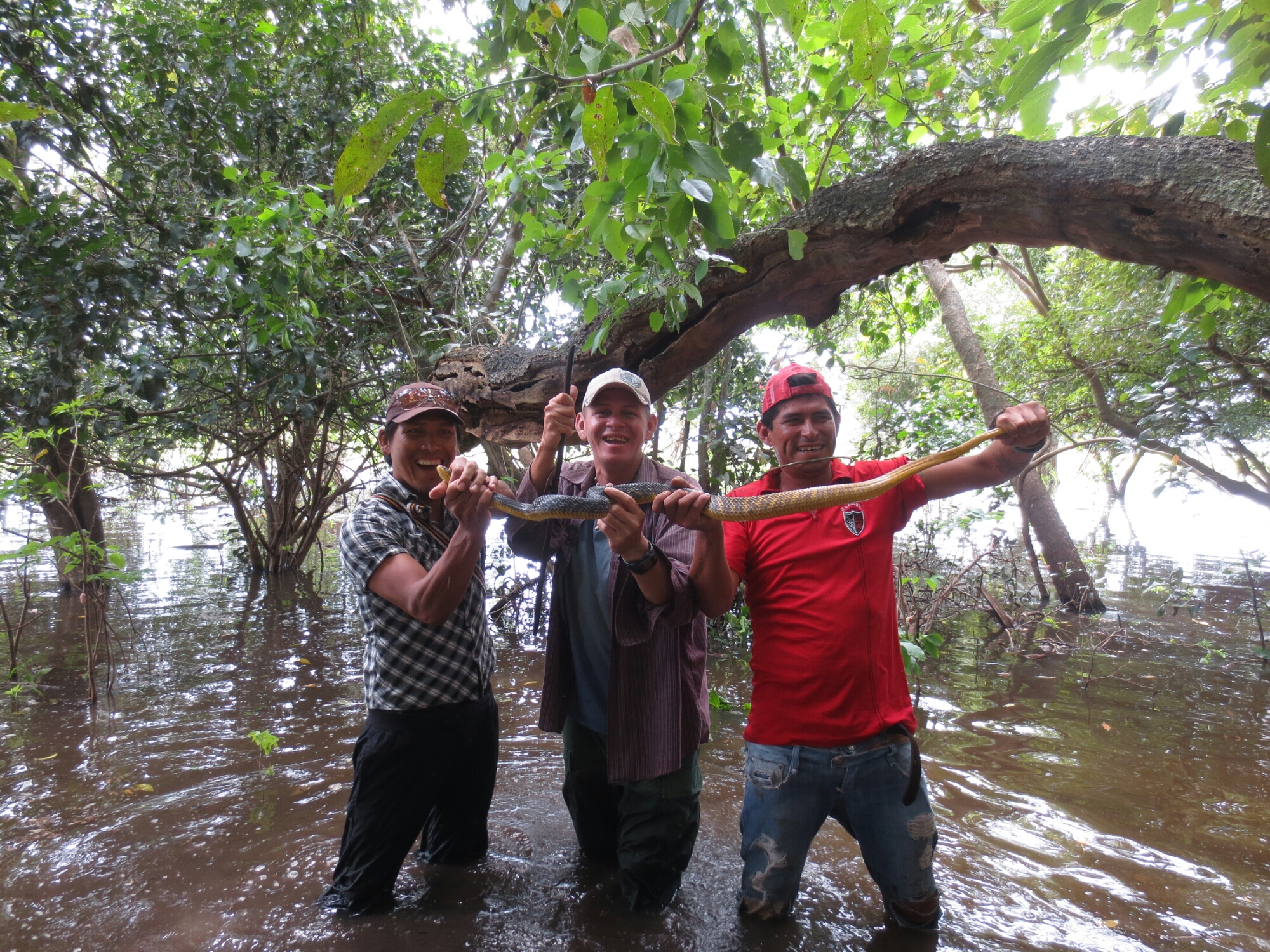 On our way to another island to search for capybaras we came across more dolphins (actually we saw dolphins swimming at least every 10 minutes in the river) who played with an empty water bottle that Choco tossed in for them, grabbing it in their mouths and diving down with it, only to let it pop back up to the surface again.
Unable to find any capybaras we went back to the lodge for lunch and siesta, which was interrupted by what we thought was an extremely loud and intestinally ill crocodile, which we later found out was actually a howler monkey warning that the weather was changing, and change it did.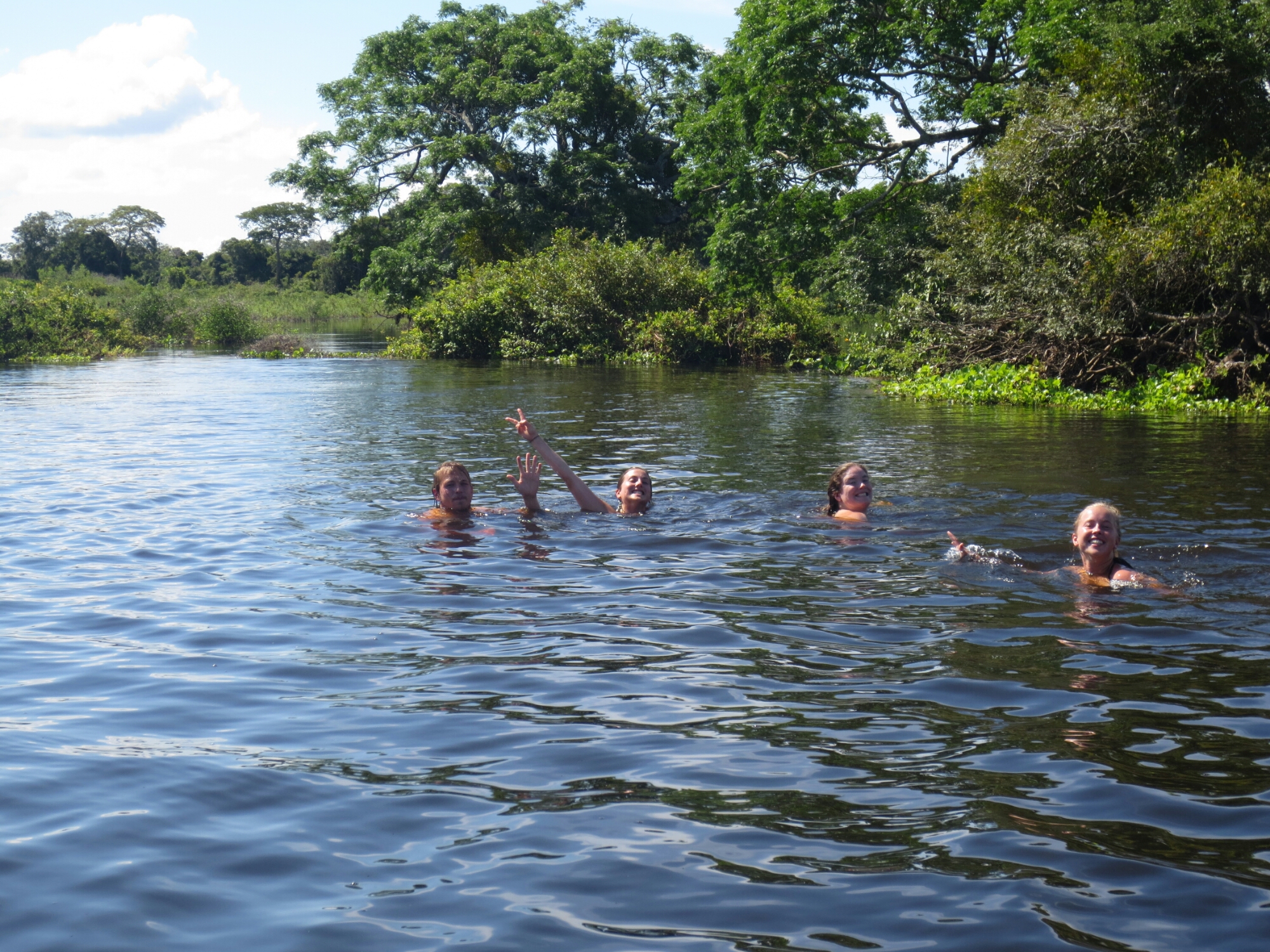 Off to swim with the dolphins! We found a group of dolphins swimming in a calm area a little ways off from the fast-flowing river. We jumped in, but were too nervous to stay still enough to let them get close. (We had heard some horror stories about people being violated and drowned by dolphins, but we think they're just urban legends.) They came within 15 feet, and after us three girls got out Matthias stayed in and was much more brave. They circled him, splashed him, tried to played games, and he even got to touch one as it swam by.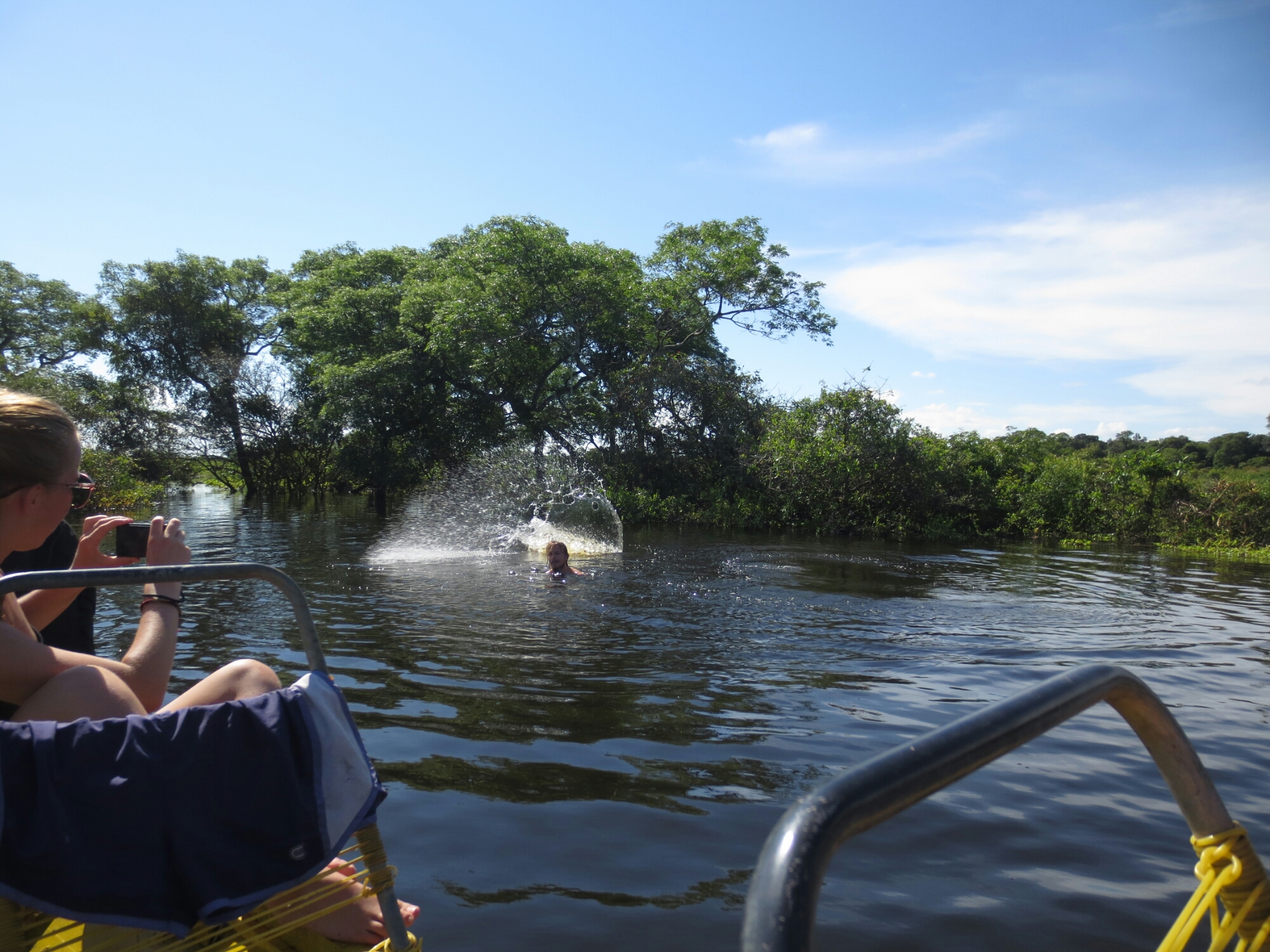 Next up, fishing for piranhas! The first spot yielded a couple of fish for the boys, and only bug bites for the girls. At the second spot we watched a troop of little squirrel monkeys follow a route jumping from tree to tree with their legs splayed and yellow bellows pointed down at us. ADORABLE! It wasn't long before Mindy caught her piranha, and then we rushed back to the lodge just in time to gear up for mosquito hour.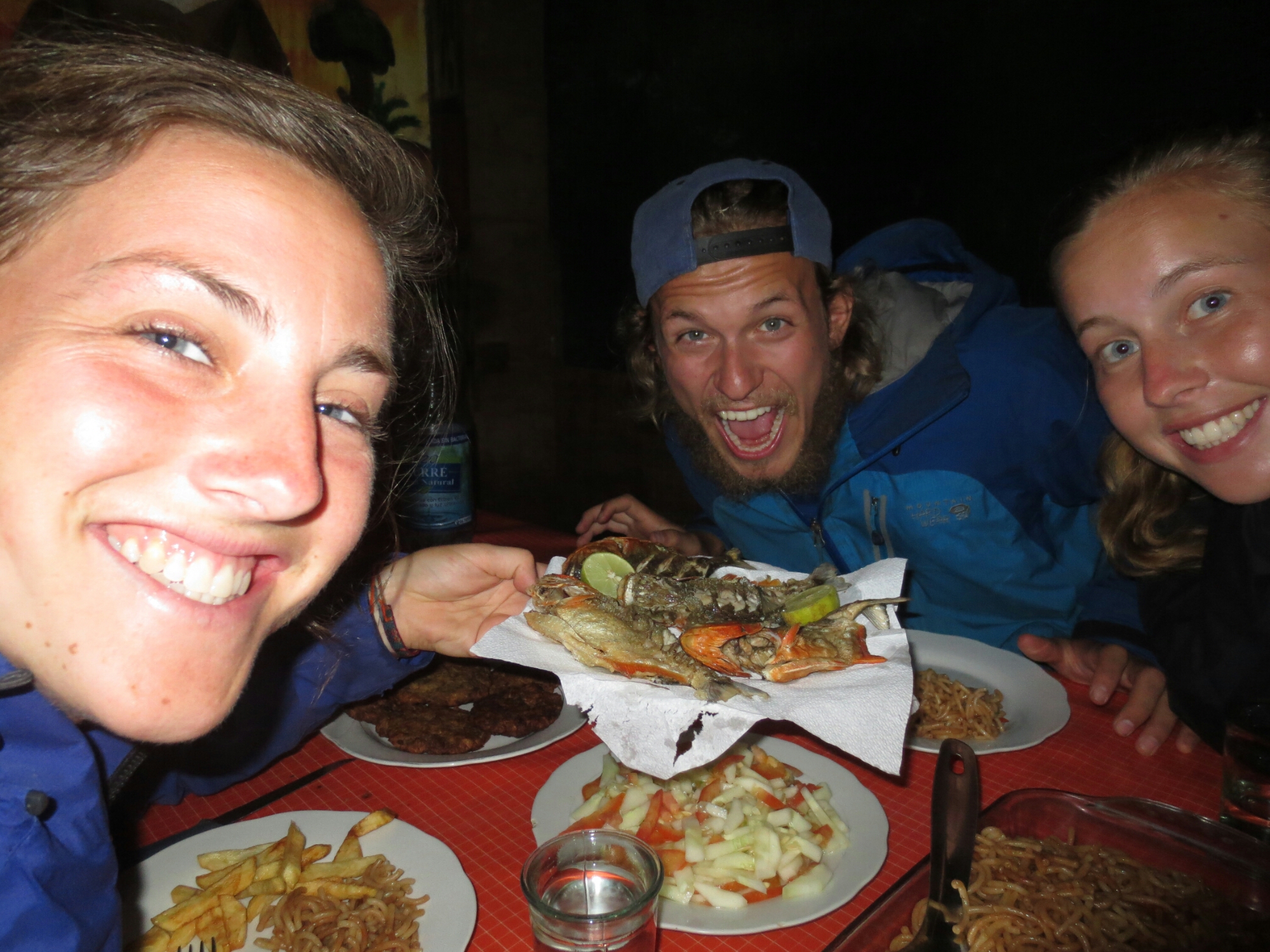 Once again the yummy dinner was hard to enjoy, but we each got to eat a piranha (mostly caught by Choco) and then everyone retreated to their bug nets at 7. We laid our heads down with the sound of howler monkeys in the distance and bats flapping around our bedroom.
Our final day in the Pampas started with the four of us talking about how lucky we were that we hadn't had much rain on our trips, shortly followed by rain that came pouring down, as the howler monkey had predicted. Before leaving camp we saw a real live toucan, and then headed out to search for capybaras just as it started pouring down rain.
Then we think Choco gave up and tried to entertain us despite the rain by feeding crocodiles (which you really aren't supposed to do, but obviously everyone does because they camp out under the lodges).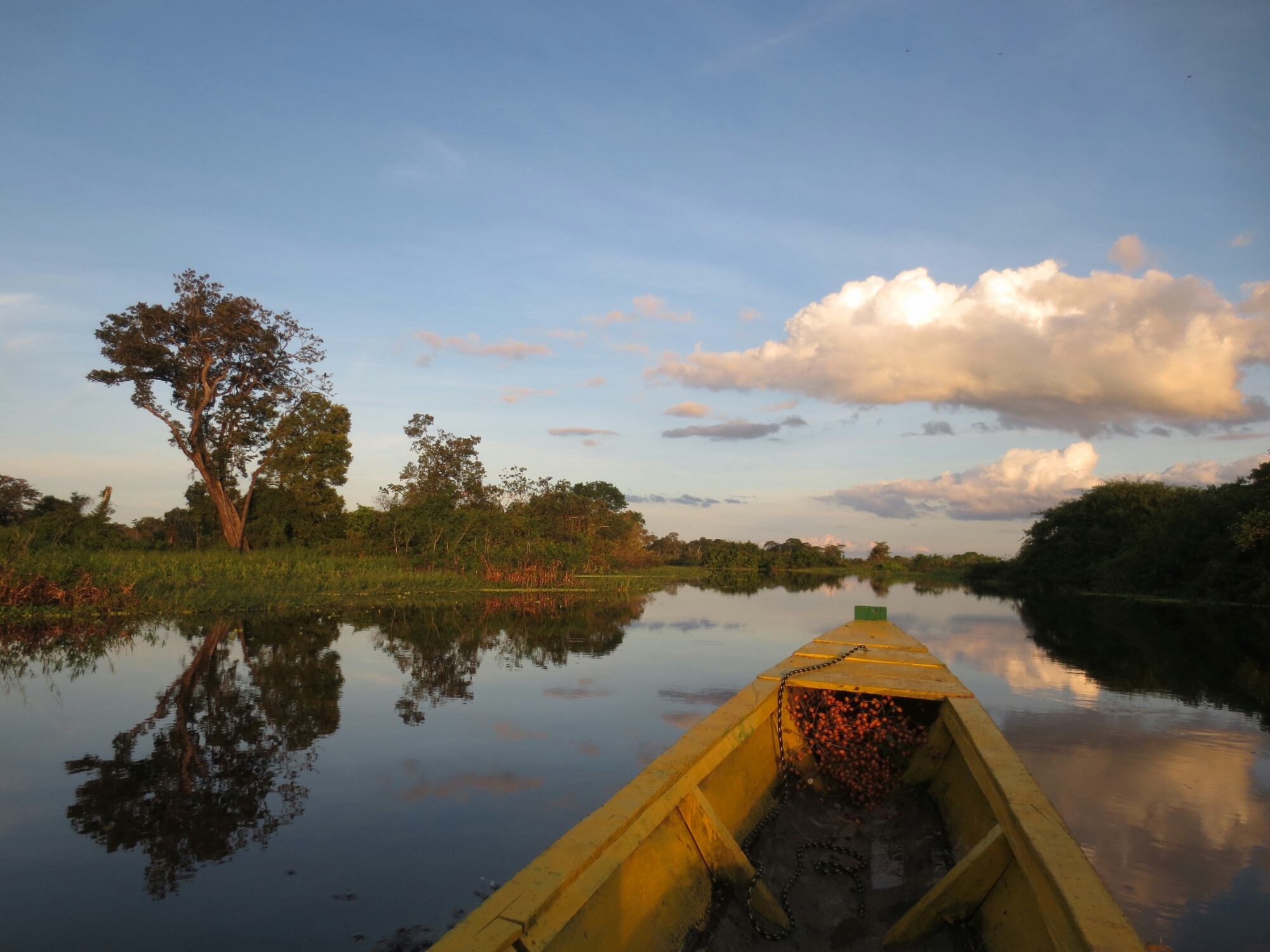 Before leaving the Pampas we scattered a bit of Alice's ashes in the Yacuma river, which flows into the Amazon. The boat ride back was quiet except for Mindy singing Disney songs, but the car ride back was quite the adventure.
Three times we had to get out while the car struggled through muddy patches, and then we tried to help once and Mindy got sprayed with mud and Harriet got literally caked in it. One of the other guides, a male Amazon-looking dude, tried to help get the mud off by scraping down her pants with his machete, but there was only so much that could be done.
Then Choco's badass eyesight came to the rescue again as we saw a family of capybaras just hanging out in a filed along the road on the way back. Mission accomplished, we saw ALL the animals.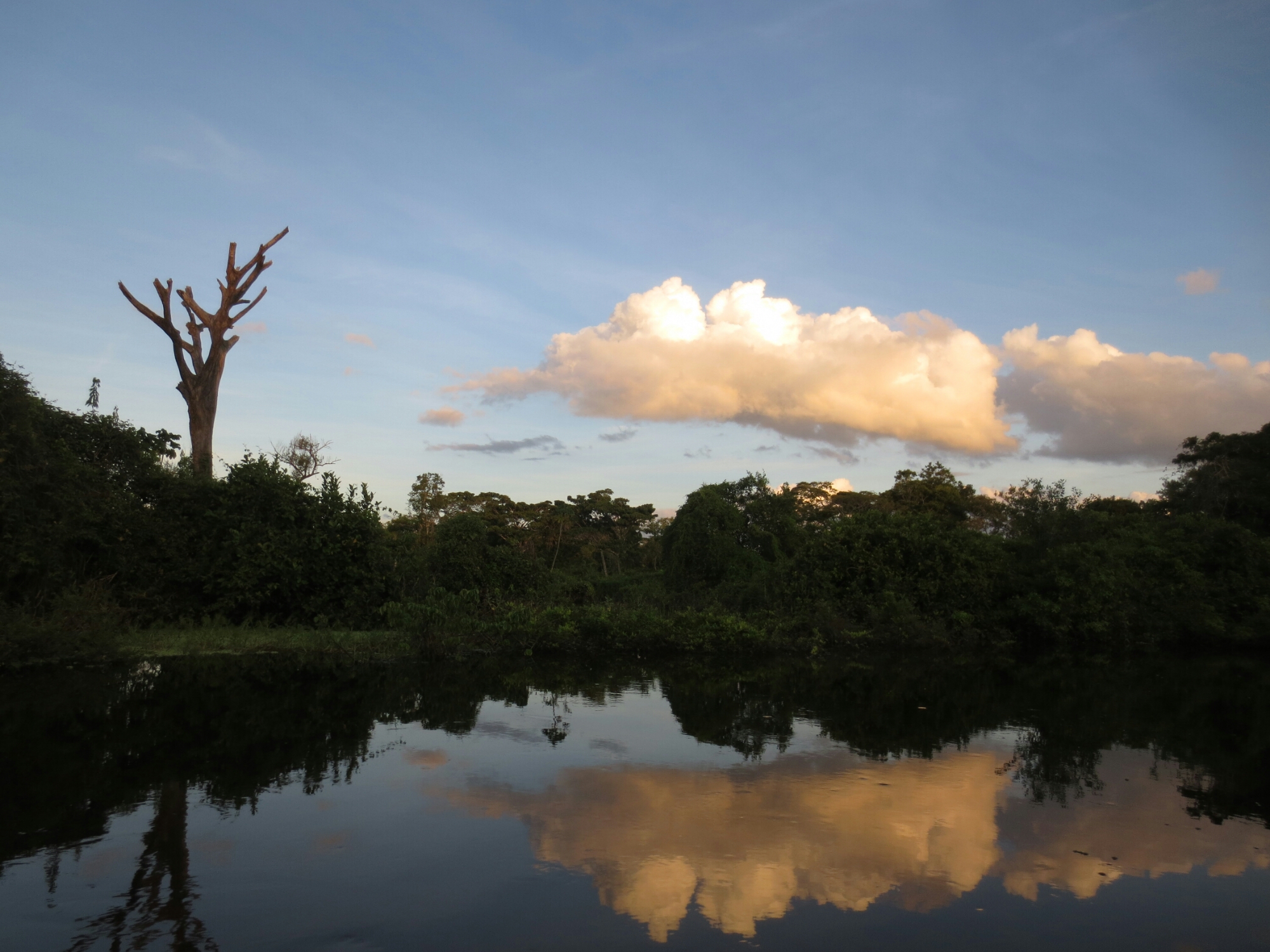 Back in Rurrenabaque we checked into a new hostel, Harriet cleaned herself and Mindy didn't, and we met the Danes at a nice french/italian restaurant that was teaming with Israelis but luckily not mosquitoes, so we actually got to enjoy our dinner.
At the hostel we had a little bit of a scare when our Swiss roommate told us that there is definitely malaria in Bolivia. We had been told otherwise so we definitely did not take the drugs for that. She was full of bologna though because the internet told us it was almost nonexistent in our area. How long does it take to kick in anyways?
Early in the morning we got to the airline office in town just in time to find out that we had missed the bus that takes you to the airport. Just as we were starting to freak out we heard an engine rev and a taxi man on a motorcycle appeared ensuring us that we could both fit on the back with our bags. It was a terrifying ride with Harriet making full body contact with the driver and Mindy dangling off the back, clinging to Harriet like a baby squirrel monkey on her Momma.
To see pictures of all the wildlife we saw look at our facebook album here.